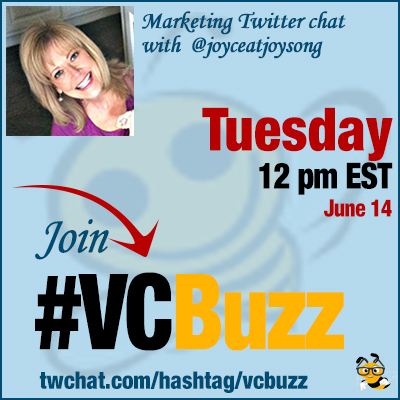 Many digital marketers and bloggers work from home, so productivity becomes a huge issue: Being your own boss forces you to get extremely organized. Plus working from home entails lots of distractions and temptations!
How to get organized when working from home? Let's find out!
***Add #VCBuzz chats to your calendar here.
***Please sign in here to follow the chat -> twchat.com/hashtag/vcbuzz
About @joyceatjoysong
.@joyceatjoysong is home business productivity mentor, online networker, home and garden lover, cooking enthusiast.
Subscribe to Joyce's answers over at onlineprofit-ivity.com
Questions we discussed
Q1 For how long have you been working from home? What inspired you to start your own business?
I became a certified home stager and started my staging business from home in 2010.
That was interrupted by illness in my family. After a year of caring for my sister during her cancer treatment I had no business because I was the business.  When I wasn't there, obviously, the business died. (But my sister is still in remission today, thank God!)  I came back to work in 2014, shifting the emphasis to internet marketing.
Michael E. Gerber's book,The E Myth Revisited, was a true inspiration. As a stager, I had been a commodity. E Myth spoke volumes to me because it showed how it is possible to build a business that can survive without you. If you don't punch in the time clock every day, income is still being generated basically on autopilot.  I wanted to create that kind of leverage.
.@joyceatjoysong We worked out of our house for 18 years. Once the kids moved out we got an office. #vcbuzz

— Janette Speyer (@websuccess) June 14, 2016
How great that you were able to be at home with your children!
@joyceatjoysong @websuccess I worked from home with my first baby… not easy to get that organized! #vcbuzz

— Ann Smarty (@seosmarty) June 14, 2016
Q2 What are your most efficient productivity secrets? Any specific advice for mom working from home?
It's no secret, but the end-all/be-all to me is the use of systems.
I have a system for generating leads on Twitter that I do every day without fail. It's automatic.
I have a system for posting on social media that is consistent and runs pretty consistently.
The same is true for home life. Though my son is in college now (but back for the summer – Mom does the happy dance!), throughout his growing up years I had systems in place so that my house practically cleaned itself, the meals got made, the laundry got done, etc. It's not that I didn't have to work at it, but with a system you don't have to think about what you should be doing next.
You've done the thinking and you can just follow the routine each time.
The value in that is that your decision-making energy is reserved for things are not so routine, like when you have to bring a team snack once a month, or you're planning a birthday party, or even preparing to launch a new product or business. Systems are a life-saver.
Systems and tools go hand in hand. If you have the right tools in place for managing your customer contacts, your time, email response, etc., you've got a solid infrastructure that won't let you down.
.@joyceatjoysong A3: That was a challenge, working from home, finding connections and people that trust us. #vcbuzz

— Janette Speyer (@websuccess) June 14, 2016
I know, right? But what an age we live in now with technology at our fingertips to do the searching for us!
.@joyceatjoysong thank goodness for @Linkedin and social media. Twitter is a great trust builder and connector. #vcbuzz

— Janette Speyer (@websuccess) June 14, 2016
Q3 How does Viral Content Buzz help you in your social media marketing productivity?
I love VCB! The goal in social media is not to generate sales but to develop relationships because, as we all know, people do business with people they know, like, and trust.
We do that by consistently putting out value in the form of content. The articles in Viral Content Buzz are second to none in terms of quality. I have made it a routine to share 5 articles a day on my Facebook, Twitter and Pinterest accounts. I also save them in my research folder by topic for inspiration and quotes when I am writing for my blog.
A3: VCB is a fabulous tool!
#vcbuzz

— Joyce Anderson (@joyceatjoysong) June 14, 2016
Q4 What are pros and cons of working from home? Would you suggest all moms starting their own business?
Benefits:
After fighting traffic in a daily commute that was anywhere from 30 minutes to 90 minutes (depending on traffic) it has been so wonderful to walk down the hallway from my kitchen to my office (usually in bare feet/sometimes in fuzzy slippers!). It really is habit-forming! Overhead in terms of office-ing is low, you can keep your finger on the pulse of what is happening at home, and you have total flexibility of when you work and what you work on.
Pitfalls:
Yeah, about that flexibility… Unless you are firm with yourself and your family about boundaries, you can find yourself working all the time.
A4: We Moms are notorious multi-taskers, aren't we? #vcbuzz

— Joyce Anderson (@joyceatjoysong) June 14, 2016
We are busy all the time and work so hard, and at the end of the day we wonder what we got done! My husband asked me once when our son was a toddler, "what did you do today?"  I told him, "I don't know, but I didn't sit down once!"
.@joyceatjoysong. Most of the influencers we work with work from home. I am very comfortable with that. I love the idea of Mom+Work #vcbuzz

— Janette Speyer (@websuccess) June 14, 2016
So the point is, you really have to carve out time, even if it is just 1 or 2 hours a day, that you will work on your business. Then you have to be very disciplined to protect that time.
People tend to think that since you are working from home, you are not really "working." If the gardener sees you are home, he will knock on the door to ask you a question. Your spouse will schedule repair men to come work on something in your house, because "somebody" will be there to let them in. Your neighbor will drop by. If you have to, wake up earlier, or work while the kids are in school or in bed. Everybody's situation is different.
So you have to do what works best for you. A great resource here is Hal Elrod's book, The Miracle Morning. At the same time, when you are present with your family, it can sometimes be a challenge.
At the same time, when you are present with your family, it can sometimes be a challenge, to really be present with them. You have to be diligent in protecting that time for them, as well, because – let's face it – they are the ones we are working so hard for, right?
The second thing I would say is that when you do enter into your prescribed "work time," that you focus first and foremost on money-making activities: generating leads, calling your leads or customers, following up on a sale with your deliverables, up-selling. Do those activities, before working on the more passive things like writing an email campaign or blog post, or designing a banner.
A4: It's all important but, if you are not bringing money in, you have a hobby, not a business. #vcbuzz

— Joyce Anderson (@joyceatjoysong) June 14, 2016
I "hobby-ed" for a long time before getting this – much to my husband's dismay! Avoid falling into that pit! ?
@joyceatjoysong Don't forget to focus on invoicing and collecting money for what you've already one! I have to push myself to do it #vcbuzz

— Gail Gardner (@GrowMap) June 14, 2016
Q5 How to finally start making money from your digital assets (blog, social media accounts, etc)?
This may be a little controversial because it goes against the conventional wisdom we are probably all used to hearing from "the gurus!"
But the trend is beginning to swing away from the presence of many ads on your site and making it mainly content instead, with some subtle calls to action within the articles themselves.
Here's the reasoning behind it. Information is everywhere. We are bombarded with it daily now because there is so much access through the internet. What we have a deficit in is ATTENTION. When a visitor a sees a bunch of blinking ads competing with the information they were searching for when they came to your site they tend to click away from it as fast as they clicked to it! This causes your bounce rate to be very high.
Though people get results from their ads, the bounce rate almost counteracts their effectiveness overall. So, to adequately monetize your virtual properties I recommend using the process of retargeting. There are many courses out there about using retargeting pixels.  If you haven't pixeled your blog or website yet, it's not as complicated as it sounds and really very effective.  It gives you the ability to target your ads to your site visitors based on their behaviors there, which gives you a huge marketing edge and magnifies the cost-effectiveness of your ad spend.
@joyceatjoysong Remarketing aka retargeting is how @anitacampbell grew @BizSugar to 1.5+ million users – it does really work #vcbuzz

— Gail Gardner (@GrowMap) June 14, 2016
Essentially you seem to follow your prospects around on the internet and subtly remain "top of mind" for the moment they are ready to consider buying your product or service ?
@joyceatjoysong Thanks for time, gifts and info Joyce – Will stay in touch – ? #vcbuzz

— Phil Turner (@The5Currencies) June 14, 2016
Our previous productivity and home business chats: