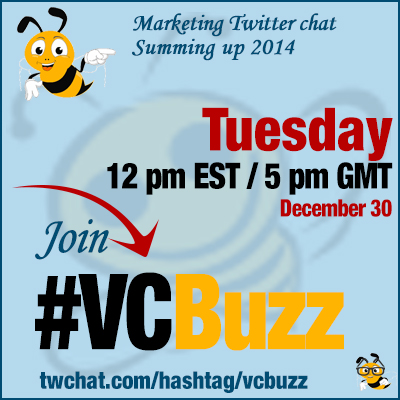 December is the time to look back and sum up what the past year looked like for us. We'll be devoting a couple of this month's Twitter chats to our platform and what we've been doing to improve your experience and results!
***Please join our chat weekly 12 pm EST here -> twchat.com/hashtag/vcbuzz
1. We went through the slight re-design. While we hope you like the slightly improved look, the real goal of the redesign has been responsiveness! Mobile user experience has been improved, so you can buzz from your smart phones, dear buzzers!
@vcbuzz I've only been around at #vcbuzz for around 45 days. Never tried it on mobile. Well done though!

— JeffreyRomano (@JeffreyRomano) December 30, 2014
Note: If you come across any bugs, please contact us.
2. We made the site even faster by letting you share the project with no page re-load. Sharing projects from VCB has actually become an enjoyable experience for us personally and hopefully for you too!
No doubt, the VCB site has been getting sleeker. #vcbuzz

— Don Sturgill (@DonSturgill) December 30, 2014
3. We have partnered with MyBlogU to help you accomplish your New Year's resolutions! All the participants of the #MBUstorm challenge will get 200 free VCB credits you'll be able to use to boost your content traffic and exposure. One of the participants will win $1000 and there are more awesome prizes! Join the challenge today! You have a bit more than a week to join!
Now, to the notable links and events:
@SanaKnightly @vcbuzz @seosmarty awesome congratulations! great job sticking to the schedule and getting interesting guests #vcbuzz

— Chris Boggs (@boggles) December 30, 2014
This year, in January, we started our weekly Twitter chat! Wow! Time flies. Our very first chat was with @BradSKnutson
This year we launched our free Udemy course offering you the collection of our video tutorials and tips. Please enroll and review! That will be a great gift to us!
Right at the beginning of 2014 we got a great review from @chrisnpi: "Boost Your Traffic and Increase Your Authority with Viral Content Buzz"
Our featured user @IvanaZuber gave us a great review: Make Your Blog Go Viral! Build Some Buzz! Use Viral Content Buzz! Please share it around!
In February we got another great review worth reading and sharing over at @scottsmktplace: Grow Your Blog at Light Speed With This Website
In spring 2014 @zippymagazine wrote a detailed VCB review:How to Make Your Content Go Viral with ViralContentBuzz?
In September our review has been published at @shoutmeloud: Viral Content Buzz : Free Platform for Blog Post Promotion
… followed by another awesome review by @Spiderworking: "How To Use Viral Content Buzz To Get More Shares"
In November our platform was reviewed by @sixtymarketing and a very detailed review by @Twelveskip "Viral Content Buzz Review: Boost Your Social Shares + Blog Traffic"
A few weeks ago our featured mentor @Angelcbali made the video tutorial for using our platform here. Angel also reviewed us here.
A few of our members approached me to share their ViralContentBuzz case studies. Those stories actually show the platform is working much better than we ever anticipated!
There were more reviews I may have missed here but one thing holds true for all of them: NONE was in any way requested or purchased by us. They were all written by bloggers and writers only because they loved our platform! One review holds a special place in my heart… It's called "How to Get The Most Out Of Using Viral Content Buzz." It was written by VCB newbie @Ladyonaboat and what I love about it is that it emphasizes how seriously we are taking quality and interactions. It's very reassuring to know that new users can see that too. That means we are doing something right! The whole review is a must-read but here are a few of my favorite quotes:

All in all, that was a hard but an awesome year! We'll look for more awesomeness to come in 2015!
Thanks for your community support throughout these months! #vcbuzz

— Ann Smarty (@seosmarty) December 30, 2014