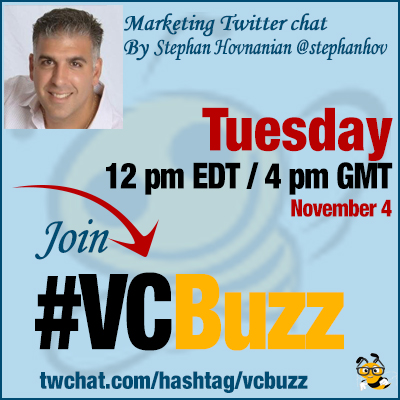 Google Plus has a huge marketing, branding and networking potential but surprisingly not many people are utilizing it. That's something I've seen from a conference to conference. Businesses are proudly sharing Twitter and Facebook marketing case studies but few take Google Plus seriously.
Therefore we have invited one of the most prominent Google Plus experts out there @stephanhov
***Please join the chat by signing in Twitter here -> twchat.com/hashtag/vcbuzz
About Stephan
Stephan is author of Google Plus Pro Tips ebook series. He also hosts #gplusspotlight hangout show, Wednesdays 12:30pm ET.
Stephan owns Shovi Websites, a website design and email marketing company located outside Boston
Make sure to circle Stephan at Google Plus!
Questions we discussed
Q1 Why Google Plus? What encouraged you to focus on this social media network? What are your favorite features?
Best bang for buck, teach Google about you & your biz while building real relationships, but you need a different mindset: less "gaming" and more "real life". I joined to evaluate it for my web clients, noticed that it could also help me build my own brand.
A1 better search placements with people in your circles, is a nice benefit too ? #vcbuzz

— Catalin M. (@CataM8) November 4, 2014
Fave G+ features include open access (like twitter) to users & discussions. And Hangouts.
A1 Hangouts are great for connecting and building relationships, my fav feature too! #VCBuzz

— Angela Hemans (@ultrasoundangie) November 4, 2014
Q2 How does one start on Google Plus? What's the essential newbie to-do list?
I'll say it, G+ onboarding stinks for new users. Best way to start is to 1) fill out profile 2) search for interests, 3) start commenting on others' posts.L isten, help, build rapport first. G+ culture is not salesy. Network, learn, collaborate, the marketing takes care of itself.
re: onboarding: Use the Send Feedback tool. And ask ?s in the official help community
re: communities: Use the communities search tool, then look for good conversations & low spammy posts before joining
A2 @stephanhov do you recommend finding G+ communities when you are starting? #vcbuzz

— Ann Smarty (@seosmarty) November 4, 2014
Haha, for sure, but you can find NEW friends there too ?
A2 Another step: Find your friends who you know through other networks (talking to yourself may be demotivating) #vcbuzz

— Ann Smarty (@seosmarty) November 4, 2014
Whatever you do, don't expect to follow the suggested users and build relationships. Find your own. Because they're usually celebrities that don't manage G+ themselves…some exceptions of course.
I thank & follow people who share my content (Google Ripples are very helpful for that) #vcbuzz

— Ann Smarty (@seosmarty) November 4, 2014
I usually comment on something and follow the user right after – works better than just following them first #vcbuzz

— Catalin M. (@CataM8) November 4, 2014
Q3 How to leverage Google Plus Hangout? Where to start and how to proceed?
Hangouts come in 2 parts: the video chats, and on-air YouTube broadcasts.
Hangout video chats are your office: break room, conference room, highly collaborative tool.
Hangouts on Air (broadcast) are interactive, highly authentic ways to build content & visibility
You can repurpose your hangout on air's content into a ton of things with the right strategy. Start by attending Hangouts on Air events to build rapport, learn the culture…then learn the tech and try it out!
To find those you can go to the Hangouts page or Events page.
Build Massive Brand Equity as a Hangouts on Air Producer via @stephanhov

Supercharge your personal brand: be a guest on Google+ Hangouts on Air via @stephanhov
Q4 How to create a winning G+ /About tab? I know yours is perfect!
Tell people what you're all about, link to your fave resources & best lead pages. Also, take advantage of cover photo real estate, and fields that display on your hovercard.
@stephanhov, luvin' that seo power from the about section. ? #vcbuzz

— Tony Tovar (@Inboundmastery) November 4, 2014
Are you guys all personal brands? Or does anybody represent a biz in today's chat? Just curious. I asked b/c the "Page vs. Profile" question comes up a lot. I edited mine after visiting it for that earlier screen cap. We're all guilty as charged ?
This should help with the page/profile balance.
My best tip for a G+ page is not to expect it to take off like your profile will…but to get any return you still have to use it.
Q5 Let's say our #vcbuzz'ers are active social media users and after today's chat they will want to start at Google Plus as well. How to add a new social media network to what you are already doing without losing your mind?
You need a purpose, utility, strategy. G+ is great for emulating conference/chamber type networking & learning. Lots of content creation tools, all of which help teach Google more about you & your biz. And of course there's hangouts.
For local businesses, G+ is a must-have, arguably more than any other network b/c of tie-in to Google Maps. Also, G+ and Pinterest go together really well so if your business is visual, I shouldn't have to say any more ?
And if you needed yet another reason, Hangouts are YouTube videos, YT is 2nd largest search engine in world, owned by Google.
@stephanhov can you describe your G+ and Pinterest strategy? #vcbuzz

— Jessy Troy (@jessytroy) November 4, 2014
Everything I learned about G+Pinterest was from @pegfitzpatrick here's a hangout we did.
How to find the utility of social networks – an interview with Neal Schaffer
Anybody wants to continue the conversation on G+, you can start here: http://t.co/bpXPQKlyFD #vcbuzz

— Stephan Hovnanian (@stephanhov) November 4, 2014