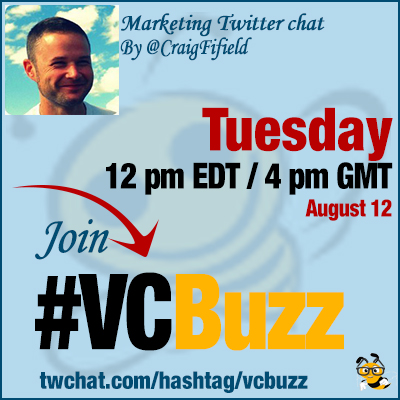 Today we have a special guest, one of my oldest friends, someone very special, so we'll skip any outside announcements and go straight to him…
**To join us please sign in here -> TwChat.com/hashtag/vcbuzz
About Craig
Craig is online marketer with years of experience which includes:
Developed a blog that was featured on Time Magazine (online), Lifehacker, CNN, and five different books
Was a major affiliate marketer for years with a site network of over 60 legitimate sites that earned 90% of his income
Built a Facebook page to 100k likes within 6 months
Read more here (and be sure to circle Craig!)
Questions we discussed
Q1 Craig, you are saying you've been online for 18 years… You are either lying or you look damn too good (I know it's not the photo because I've seen you in the video) ? Ok, you can skip that question… On the serious note, what brought you into Internet Marketing?
I don't really look very good, I'm just good with makeup ? I got started in Internet marketing in 1995/96 after a local news show mentioned the Internet was exploding. I couldn't even use a computer that well at the time.  I had to take a class in Windows 95 to make sure I knew how to use the PC before I took a class on how to use the Internet ? Soon after that I started my own web marketing business, there was zero competition at the time. That work led me to use the first tool ever created for SEO, I noticed the company that built it was local so I sent my resume.  I got hired at the startup, not even knowing what a startup was at the time, & within the year we were bought out by Microsoft.  I designed web markteting tools for Microsoft for 10yrs, been on my own since 2007.
A1: now I'm rocking @Circloscope #vcbuzz

— Craig Fifield (@CraigFifield) August 12, 2014
Well-deserved luck we have to say! RT @CraigFifield: it was and quite a lot of luck ? #vcbuzz

— Ann and Gerald (@viralcontentbuz) August 12, 2014
Q2 You call yourself (or someone else did) a Google+ Hangouts hooker… Why Google+ Hangouts? How do you find those you'd like to join? Best tips to newbies looking to get active there?
I'd been pretty burnt out on web marketing for a long time, feels like I've been doing almost the *same exact thing* since 95. Google Hangouts are one of the few things to peak my interest in a long time.  Hangouts are one of *the easiest way to output content in video form* and they're a lot fun to do. Most people are still scared to be on video so *now is the easiest time to take the lead and *look like an expert* by doing so. Once you've done a hangout it's then really easy to repurpose that content into blog posts, tweets, etc.
The best way to get active with hangouts is to watch a bunch in your niche and participate intelligently in the comments. That's what I did and next thing I knew everyone was asking me on their shows. To find hangouts check out hangouts on air
I also recommend subscribing to the calendar @MarkSeydel has at hoashows.com
If you want to try running your own just start one with your friends to test it out and also follow @RonnieBincer. @RonnieBincer is loaded with hangout tips and has a killer mastery course.
Q3 You co-founded circloscope.com [heads up to buzzers: we'll be partnering with Craig to help him promote the tool. So expect a special deal!] First, who you co-founded it with? Whose brainchild is it? What's the story of the project?
Circloscope was originally the brainchild of Ehsan Gharacheh @EhsanAhGh. Ehsan recognized a need for a better way to grow and manage circles on G+ and built the first version of the tool. It quickly became on of the most popular tools for G+, most of the big names we're using it. But Ehsan needed help to take Circloscope to the next level and invited @ChrisDeGraff and I to partner with him. We both already used and loved the tool so we accepted ? We've since completely rebuilt the tool and added many new features.
I love working with @CraigFifield and with him on our team I know @Circloscope will be successful! #vcbuzz

— Christine DeGraff (@ChrisDeGraff) August 12, 2014
Q4 Now, please tell us what circloscope.com does and how it can help content marketers, businesses and bloggers? How can it help viralcontentbee.com users?
@Circloscope enables you to *quickly* find and circle the engagers in your niche. Engagers are those that have +1d, commented, or shared content on G+. You can easily circle engagers of your own posts, other people's posts, other people's profiles, community members & hangouts. If used properly, you can grow your G+ following a lot quicker while sending your engagement rate off the charts.
Some users have reported 1000% growth in followers & engagement after just a few weeks of using Circloscope. I personally got over 2k +1s on a blog post due in large part to using Circloscope smartly ? Circloscope also provides *many* features & filters for maintaining your circles. You can find those that are not following you back, you can filter people by their G+ activity, and even find those that don't have profile photos.
In short, @Circloscope takes the very tedious process of strategically growing your G+ presence and streamlines it for you. We have some videos to give you a better idea what it can do. And new today: 10 of the top uses of Circloscope via @ChrisDeGraff on @martinsherv blog.
You can also try a limited version for free. The free version does everything the paid version does, except bulk adds/removes and it doesn't do business pages.
Q5 How does it feel to be a startup entrepreneur? Is this your first project like this?
This is the 3rd startup I've been involved with, but the first where I've been a co-founder. It feels great to have control of the business but it's also a little scary to have control of the business! ? My partners are awesome so it's pretty great though!
Q6 What's your productivity secret? You are doing a million of things!
I don't really do a million things like I used to – @Circloscope is my focus now. I've never been very good at being productive though, I tend to fly by the seat of my pants.  I think @annsmarty is the one we all need to listen to for productivity tips ? I'm seriously a mess behind the scenes! ? Although I suppose one tip is only do stuff that interests you, that makes it easy.
thanks for the chat everyone! – reminder VCBuzz gets 25% off Circloscope Premium today only! At http://t.co/CipfKgL04l #vcbuzz

— Craig Fifield (@CraigFifield) August 12, 2014
Great hour, thanks @craigfifield – I am *always* amazed at what I learn on a Tuesday afternon #vcbuzz

— Phil Turner (@EP_pturner) August 12, 2014