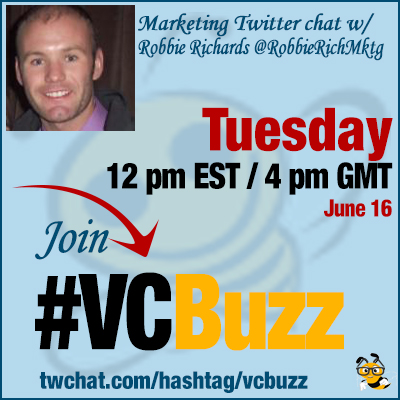 We've seen some blog grow exponentially. There's no single recipe for this impressive growth but would you like to know some actionable tricks?
Today we are talking to Robbie Richards @RobbieRichMktg on how to grow a blog within 30 days!
***Please sign in here to follow the chat -> twchat.com/hashtag/vcbuzz
***Important: Join this event on Google Plus to be notified of upcoming chats (It's easier with daytime savings and different time zones!)
About Robbie
Robbie a full-stack digital strategist for a fast-growing tech company Royaljay.com
Robbie's blog grew unbelievably fast which is what we are going to discuss today! Please circle Robbie on Google Plus
Questions we discussed
Q1 How is Australia different from the United States? (Sorry we had to ask:))
Haha! I live on west coast, cultures are similar. Food tastes different, & college sport is INSANE! Nothing like it in AUS. That college sports euphoria is puzzling me!
I played golf at #BoiseState & got to experience it first hand. Nothing like it in AUS.
Q2 So, how did you triple your traffic in 30 days? ?
I used expanded list posts in combination with skyscraper technique (H/T @backlinko) and outreach campaigns. Here is a case study that will run you through the process.
Huge fan of @backlinko and his "skyscraper technique" – You should check him out ? (aka Brian Dean) @jessytroy #vcbuzz

— Wendy Kiana Kelly (@WendyKKelly) June 16, 2015
I find all the people linking to 1st page content & pitch my BETTER content to them. I use @buzzstream w/ @ahrefs. BETTER usually means longer, more in-depth and immediately actionable.
@vcbuzz using OLSEO will help OLSEO = OFF Line SEO http://t.co/dkMpf2bGgn #vcbuzz

— Frank Gainsford (@info4u2use) June 16, 2015
Use tools like @BuzzSumo & @Topsy to find popular content
@RobbieRichMktg How much time one campaign like that takes? #vcbuzz

— Ann Smarty (@seosmarty) June 16, 2015
I spent ~10hrs writing the post & ~5 hrs running outreach and initial promotion. Yes, I've spent longer on posts, hence why I usually only posts 1-2 month ? I spend more time promoting usually. I spend more time promoting content than actually writing it.
My philosophy is we should spend at least as much time promoting content as we spent creating it. It is a change for most people. #vcbuzz

— Gail Gardner (@GrowMap) June 16, 2015
Favorite content promo: Buzzbundle, forums, link poaching, LinkedIn groups, social mentions and more here.
@RobbieRichMktg How does Buzzbundle work? #vcbuzz

— Jessy Troy (@jessytroy) June 16, 2015
Кeplicating competitor links for easy wins.
@RobbieRichMktg Is there more long term value in creating a huge post (e.g. 17 content promotion strategies) or 17 individual? #vcbuzz

— Rick Eliason (@rickeliason) June 16, 2015
Absolutely! Post in point now ranks #1 for content promotion strategies, sending 25,000 people to my blog in past 9 month.
I'll continually re-promote old content through my autoresponder, internal linking and social media.
haha EVERYTHING is older stuff! I take proven strategies, implement them and build out my own data-backed case studies.
.@GHISaverio thanks mate! FYI – Buzzbundle in this post http://t.co/EYcucEToc9 ? #vcbuzz

— Robbie Richards (@RobbieRichMktg) June 16, 2015
Q3 You've been doing some successful group expert interview articles (example). Can you give some tips here? How do those types of articles help a blog and how to implement that tactic successfully?
I've had huge success w/ expert roundups. Great way to engage influencers & leverage their larger audiences to drive traffic.
A3 BIG advocate of using expert quotes in articles. Makes them more indepth, social & trust-worthy … Hence @MyBlogU #vcbuzz

— Ann Smarty (@seosmarty) June 16, 2015
Tip #1: Use Google KW Planner to target low competition/ med-high volume keywords to rank page 1 & drive long term traffic.
Tip#2 Make your questions so easy to respond to, people could literally answer in a tweet.
Tip #3: Avoid topics you know everyone will agree on.
Tip #4: Source roundup topics in communities – LinkedIn groups, blog comments, ask your email list, forums.
Tip #6: Run allintitle: "KW" search in Google. Look for terms with under 10K results Eg. "best strength training exercises"
Tip #7: Use Mozbar to analyze page #1 competition. Make sure there are sites ranking with comparable domain authority.
Tip #8: Build list of experts using Buzzsumo, Followerwonk and pre-curated lists on Google.
Tip #9: Use @buzzstream or Google canned responses to run outreach campaign
Tip #10: Use forums to find up-and-coming stars outside of the normal expert crowd.
Tip #11: Look for other niche related roundups ("kw" + inurl:roundup"). They'll feature your roundup in their's. Easy link.
A3: More like a suggestion, go to groups to find most pressing issues of people. Aim for semantic search queries. #vcbuzz

— Roxana Nasoi (@roxanasoi) June 16, 2015
Optimize on-page elements such as title tags, alt tags, headings. Include target keyword in the roundup question. People will naturally include it in their response boosting kw in copy.
Take in others' ideas & techniques, try for a comfort zone, see if it works and adjust as you go along. #vcbuzz https://t.co/Q30RnPECdw

— Jim Katzaman (@JKatzaman) June 16, 2015
Q4 You mention an impressive increase in your subscribers, not just traffic (which not always grow together). How do you convert visitors into subscribers? Which tricks and plugins are you using?
I also use Thrive Leads plugin and Plugmatter. Thrive allows me to create pretty much every form type you can imagine, including multi-step forms.
AB test form trigger and types. I've found popup that display immediately on page load have a 60% higher CVR than exit intent.
Send traffic to blog posts with FB ads, retarget with custom audiences if they don't convert.
I have to wrap up the chat for now. But please leave any remaining questions and I'll respond ASAP ?
Our previous list building chats: