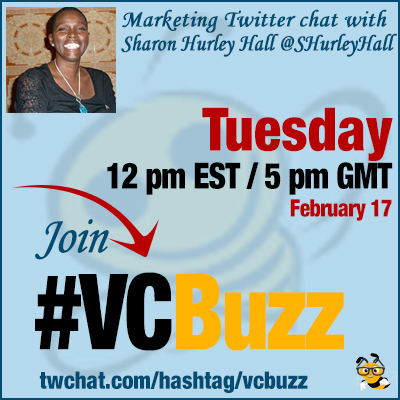 Viral Content Buzz is the content promotion platform, so I am sure most of our members love writing. Is there any way to earn your living by doing what you love?
That's exactly what our today's expert does: Please meet Sharon Hurley Hall @SHurleyHall
***Please sign in here to follow the chat -> twchat.com/hashtag/vcbuzz
About Sharon
Sharon Hurley Hall @SHurleyHall is professional writer and blogger. You can read her articles here
Please connect to Sharon on Linkedin and circle her on Google Plus
Questions we discussed
Q1 How did you become a writer? How did you turn what you love into your profession?
I've been writing since I was a teenager. I didn't realize this would become my profession. I got my first journalism job because the editor needed someone who spoke French and Spanish. I have been writing ever since, moving from print to online and back. When I went freelance in 2005, I discovered blogging and that was the start of a love affair. Turning writing into a profession was one part love, one part hard work, one part luck. You need to love what you do, work hard at it and get the opportunities, but you can also help make the opportunities. To become a writer, write and submit, then write some more. You need dedication and discipline.
Do you remember why, when and how you started writing, buzzers? #vcbuzz

— Ann Smarty (@seosmarty) February 17, 2015
I was about 14 – my high school English teacher didn't like my work.
Really, @SHurleyHall ? And you just disagreed & kept going? #vcbuzz

— Wendy Kiana Kelly (@WendyKKelly) February 17, 2015
Yup. I've always written. Once I discovered I could get paid, I was in heaven. I guess it wasn't classical enough for her. But blogging really suits my preferred #writing style.
I write poetry too – but it hasn't been published. Would be interesting to see what Google Translate makes of it, lol
Generally, where you write your blogs? #vcbuzz

— Hardik Oza (@Ozaemotion) February 17, 2015
Me? All over. Mostly for @CrazyEgg @smartling and others, but also on @unbounce @basicblogtips and lots of ghostwriting.
Q2 How to write an awesome article each time? Which quality rules are you guided?
My journalism background comes in handy. I use the 6ws (who, where, what, why, when and how) to try to cover everything. Planning is the key to good writing. If you are pitching, your pitch is also your plan. You need to wow the editor or blog owner, who is your first reader. I write an intro/lede that will hook the editor…  then write 5 or more points I plan to cover, then the conclusion.
I aim to write informative, well-researched pieces, just like what I want to read. Research tip – use search tools in Google to find recent information so you article will be fresh and accurate. I usually spend 30-60 minutes researching, I may also spend time interviewing, an hour to draft for 1000 words. Then another hour at least to edit. So a good piece takes at least three hours – and can take much longer.
This is the best work I did last year: The Ultimate Guide to Finding and Using Images in Your Content
What if you get paid to writing about boring staff, like insurance, etc? cc @SHurleyHall @kristen_vaughn #vcbuzz

— Jessy Troy (@jessytroy) February 17, 2015
I won't kid you, some stuff isn't exciting. But there's hope, the longer you write, the more you get to pick topics.
AND use @MyBlogU to find angles that would sparkle your creativity! RT @kristen_vaughn: A2 Research, research, research! #vcbuzz

— Ann Smarty (@seosmarty) February 17, 2015
Yes, I have actually used @myblogu for inspiration – should have mentioned that ?
Q3 That's a frequent question we often hear from @MyBlogU members.. How can a writer determine how much his / her service is worth? How to create your pricing strategy?
Determining your worth is not just about a dollar figure. It is also about the value of your services for writing clients. If you can, avoid pricing writing by the word. Aim for per project pricing instead. Figures are old, but this script works; there's a good resource at the end, and for researching typical rates.
Good rule of thumb: if the price you quote for writing makes you feel a little discomfort, you're on the right track. Another strategy: raise your price at intervals, a couple of times a year. After all, inflation affects your cost of living too.
I found the rule of thumb to be "underpromise and overdeliver" in most cases. #vcbuzz

— Roxana Nasoi (@roxanasoi) February 17, 2015
Good rule – unless they undervalue you ? Yes, per piece, too, but be sure you know how much time you spend so you get what you're worth.
I usually work with a mixture of time, complexity and a premium for my experience to work out pricing. Well, sometimes you can if a good writer is building up a portfolio.
One more thing: it's great to get paid for ghostwriting, but bylined clips market you, so try to get those too. For me, working on CrazyEgg has been invaluable, because so many people see the articles and then contact me.
Both is easier when your rep is good enough for clients TO WANT u on their site!Some writers are paid more for bylines! @SHurleyHall #vcbuzz

— Jessy Troy (@jessytroy) February 17, 2015
Yes, a combo is good. And some ghostwriting clients will let you use work in your portfolio – if you ask.
Q4 You are a valued Viral Content Buzz user! Why do you love us so much? ?
ViralContentBuzz is a great service for getting the word out about your content. It's also a great way to connect with new people. I love these chats ?
A4 I also like MyBlogU for letting me contribute content for others while also marketing my business. Kudos to @seosmarty. #vcbuzz

— Sharon Hurley Hall (@SHurleyHall) February 17, 2015
It also works well as a research tool – to see what others think is worth sharing. All in all, it's a great service. ?
The real value -> MyBlogU and ViralContentbuzz combines! Source great content (MBU) + promote the heck of it (VCB) #vcbuzz

— Ann Smarty (@seosmarty) February 17, 2015
Q5 What are your best writing productivity tips? How to write a lot while being awesome?
Writing productivity: identify the times when you are most productive and write. Avoid checking email and social media. Do research separately from writing so you can focus on writing at the right time. I use Dragon NaturallySpeaking for dictating my first drafts. It leaves me free to write as I speak which is great for blogging.
There are no shortcuts to writing well. You need a headline that promises what readers want and an article that delivers.You have to think about your readers' questions and answer them. That's how you get articles that are read and shared.
I am the one… My way was less words,more charts +visuals:) RT @Ozaemotion: Do you have any advice for non-native English speaker? #vcbuzz

— Ann Smarty (@seosmarty) February 17, 2015
If you can write stellar content in one language, then get a native speaker to proofread your work. There are also online tools like Grammarly that can help. I know good writers who speak English as a second language.S o non-native English doesn't have to be a barrier to a writing career. You just have to work around it.
Then you need to read more of the content you want to emulate so you can be comfortable with the style. Believe it or not, I have a similar issue. I am British, but write mostly for Americans. Most people don't realize.
What's the most words you've ever written in a day? For me, it's 10,000. I'd find it hard to do that now. Mostly I aim to draft 3-4,000 a day if I have already done the research.
me – 2K max … 1K preferred #vcbuzz

— Phil Turner (@EP_pturner) February 17, 2015
I like to get a draft down. If I am writing on a topic I know, I can cover a lot of ground. A much saner amount, Phil. I have been trying to get to no more than two pieces a day, which would be about 2500. I try to leave 4-5 days between the first and second drafts, and then another day for final tweaks.
Hard to say (I seldom count them) but I'd say 5000 @SHurleyHall #vcbuzz

— Ann Smarty (@seosmarty) February 17, 2015
Yes! You can save time by organizing while researching. If you have pitched, you have the outline and can fill it in.
My writing productivity tip: playlist on, open a blank page and write non-stop for 10min. Imagine the readers as my audience. #vcbuzz

— Roxana Nasoi (@roxanasoi) February 17, 2015
I find when playing music, the lyrics can get into my writing, so I usually work in silence.
I am a total zombie at night. I write best early in the morning. Write at your best time, whether that's morning or night. You'll achieve more if you're in sync with your biorhythms.
Edit + research for the next day… RT @SHurleyHall: @EP_pturner I edit in the afternoons. #vcbuzz

— Jessy Troy (@jessytroy) February 17, 2015