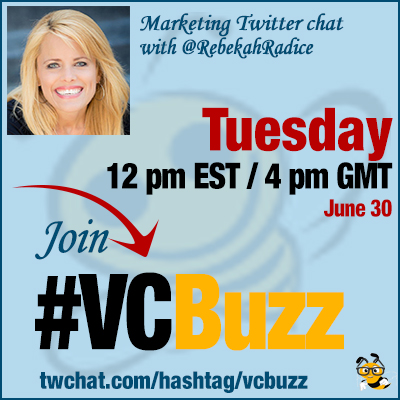 Social media world seems too huge and overwhelming… How do you get noticed? How do you get people follow and interact?
Today we have the best-known expert in social media domination to learn from: Please meet @RebekahRadice
***Please sign in here to follow the chat -> twchat.com/hashtag/vcbuzz
***Important: Join this event on Google Plus to be notified of upcoming chats (It's easier with daytime savings and different time zones!)
About Rebekah
Rebekah Radice is a keynote speaker, brand ambassador, social media writer, digital marketing specialist and business consultant.
Rebekah has been blogging since 2004 on one of the top social media blogs, rebekahradice.com – voted a "2015 Top 10 Social Media Blog" by Social Media Examiner. As a recognized leader and influencer, Rebekah has been featured on Social Media Examiner, Social Media Today, Steamfeed, 12Most and Alltop.
Rebekah is the author of, "How to Use Social Media to Virtually Crush the Competition."
Questions we discussed
Q1 When did you get involved with social media marketing? How did you find this career path?
Blogging is where it all began for me. I had no idea what starting an "online journal" would mean to my business in 2004
@seosmarty In College. I was a Public Relations major that ended up falling in love with Marketing, and switched mid-College. #vcbuzz

— Mike Tiscione (@mjtiscione) June 30, 2015
I was a communications major that did morning radio and then fell in love with the marketing side. Similar!
In 2005 I began to play around with #socialmedia for my own business and then quickly saw an opportunity to teach others.
IM since 2004 – then took a break when no Internet for 4 years #vcbuzz

— Phil Turner (@EP_pturner) June 30, 2015
I trained businesses on how to use a blog & LinkedIn to build a personal brand through what we now know as social networking. Marketing has been my career for 20 years. Taking what I know & helping others connect dots in their own biz is what I love!
Q2 How many social media networks are you active on? How do you manage? Which one is your favorite?
I'm active on all today's top social networks. I made an investment into an integrated #socialmedia strategy from the onset.
A2 Managing to keep up with Twitter and Facebook :/ That's it #vcbuzz

— Jessy Troy (@jessytroy) June 30, 2015
I couldn't live without tools like @PostPlanner @SproutSocial & @Buffer. They make #socialmedia management (almost) effortless!
I don't use @Hootsuite as often these days, but still love it. It's a great tool, especially for small business. I'm mid-sized & corporate. @SproutSocial @Hubspot are the two best solutions IMO.
Twitter was my 1st love & will always hold a special place in my heart. I've met so many amazing people like you here Ann!
So much agree! More open than any other platform… RT @mjtiscione: Endless opportunity with Twitter @RebekahRadice #vcbuzz

— Ann Smarty (@seosmarty) June 30, 2015
Twitter has also been the biggest supporter of my blog and my number one traffic driver up until Pinterest came along.
I like Twitter too…RT @GHISaverio: Linkedin, Google+ mostly.. but twitter has greatest opportunity for my blogs. #vcbuzz

— Kari (AKA Bellaisa) (@RelationshipCir) June 30, 2015
They all serve a very different purpose with a unique audience. It's the relationships that I've built which have been most important.
Q3 Your article headlines are outstanding. No wonder they do so well on social media! How do you come up with so catchy wording? What's your formula?
Always write your title with the reader in mind. Instantly communicate a benefit that they cannot live without. Make it personal. A blog title that speaks directly to readers situation/needs lets you relate on a far more intimate level.
A3 By listening and combining relevant keywords, catchy phrases and topics that interests people @vcbuzz #vcbuzz

— Ivana Ćirković (@OrganVlasti) June 30, 2015
A3 Headlines, not my strong suit. I need to make friends with someone at the New York Post. #vcbuzz

— Jim Katzaman (@JKatzaman) June 30, 2015
LOL – there's a lot of resources to get your creative juices flowing!
@RebekahRadice The Power of the Mighty Pin was the name of my thesis back in 2012 ? #vcbuzz

— Alicia Lawrence (@Alicia_Lw) June 30, 2015
Very cool Alicia!
Simple wins! Keep your titles short and to the point. Those that have performed best for me are 55 characters or less. Example: "10 Steps to Creating a Winning Social Media Strategy." 52 characters with 18.5k shares!
Make them clickable! Inject humor, draw on emotion, solve a problem. You want the reader to immediately find purpose and value.
A3 @RebekahRadice on writing headlines: Short, clickable, attention-grabbing #vcbuzz pic.twitter.com/VYeMIeV04A

— Ann Smarty (@seosmarty) June 30, 2015
Q4 You talk a lot about branding, consistency and visual marketing! Your blog is a perfect example of visual consistency! What are your tips and tools for those looking to become more consistent with their branding?
Define what makes you shine. What unique identifiers, special skills, talents & magic create the brand called you? Share that!
Determine how to position your brand online. Your message, voice & vision should create a connection with you & your community?
@RebekahRadice Thats easy my love for numbers and finance does that for me! #vcbuzz

— Saverio Filippis (@GHISaverio) June 30, 2015
You have to be passionate about what you write. Otherwise, you'll burn out fast.
Invest in your brand. You can't grow if you're not willing to put money into the future success of your business.
Here's an article I wrote on branding – Build a Sensational Personal Brand: 7 Tips to Spark Creativity!
A4 A consistent visual signature (appearance) keeps reminding the reader who the author is without having to go back and look. #vcbuzz

— Jim Katzaman (@JKatzaman) June 30, 2015
Own your name! Use a tool like KnowEm to check 500 networks and instantly secure your brand name.
Q5 You write, you speak, you are well known on social media… How do you manage to do so much? Please share your productivity secrets!
Running a business is a juggling act. The key is to be smart in where you focus time/energy. What 1 thing will push you forward?
Today's featured tools: @hootsuite @buffer @SproutSocial @keyholeco @PostPlanner @knowem #vcbuzz

— Ann Smarty (@seosmarty) June 30, 2015
Track activities, especially online. I use tools like E.ggtimer & Rescue Time to monitor where time sucks happen during the day.
Give it away! Delegation isn't easy, especially for entrepreneurs, but it's worth the time/effort to train the right people. I think it's something most of us struggle with. It's hard to let go.
Revenue producing opportunities. I am the front lines for my company and spend most time talking/meeting with people.
Here's a few of my fave ways to manage time online – Smart Ways to Manage Time on Social Media.
That's a talent I've mastered. ? RT @JKatzaman: A5 Being an enterprise of one, it's interesting to compartmentalize. #vcbuzz

— Rebekah Radice (@RebekahRadice) June 30, 2015
I'm a big multi-tasker when it comes to smaller/easier tasks. Big projects require my full attention.
Our previous social media marketing chats: