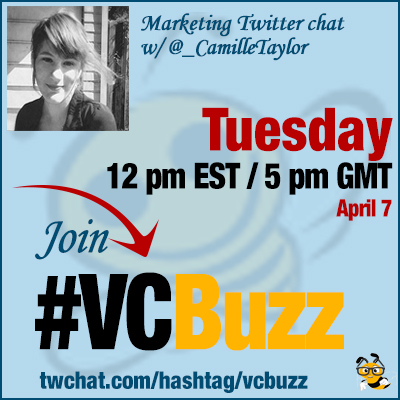 Social media has changed all aspects of our life and business and one of the most effective areas is customer service. Your clients may not be talking directly to you but they may need your answer…
Thanks to social media, community management, reputation management and customer care have become inseparable.
Today we'll talk about this community-empowered customer service trend with @_CamilleTaylor, customer success manager and evangelist.
***Please sign in here to follow the chat -> twchat.com/hashtag/vcbuzz
***Important: Join this event on Google Plus to be notified of upcoming chats (It's easier with daytime savings and different time zones!)
We are proud to say that Viral Content Buzz is partnering #MBUstorm Spring Challenge again this time! Join! There is a lot more than just cash ?
About Camille
Camille Taylor is Customer Success Manager at @AdEspresso
Camille's degree is in visual communication and design, though professionally she has shifted focus to internet marketing and customer success.
Please connect to Camille on Linkedin
Questions we discussed
Q1 Why did you prefer Internet marketing to a career in design? How did you get into marketing?
I found design to be a little heartbreaking because often times I lacked creative freedom.
Marketing provides me the creative outlet I needed and it is fascinating to be able to watch something scale. I got into marketing by learning and talking with one of my mentors, @NikkiElizDemere and taking up online courses. I actually went from visual arts to design to marketing, the journey has definitely been an interesting one! ?
@_CamilleTaylor how did you find the transition between the 3? #vcbuzz

— Roxana Nasoi (@roxanasoi) April 7, 2015
Art gave me an eye for design, and marketing my art/ design gave me a chance to validate what I was learning
A1 I had been dreaming about being a college professor… Was almost there, dropped months before the dream could have come true! #vcbuzz

— Ann Smarty (@seosmarty) April 7, 2015
A1 Started out as a tech writer but found myself hanging out with the marketing team more than engineers. An MBA later… #vcbuzz

— Tom Pick (@TomPick) April 7, 2015
I dropped teaching and security guard/cash in transit —- MUCH happier now #vcbuzz

— Phil Turner (@EP_pturner) April 7, 2015
A1 @seosmarty Am a delveoper turned sales man turned marketer turned product manager ? #vcbuzz

— kcpravin (@kcpravin) April 7, 2015
Q2 Please define "customer success". That's a new term to us! Please share your favorite books and resources on the topic!
To me, customer success is ensuring that your customers are healthy + able to clearly see the value of your product. It's goals are to have customers remain customers and become evangelists of your product.
@_CamilleTaylor Agreed! Helping customers realize the power of search as a business revenue stream is fun too! #vcbuzz

— John Morinaga (@jmorinaga) April 7, 2015
I have been following @lincolnmurphy for the better part of two years and highly recommend his courses on Udemy!
A2 In B2B – it means helping clients achieve measurable results. #vcbuzz

— Tom Pick (@TomPick) April 7, 2015
The @frontleaf blog + podcast are other great resources to anyone looking to break into the field of customer success as well!
A2 @_CamilleTaylor Making customers remain as customer is achievable, but making them as your evangelists could be challenging #vcbuzz

— kcpravin (@kcpravin) April 7, 2015
I live on google! No excuses, anyone can learn anything with enough drive using google and quora and etc! When you work for Saas, customer success is obvious because when your customers are successful, so are you!
A2. If you're working towards customer success, the lifetime value of your customer is your priority. This changes everything! #vcbuzz

— Kelly Hungerford (@KDHungerford) April 7, 2015
Q3 Please share your favorite customer success tactics. Have you seen companies implement customer success strategy well?
One of My favorite customer success tactics is a course to help your customers climb over any learning curve to your software.
A3 Work hard, work smart, be strategic, and be passionate about their success. #vcbuzz

— Tom Pick (@TomPick) April 7, 2015
@Hubspot does a great job doing this with its inbound and so does @gainsight with it's customer success certification!
A3. a properly executed webinar – great way to teach fast and answer questions from your customers #vcbuzz

— Catalin M. (@CataM8) April 7, 2015
Yes! Webinars are a great way to connect and teach directly to your customers.
It is also very important to create buyer personas and really segment your customers based on their individual needs
Getting customers comfortable with your product or service is HUGE for customer satisfaction. #vcbuzz

— Don Sturgill (@DonSturgill) April 7, 2015
Your customers will all have different pain points and it's very important to address each different one so they are valued.
A3. Give your customer access to information & education that will make them more awesome, even if it is not product related. #vcbuzz

— Kelly Hungerford (@KDHungerford) April 7, 2015
@_CamilleTaylor As a data nerd, I like to use #GoogleAnalytics Advanced Segments and look for patterns of behavior. #vcbuzz

— Andrea Fine (@AndreaFine) April 7, 2015
Q4 Community management is very hard to scale and organize: How do you keep yourself productive?
I use Google for everything, to keep me organized. If I have an idea to do something, there is a corresponding google doc!  Some other great tools to look at are @Buffer, @Hubspot, and @frontapp along with google docs, and google keep.
A4 I love Google Docs too… It's a fast and neat platform, has cool addons and well integrated with Gmail #vcbuzz

— Ann Smarty (@seosmarty) April 7, 2015
I have a no mobile policy , I keep everything organized on a chromebook and check it often. Not sure if an app exists. Evernote is awesome, too!
I am in love with the company culture, the blog and the team over @buffer so I only use them. @frontapp deserves special shoutouts! I love sharing my inbox and keeping an eye on everyone's collective communication.
Previous chats about community management: