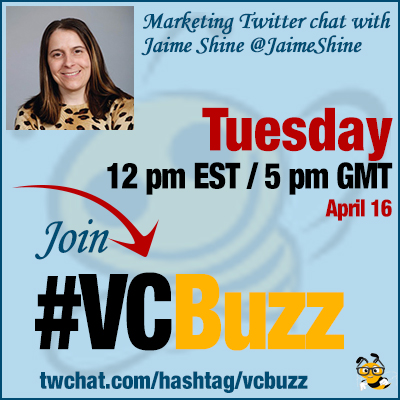 Creating content just for the sake of creating content is the strategy that is doomed to failure.
You need to know what you want to achieve with your content strategy and how to achieve that. Let's discuss goal setting and achieving using your content.
***Add #VCBuzz chats to your calendar here.
***Please sign in here to follow the chat -> twchat.com/hashtag/vcbuzz
About @JaimeShine
@JaimeShine is owner of Clearly Conveyed Communications helping brands communicate with their target audiences.
Jaimie is marketer, writer and social media strategist for hire. Connect to Jaimie on Facebook
Questions we discussed
Q1 How did you become a digital marketer? Please share your career story!
I've worked in marketing and advertising for over 15 years, which included more and more #digitalmarketing responsibilities as the industry shifted. After starting my own business in 2012, I was surprised at the amount of digital marketing requests I received.
Brands were starting to understand the value of #socialmedia and #digitalmarketing but didn't have the resources or knowledge to handle it in-house. So, I adapted my business to put more focus on digital projects.
Yes, we need to get people more focused on creating LESS content of HIGHER QUALITY and most importantly, INTERACTING more instead of just sharing without even clicking or reading it! @jaimeshine #vcbuzz

— Gail Gardner (@GrowMap) April 16, 2019
Agreed, Gail! Quality is more important than quantity, especially in content creation and marketing.
Google servers are reaching overload and can no longer index everything! #vcbuzz

— 24 Hour Translation (@24hrtranslation) April 16, 2019
I'm curious to hear from others. How did you get into #digitalmarketing?
a1. For me, Advertising & Marketing are in my blood.

Started by watching the 70's program "Bewitched" & Knew then I wanted to be both Samatha & Darin at the same time! From there I started in Print Advertising, next Cable TV & then Early onto the Net!#VCBuzz

— Debi Norton (@BRAVOMedia1) April 16, 2019
Ann Smarty made me do it 🙂 #vcbuzz

— Don Sturgill (@DonSturgill) April 16, 2019
Way back in the 90's I built a website using FrontPage for my employer. Today, most of the original content is still posted. #vcbuzz

— 24 Hour Translation (@24hrtranslation) April 16, 2019
A1 While I was a field tech at IBM, I tried to transfer into internet work with no success. So I resigned, fell into ppc work for 5.5 years, and then switched to strategy and content marketing. #vcbuzz

— Gail Gardner (@GrowMap) April 16, 2019
Q2 What types of results should (and can) content marketers focus on? How to measure them?
Vanity metrics are nice (and make us feel good), but don't forget about link clicks, landing page visitors, messages and conversions. If you want people to read your blog, don't expect them to also engage with the post on social. Have one clear CTA (call-to-action)!
A2: Business results! Focus on what matters to the bottom line and be demanding of your content and your content team #vcbuzz

— Kayleigh Töyrä (@KayleighToyra) April 16, 2019
Remember that #digitalmarketing is a long-term game. It can be frustrating to take the time to build an active community, but it will benefit your business in the long run. Buying followers and going for cheap likes doesn't deliver value.
A2: I would focus on measuring traffic, social shares, and time on page. These tell you whether the content engages people, and they indicate quality. ✨#vcbuzz

— Pitchbox App (@PitchboxApp) April 16, 2019
A2. As a content marketer that loves community – I judge client success on engagement metrics. #vcbuzz pic.twitter.com/ZaZkwxvn1O

— Goldie Chan ? (@GoldieChan) April 16, 2019
Yes, Goldie! Engagement is key.
A2 If you write content your potential customers are interested in, it should bring you more leads and sales. If that content is long-form and contains current statistics, it can attract incoming links. Visuals in it can increase shares. All of these can be measured. #vcbuzz

— Gail Gardner (@GrowMap) April 16, 2019
Q3 How to align your content marketing to your goals? Are there any examples of result-driven content marketing?
Invest resources in platforms that support your goals (if your target audience is there). For example, Twitter may drive more traffic to a landing page/blog article than Instagram, unless you've reached 10,000 followers and have a swipe up link in Stories.
A3 One of my favorite examples of content is from @CaterpillarInc https://t.co/FabJWQi6Ol If their goal was virality and long-term brand recognition, I would think that worked well for them. #vcbuzz

— Gail Gardner (@GrowMap) April 16, 2019
Modify your content to fit a specific platform's strengths if your audience lives there. Test different formats and content types, so you can see what your audience embraces on a specific platform.
A3: First, define those goals! Do you want more videos? If so, then produce video content according to your goals. #vcbuzz pic.twitter.com/7U1C0lEGiw

— Pitchbox App (@PitchboxApp) April 16, 2019
We always say to create content that will provide value to your audience. What does that look like? I blogged about using content as a customer while staying in Park City.
A3: Your branded content strategy should be clearly aligned to your target demographics. More aligned/on point = happier, more engaged audience. #vcbuzz pic.twitter.com/C1loqDyiTb

— Goldie Chan ? (@GoldieChan) April 16, 2019
Q4 What's the future? Where is content marketing heading?
We're moving to smaller, active communities, micro-influencers (including employees), personalized experiences and dark social. Messaging is exploding in popularity as people want more privacy online, and email done well can connect you with your audience.
A4.1: Without doubt, quality and relevance are the most critical factors moving forward. At the moment, there are tons of content across the internet, and most of it is poor quality or a rewritten version of someone else's content. #vcbuzz

— Pitchbox App (@PitchboxApp) April 16, 2019
Focus on your target audience and get to know them as much as possible, so you can deliver personalized content they crave. In turn, they will be more likely to recommend you to others and market for you. User generated content (UGC) is a fantastic tool!
A4 I hope we're heading to less really bad content being published. What really is the point of content no one will read, share or link to – please just do less excellent content and promote it well. AND INTERACT about it! That is key. #vcbuzz

— Gail Gardner (@GrowMap) April 16, 2019
A4. The future of content is LIVE. It's less processed & more genuine. With the interesting addition of #LinkedInLive to the landscape ~ you'll begin to see even more niche use cases. #vcbuzz pic.twitter.com/AWpDZkxrTZ

— Goldie Chan ? (@GoldieChan) April 16, 2019
Live video is definitely here, Goldie. It's going to be interesting to see how Facebook's restrictions affect brands and what further restrictions social platforms will add in the future.
A4: The future is absolutely what works best for YOUR brand. No "cookie-cuttering" your content marketing. But that also takes research and trial/error. #vcbuzz

— Lisa Shomo (@keenkoncept) April 16, 2019
Q5 What are your favorite digital marketing tools?
A few…
Tools … check the new Ubersuggest by @neilpatel … good work, Neil. https://t.co/2VHwKUKIhU #vcbuzz

— Don Sturgill (@DonSturgill) April 16, 2019
a5 Google Analytics, GSC. G-Insights (local) #VCBuzz

— Debi Norton (@BRAVOMedia1) April 16, 2019
A5 The tools I use most are ViralContentBee @VCBuzz + @BuzzSumo + @Canva + @GIMP_Official and @Contently's headline analyzer #vcbuzz

— Gail Gardner (@GrowMap) April 16, 2019
A5: ??

⚡️@buzzsumo
⚡️@ahrefs
⚡️@semrush
⚡️@canva (this is for design, but anyway)#vcbuzz

— Pitchbox App (@PitchboxApp) April 16, 2019
Our previous result-driven content marketing chats: