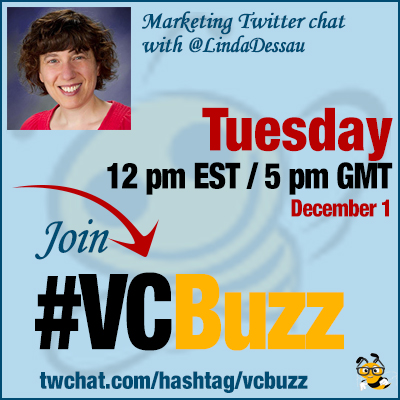 There are all sorts of content that we enjoy consuming online: Entertaining, indepth, innovative, sincere, etc. There's one type of content that we all aim for: Content that draws attention and makes you stay, content that captivates.
Today we have content marketing pro @LindaDessau educate us on how to create this type of content.
***Please sign in here to follow the chat -> twchat.com/hashtag/vcbuzz
***Important: Join this event on Google Plus to be notified of upcoming chats (It's easier with daytime savings and different time zones!)
About Linda
Linda Dessau is the author of Write Your Way to More Clients Online: How to craft captivating content for newsletters, blogs and social media.
Linda has been blogging since 2004 and launched Content Mastery Guide in July 2005 to help other business owners get their ideas into writing.
How to create captivating content
Q1 How did you become a digital writer and a blogger? What's your online career path?
I started my first blog in 2004 to promote my self-care coaching biz. I quickly discovered the power of content marketing – writing was as/more powerful as coaching. I realized I could help others with their writing, and that I actually enjoyed this more than coaching.

I started Content Mastery Guide in 2005 and by 2010 I was specializing in blogging.
Q2 Please define "Captivating Content" and give some examples as possible!
Captivating content connects with the reader in a way nothing else can. Your ideal readers and customers are tuned in to your particular voice – it resonates with them.
Captivating content fills a need, solves a problem, and serves a purpose for one particular person. Captivating content is not the same as viral content – it's not how many it reaches, but how deeply it connects
A2 For me, captivating content must be how-to and contain multiple media (image, video, SlideShare, infographic), stats and quotes. #vcbuzz

— Gail Gardner (@GrowMap) December 1, 2015
Excellent point, Linda. For me, captivating = relative to MY current needs and interests. #vcbuzz

— Don Sturgill (@DonSturgill) December 1, 2015
Captivating content is content that goes deeper into a topic, has a new angle or is just plain interesting #vcbuzz

— Tom Treanor (@RtMixMktg) December 1, 2015
Q3 How to claim your expertise using other people's content (without resorting to plagiarism of course)
Only share content that your audience will find valuable and relevant
When sharing content, stick with a defined set of categories/topics that fit your areas of expertise
Never copy and paste someone else's content to your blog – giving credit does NOT equal getting permission
Use other people's content as a springboard for your own commentary – show who you are and how you think
Use 2-3 sentences at most as a quote, then link to the original
More tips on using other people's content see: Creating Curated Content for Social Media, Email and Your Blog
A3 Featuring expert interviews on your blog is another way to show your site is a hub for experts (use @MyBlogU!) #vcbuzz

— Ann Smarty (@seosmarty) December 1, 2015
A3 Collaborate. When many know what your expertise is through your relationships they are more likely to quote you @seosmarty #vcbuzz

— Gail Gardner (@GrowMap) December 1, 2015
Q4 How to structure your content writing time for maximum results?
Captivating structure => More people will read! RT @seosmarty: Q4 How to structure your content writing time for maximum results? #vcbuzz

— Jessy Troy (@jessytroy) December 1, 2015
Know yourself and when/how you work – especially creative tasks like writing
Work backwards from when you want to publish – an editorial calendar really helps!
Allow enough time for every part of the writing, publishing and promoting process
Content writing includes brainstorming, outlining, research, drafting, editing, proofreading
Publishing includes finding photos and links, optimizing for keywords, and writing an excerpt for search engines
Promoting includes writing separate messages for each social network – respect the culture of the platform
Writers need to decide whether they just want to write or they want to become influencers with their own audiences. #vcbuzz

— Gail Gardner (@GrowMap) December 1, 2015
Q5 What are your favorite writing and blogging productivity tools?
I use Wunderlist to keep blogging on track.
I use @googledocs for blog writing and for any shared editorial calendars. There's also a cool feature to transcribe from text. The option is under "Tools," then "Voice typing"
I use Text to Speech to listen for errors I miss when reading (for Windows)
I use the @AMImarketing emotional marketing value headline analyzer
I also sometimes use @coschedule's headline analyzer
Our previous content marketing chats: