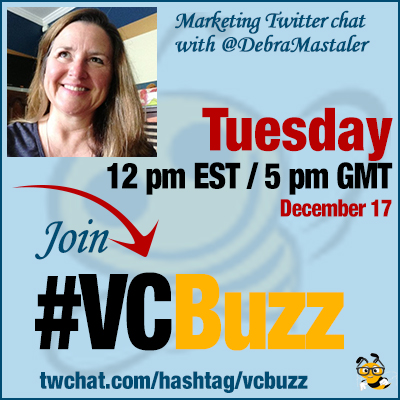 No matter how much digital marketers focus on creating "great" content, it won't rank unless it has backlinks.
This simple truth has been haunting us for years now that most link building methods are in the grey area.
How to build links these days?
The answer is: Create content that attracts links!
Let's figure out how to do just that!
***Add #VCBuzz chats to your calendar here.
***Please sign in here to follow the chat -> twchat.com/hashtag/vcbuzz
About @DebraMastaler
Debra Mastaler @DebraMastaler is a digital marketing professional focusing on linkable content marketing strategy by using news and event-based content.
Over the years Debra has been implemented link building campaigns for hundreds of companies big and small and in almost every conceivable niche.
Debra has founded Keytooles where she is still offering backlink consulting services.
Questions we discussed
Q1 How did you become a digital marketer? Please share your career story!
Before I jump in, I want to say thank you for having me and thank you to everyone who is participating today. And a BIG wave to all my fellow link building buddies who are watching, you all rock!
In 1998 I decided to stay home after my second child was born, I had been working in the marketing department of a big international company for 15 years, so I had deep sales, public relations, special events and promotions experience.
After a couple weeks of being home, I decided I wanted to open an online business, so I taught myself how to code and created a small directory selling organic food and clothing.
Awesome! I'm teaching myself to code right now—partly for the benefits to my SEO work, and partly because my niche is literally about helping people get coding skills. ? #vcbuzz

— Chad M. Crabtree (@ChadMCrabtree) December 17, 2019
After a year or so, I had 300 businesses advertising in the directory, I was ranking for some very competitive terms like "organic food" and "organic clothing". Some of those business owners came to me and asked for help in ranking their web pages. They kept using the term "SEO" so I did a little research and found out what I had been doing to promote my directory was this SEO and link building thing! I wanted to learn more and through a course of events, I met both Heather Lloyd Martin and Jill Whalen who helped me understand what SEO was all about. I ended up closing the directory and going to work for Jill for 18 months to learn how to be a link builder and in late 2000, I opened my link building agency Alliance-Link.com.
In 2002 I attended my first search conference (SES Dallas) and in 2003, Danny Sullivan invited me to speak at a SES show in California. From there, my business and life in the SEO industry just snowballed.
It's crazy how 18 years fly by. I mean, I blinked and it's the end of 2019!! I have seen a lot of changes to search engines and search marketing. There have been ups and downs but overall, I love the marketing behind being a link builder and content creator.
That said – I also love marketing tools and in 2018, started my new https://t.co/6gESpqeR3x directory. Once a directory geek, always a directory geek I guess! Keytooles is in a state of change, so stayed tuned! ### #vcbuzz

— Debra Mastaler (@debramastaler) December 17, 2019
Q2 What types of content are known to attract links? How to integrate those into a content marketing strategy?
So… this is a huge but important question given today's search landscape. There is no single stock answer on type of content because all industries are different —BUT—if I had to say one thing that works in all niches, I'll say video.
Video seems to do well no matter what industry uses it. As with any piece of content you create and want to use as link bait, there's a couple issues with video.
A2 Studies and infographics work the best in terms of driving organic links. In our blog posts, we provide mind maps and infographics that could be useful for our readers and have the potential to be shared 🙂 #vcbuzz

— Joinative (@joinative) December 17, 2019
Keep a couple of your best vid's on your site vs sending them to YouTube (YT), people go there and they head down a rabbit hole!
At the end of your video, put a killer call to action (CTA) that propels people to visit your site again. Add a CTA to the description too, think "incentives" here
What are the issues with video, @debramastaler? #vcbuzz

— Don Sturgill (@DonSturgill) December 17, 2019
People have a tendency to click to different videos and not back to your site on YT. That's why the CTA is important.
Videos also end up in content I write. But if you want them to get approved on really large sites they can't be too in-your-face commercial. And they need to immediately grab people — so no rambling introductions or commercials in them. #vcbuzz

— Gail Gardner (@GrowMap) December 17, 2019
A2) excellent advice I recently got from @BritneyMuller:

"By leveraging [keyword(s)+facts] OR [keyword(s) +statistics] you are baking natural link intent into your content."

#VCBuzz

— Chad M. Crabtree (@ChadMCrabtree) December 17, 2019
A2 The content I am always searching for to include in major content contains current statistics, quotable thought leaders (think sound bites), and especially custom colorful #infographics with statistics on them. #vcbuzz cc: Brian @nowsourcing

— Gail Gardner (@GrowMap) December 17, 2019
Q3 How to increase content asset odds of attracting links?
A very effective tactic in gaining links is to feature industry influencers, both company and individuals, in the content you create.
Roundups, interviews and direct quotes from social platforms like Twitter work very well, you can also quote a speaker you hear at a conference.
A3 First of all,vIsual content is king. Images, cartoons, and infographics help you make your content more linkable. It's also crucial to keep up to date. Fresh and relevant content will promote itself. Also, networking can help. #vcbuzz

— Joinative (@joinative) December 17, 2019
The nuances of an industry drive the appeal of content which means you must know a good deal about the people who buy your products.
Figure out where your demographic congregate and then look at the content on those sites. Big sites have big budgets for research and development, take advantage of their research by watching what they publish.
For example, if you're in the travel industry, make TripAdvisor a spot you visit every day. According to SimilarWeb, Trip Advisor is ranked in the top five most visited sites in the world.
Trip Advisor knows that and creates content to keep people coming back. Use them to figure out what to write about and develop a part of your content strategy.
In general, I don't advocate dating content but there is a big exception to this and its prediction pieces. Creating a new "what will happen next year" piece is an excellent form of link bait and a smart way to breathe life into old articles.
This technique isn't just for year-end, retailers can make holiday predictions all year and compare to last year, educational sites can predicate fall enrollments, financial sites about the economy, etc.
Q4 How to create linkable content in toughest and most boring niches (insurance, real estate, etc.)?
For the record, I don't find insurance or real estate boring, they can be competitive, but that competitiveness is also a plus IMO. The more content and pages available to research, the better chance you have of creating something great to use as link bait!
A4 Being relevant and useful. What are the most frequent questions your potential clients have? Just answer them. People really need to have complex concepts explained in simple terms. Also, calculators, video tutorials, and Q&As should work. #vcbuzz

— Joinative (@joinative) December 17, 2019
Content in any niche has two challenges: 1.) you need to find the right topic to write on and 2.) you need to find the best site to host your content.
Finding sources is an art form, I like to start by finding authors who have already written about my subject matter or who are/were employed in the sector. I do this in a couple ways, but I have the most luck when I use Linkedin.
#vcbuzz pic.twitter.com/jKcFptYu5H

— Debra Mastaler (@debramastaler) December 17, 2019
In the general search box on Linkedin, type "real estate author" and look at the results. People already established as authors in real estate will come back, they are what you're after, they'll have the insights and credibility you want.
#vcbuzz pic.twitter.com/UY21lzkKby

— Debra Mastaler (@debramastaler) December 17, 2019
They also may have publications they are currently writing for, that means less searching on your end to find sources to host your content. Win-win!
In my example, one of these two people has a current column in a national magazine where trends in real estate are discussed. This individual is exactly the kind of writer I would approach and try to hire. And if they say no? Ask for a recommendation.
Here are tools I use them to find content ideas, writers & sources to host my content. https://t.co/ObumdGOc8M is a tool that will find subreddits (groups) using your keywords. Plug in your keyword, what comes back are the groups (subreddit) talking about your keyword. #vcbuzz

— Debra Mastaler (@debramastaler) December 17, 2019
A4 Even in "boring" niches you can find interesting angles. https://t.co/kTBlYPRfcD #vcbuzz https://t.co/B28SJ2FneA

— Gail Gardner (@GrowMap) December 17, 2019
Find the oldest group with the largest community, click related subreddits and you'll find all the trending topics in any subreddit using your keywords. It's a goldmine of content opportunity here, both in sources and topics.
I like using this tool to find subreddits! https://t.co/OZfsxD2UQP cc @debramastaler #vcbuzz https://t.co/bDIas1ocYq

— Jessy Troy (@jessytroy) December 17, 2019
Snoopsnoo will set you straight about what ppl are actually talking about. For example, with weight loss? You might think the term is what is actually trending but nope – it's intermittent fasting. That's the rage in weight loss these days and what you could be creating linkable content around.
Boardreader.com is a tool that highlights what is trending in forum. Using their advanced search function, search on a phrase and the tool will tell you how the term has fared popularity wise over a given time period. It will even tell you how many posts a day all the forums Boardreader tracks, have threads using your keywords. There are thousands of forums on Boardreader and in a wide variety of niches.
#VCbuzz pic.twitter.com/rPmkyzEXfQ

— Debra Mastaler (@debramastaler) December 17, 2019
Don't discount forums as an information or participation source. If you have a site with an older (Baby Boomer) demographic, forums are a great source of information. People who have been on the Web for a long time cut their teeth on forums
As a link builder, it's hard not to use @Ahrefs, @SEMrush and @Buzzsumo. The Content Gap tool they offer is especially helpful, it looks at keywords your competitors are ranking for, but you don't. Love this feature.
Q5 What are your favorite link building and content creation tools?
So far I've talked about the following tools: BoardReader.com SnoopSnoo.com SEMrush, Ahrefs, Buzzsumo, Linkedin Search. (Note – I have no affiliation with any of these tools).
Here are additional tools I use when I'm building links. They're more competitive research tools because I am always searching for good sites to host content so I use research tools like Competitors.app TrackEngine.com and FeedSpot.com.
Yep, that's right, I still use an RSS reader. Can't live without that one, (Feedspot) the organizational value it brings to the mountains of links and content I collect on a daily basis is priceless.
I can, with a quick skim, see what hundreds of blogs are writing about by keyword or industry. Love my FeedSpot and have the upgraded version which is very affordable.
I also use Talkwalker.com instead of Google Alerts which I think has gone downhill in the last 12 months, it's returning a lot of junk IMO. Talkwalker results are much better.
Another tip about tools? Almost all of them offer free trials, I recommend you use them before you buy. Test them out, ask their customer service people a lot of questions and be satisfied the tool is what you need.
Very true! Always try first and ask people in forums for opinions as well. I am bombarded with choices for all kinds of software. I have choice paralysis #VCBuzz

— Janette Speyer (@JanetteSpeyer) December 17, 2019
All of the tools listed are wonderful & helpful but at the end of the day, the best tool a content & link builder can have is a human editor. An editor can take a piece of good content & make it great, they can fix natural language issues and add citations when needed.
Stats, survey results, data of any kind is hot hot hot with journalists too @boydnorwood
Crawlers like Screaming frog = Deep Crawl and Oncrawl as well. DeepCrawl has an excellent blog to boot.
How do you identify emerging trends, Debra? @debramastaler #vcbuzz

— Don Sturgill (@DonSturgill) December 17, 2019
I make a point to know the industry I work in and then find the branded sites in them. They have the money to research trends, I watch what they say and what they blog about. Watching news is smart too
a5 I think that one of my fav. tools is using google search operators. ie. links: InTitle: Site:

Links:https://t.co/fOsHdlhP3Z

Always insightful.#VCBuzz

— Debi Norton (@BRAVOMedia1) December 17, 2019
Yes, focus is often overlooked as a powerful "force multiplier". And sticking to it — your best content comes on the 4th or 5th edit. #vcbuzz https://t.co/qZdeErhZZm

— BizSugar (@bizsugar) December 17, 2019
Q6 Can you give any tips and insights on how to get email opened?
Whenever I speak at a conference or host a link building training, this is the one question that comes up every time!
My simple answer: If you want to experience higher open rates for your outreach email, I recommend you use a point of commonality in the email subject line.
Here's what I mean: Let's say you want to email someone who has a site you want to guest blog for. Find out who owns the site and look for a point of commonality between you. It could be a person you both know, or an interest you both have.
For example, let's say you sent an email to a prospect, and in the subject line wrote: "Bill Brown recommended I contact you". Bill Brown is someone both the person I'm emailing and I – know.
I found out about the commonality by going to Linkedin and doing a little research. The person getting the email is more likely to open it if s/he feels "safe" and/or connected knowing we both know the same person.
How many times have you gotten an email that praises your site and/or content and you know they've not read or seen your site?
Happens to me all the time, people tell me they love a certain article, link to the page the article is supposedly on and what they've really linked to is a page on my directory. Busted and delete.
A point of commonality is like a recommendation, it really helps in getting people motivated to act.
This concept of commonality also applies for placement rates. I am more successful in getting people to accept content when I tell the person I'm emailing we have a mutual friend or business associate. I nail it when I can also show my content on the site of that friend.
a6 How to get emails opened:
? Captivating Headline
? Time Sensitive
? Use Offers
? Create GREAT Content

those are a few ideas#VCBuzz

— Debi Norton (@BRAVOMedia1) December 17, 2019
So… I am at the end of my time here and before I go, I wanted to share this one last trick I've faithfully used over the 18 years I've been a link builder. It's never let me down so I hope it helps you too.
If you depend on templates included with outreach tools, you will always experience low turn rates. Why? Because just like broken link tools, you're not the only person using them. Let that sink in for a second. [templates and tools that look for broken links]
Cookie cutter templates don't help in getting your content read or placed, they sound dull or worse, insincere and site owners can spot them a mile away. Don't be that person.
You have a content calendar, right? Then why not have an outreach process calendar as well? Focus on finding ten really good sites you want to host content on, add them to a calendar and then spend one day researching each site.
A6: Make your e-mail a relevant + actionable part of the journey for your users. Don't blast the same message to everyone or use scammy headlines that make your brand look like a bunch of Nigerian Princes. In short: stop the e-mail garbage & more people will open it! #VCBuzz

— Sam Ruchlewicz (@SamRuchlewicz) December 17, 2019
You are looking at their backlinks, media mentions, content and more. Make a note of the sources you find and look for connected points. Once you start looking at the backlinks of well ranked pages, you'll see patterns and similar sites.
Use them to find a point of commonality. If you look hard, you will find something to use, something personal and not fake.
Still can't find a commonality? Make your own. Launch a roundup, do an interview, write a review. Once you create content featuring other people, they are more likely to return the favor. Make friends, influence people. You know – practice community marketing!
Extra tip: links in images!
So… one of the most underused tactics in linking = images. There are two ways to do this: First, find blog posts that don't have images, or have crappy images and offer them yours. For a link or citation of course.
Everyone thinks their site/blog post is a pretty baby but …. usually, they aren't so offer the image as an add-on or educational angle instead.
Here's the other tip which is so simple but soooo effective. If you have a site with a lot of images, use TinEye or Google Images to search for your image content. You'll find sites using them, be sure they're giving you credit!! Now the other thing….
Last image tip: Sometimes people will use the image and then give credit by adding your URL but they don't hyperlink the URL. It will look and sound something like this: Image courtesy of yoursite.com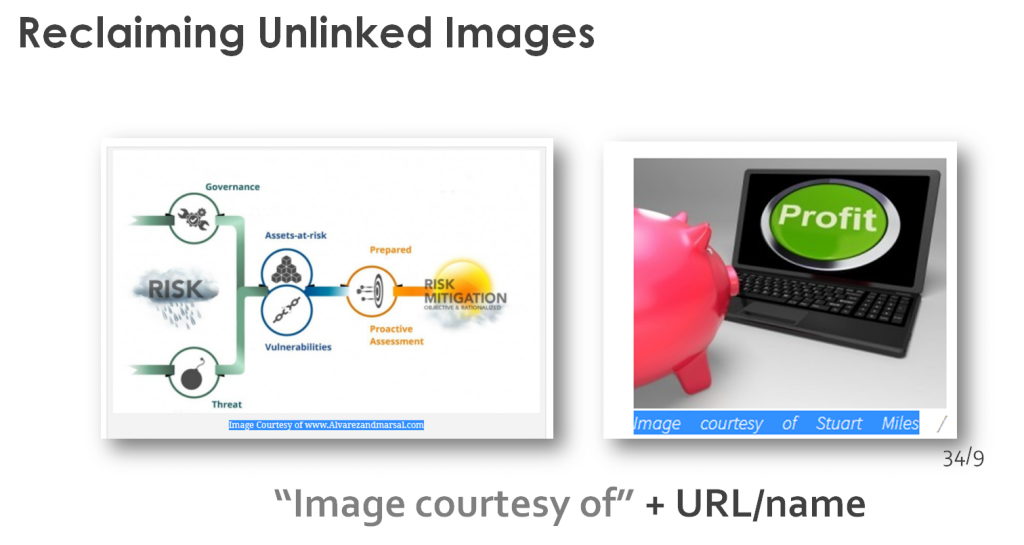 Use that exact phrase in a general search and you'll be surprised at what you find. Giving credit without linking = not good enough for me 🙂
Our previous link building chats: