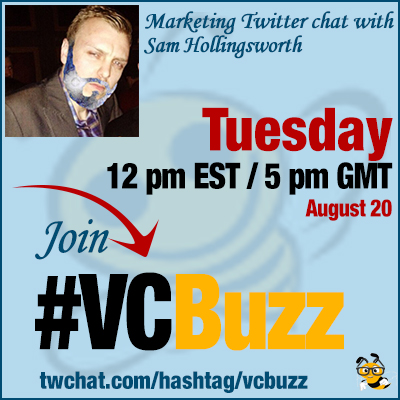 Link acquisition is something we can talk for ages, never finding a tactic that will work for everyone.
But there's one big change you can embrace to improve your overall link building results: Create content with links in mind.
Let's discuss just that: How to create content that earns links
***Add #VCBuzz chats to your calendar here.
***Please sign in here to follow the chat -> twchat.com/hashtag/vcbuzz
About @SearchMasterGen
Sam Hollingsworth @SearchMasterGen director of search @Elevation10k and former SEO manager @Acronym_Media.
As a former full-time reporter and page designer, and a devout lover of journalism, Sam frequently lends his voice to a variety of publications as a freelance writer, including Search Engine Journal.
Questions we discussed
Q1 How did you become a digital marketer? Please share your career story!
Like many SEOs I've met throughout my career, I landed in SEO and Content Marketing from the World of Journalism. I worked at a local newspaper in Saratoga Springs, NY, fresh out of college, but soon faced the reality many journalist faced: it's a struggling industry.
So, I did what anyone would do. I packed my bags and moved to NYC.
I was lucky enough to land at Acronym Media, a fun, privately-owned digital agency in the Empire State Building. I was able to work along some of the brightest minds and mentors in marketing, network across the world, and really build my skill set as a marketer there.
When we had my son, I was focused on getting back Upstate where I was from. @Elevation10K found me, and it's been a lot of fun ever since!
Q2 How to create content that earns links? Are there certain types?
All "types" of content can be valuable when they have a defined purpose and satisfy that purpose. Of course, there are many layers within that, including what kinds of content perform better for specific audiences, etc.
A2 A good way to think about is always answer the question "Would I want to link to it"? #vcbuzz

— Ann Smarty (@seosmarty) August 20, 2019
For us, as marketers, we need to know our audience and know what matters to them. Obviously, written words are critical in so many aspects of messaging, but there are so many other ways to communicate. We need to make sure we are using the best content types for that.
One of my break-through articles that brought most links (including @NYtimes) was actually a guest post. I think the success was due to it timeliness #vcbuzz

— Ann Smarty (@seosmarty) August 20, 2019
Sometimes, text-written content (blog post, etc.) is the best form of content to get a message across. But other times, a video is a better way to communicate a message, perhaps because it's too complex or maybe it just relies heavily on the visual aspect.
#Podcast interviews make for great exposure! This one with @365_Driven continues to provide great backlinks for my site. https://t.co/zd5bpTSm4T #vcbuzz

— Dan Willis #SAIS2019 (@MLLNNLmotivator) August 20, 2019
Best piece of advice there is: know your audience. As a member of that audience, what would resonate with you? What matters most to you? What kind of content would help differentiate your brand?
A2 content that contains original quotes and current statistics is more likely to attract incoming links. #vcbuzz https://t.co/Jo1Mi4ylZX

— Gail Gardner (@GrowMap) August 20, 2019
Even better. Create your own data sets and talk to the experts yourself.
Q3 Should we expect links to come or should content creation be combined with outreach / social media?
The best content will get linked to naturally throughout time. But that doesn't mean outreach isn't helpful and useful!
Outreach will only hurt your brand if it's invasive, annoying, and/or seemingly meaningless.
A3 Content that RANKS is the most powerful link driver. Bloggers and journalists use Google for research! #vcbuzz

— Ann Smarty (@seosmarty) August 20, 2019
Any industry thought leader would be interested, at least to some extent, with insightful stats, studies, or outlooks on their industry. And they are usually more than willing to chime in! Outreach can have a HUGE impact on high-quality content and garnishing links.
A3 Never focus on links. Focus on consistently bringing value to your community through problem solving and educational content. #VCbuzz pic.twitter.com/VvndUu656j

— Dan Willis #SAIS2019 (@MLLNNLmotivator) August 20, 2019
@SearchMasterGen Good content garners good audience response! #vcbuzz

— Lisa Shomo (@keenkoncept) August 20, 2019
Q4 How to organize link-focused content creation to turn it into a consistent strategy?
To echo @MLLNNLmotivator (somewhat), focus less on adding the links and focus more on serving your audience content that matters. Of course we want to add quality backlinks. But we also want to engage with industry thought leaders, compile useful data, etc.
A4 I use Google Spreadsheets mostly to put together topics, ideas, statuses, etc. #vcbuzz

— Ann Smarty (@seosmarty) August 20, 2019
But, like a lot of elements of SEO and digital marketing, it's an ever-changing environment that's consistently combatting spam, etc.
Truth! Whenever anything starts working and it becomes knows, spammers are there to ruin it! #vcbuzz

— Daily SEO Tips (@DailySEO) August 20, 2019
When you find tactics that work — specific content types, places to share your ideas, though leaders than engage with the community — you're not going to stop there.
But, yes … one word that will never go away regarding this topic: CONSISTENCY.
Q5 What are your favorite content creation and link building tools?
A growing number of platforms like SEMRush, moz, and ahrefs offer helpful tools to help identify content gaps on your brand's website, but also to find what if being talk about throughout your industry, what's the hot/not hot topics, etc.
A5 The @ninjaoutreach Featured Snippet Tool https://t.co/Rnd9LeY1kF #vcbuzz https://t.co/iHkAi3rLWP

— Gail Gardner (@GrowMap) August 20, 2019
Can't forget about @serpstat! Like I said, growing number of platforms.
Pitchbox was a tool I used early and often in my link-building trials and tribulations, but I have become more comfortable leading my own outreach charges. It just helps to be OCD and well-organized when keeping track of a lot of this info on your own in a spreadsheet.
A5 Really love @helpareporter! Great way to build authoritative backlinks in any industry. #vcbuzz pic.twitter.com/Thu1dyoj7h

— Dan Willis #SAIS2019 (@MLLNNLmotivator) August 20, 2019
A5 @BuzzSumo is a great tool EVERY WRITER should be using. You can do 5 searches free, but the Pro version is well worth having. #vcbuzz #content https://t.co/iHkAi3rLWP

— Gail Gardner (@GrowMap) August 20, 2019
A5 @Trello and @CoSchedule for collaborative content creation! #vcbuzz

— Jessy Troy (@jessytroy) August 20, 2019
Our previous link building chats: