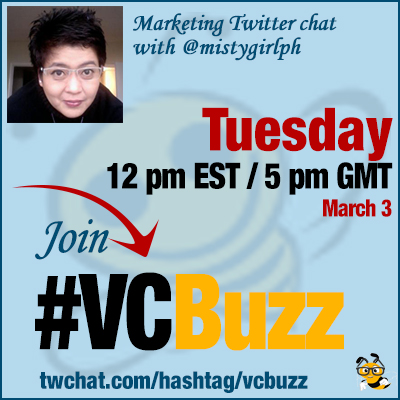 Content marketing is the core of Viral Content Buzz because we are committed to promoting only non-promotional useful articles that add value to the web. Thus, there's never enough chatting about content
Today we have a well-known content marketing expert Misty B. McPadden @mistygirlph
***Please sign in here to follow the chat -> twchat.com/hashtag/vcbuzz
About Misty
Misty is co-founder of PodJamTV Productions LLC, content production company and project management studio.
Misty is a writer, content strategist and designer. She has over 5 years experience as digital and television producer and over 10 years experience in project management.
Please circle Misty on Google Plus!
Questions we discussed
Q1 Please tell us your story: How did you become an Internet Marketer?
I worked as Digital Project Manager for different advertising agencies and found social media and digital media fascinating. Now we enjoy working with small to medium size businesses as well as big brands with our own business.
@AnnTran_ I do learn a lot from you ? I think support is key in social media #vcbuzz

— Misty B. McPadden  (@mistygirlph) March 3, 2015
Q2  What's your favorite social media network and how did you get to love it and benefit from it?
If I will rank my favorite social media networks, it would be Twitter, LinkedIn, Facebook and Google Plus. I started using social media at the very beginning because of work.
I'd say Twitter -> Facebook -> Google Plus -> Pinterest -> Linkedin [HOW ABOUT YOU, buzzers?] #vcbuzz

— Ann Smarty (@seosmarty) March 3, 2015
I'd have to go with Twitter/Tumblr/Facebook/Linkedin/Google+ in that order ? #vcbuzz

— Gabriella Sannino (@SEOcopy) March 3, 2015
I met so many people on both Twitter and Facebook, people I could have not gotten the opportunity to know if not for SM. I started using Social Media in 2007. Through social media I got the opportunity to work with bloggers and content producers, learned from the experts.
@mistygirlph Its an interesting that Pinterest isn't in your list. #vcbuzz

— Hardik Oza (@Ozaemotion) March 3, 2015
I think it really depends on what one is concentrating on. I like Instagram too but more for personal use
Not for me RT @seosmarty: A2 no Ello or TSU today? #vcbuzz

— Misty B. McPadden  (@mistygirlph) March 3, 2015
Q3 Why did you decide to found your own content marketing company? Was it hard? How did you do that?
I got married and moved to Connecticut and I said I wanted to be able to work from home. My husband and I sat down and made a list of skills and services we know we can offer possible clients. Started there. It was not really hard, but it took some time for us to narrow down what we really want to offer clients. Plan and then implement. Focus on the goals and continue giving good service and be reliable partner to your clients
It's always tough when you start but we move forward!… I love the saying "Make mistakes until you succeed" cc @mistygirlph #vcbuzz

— Ann Smarty (@seosmarty) March 3, 2015
Q4 You have co-founded VideoChatOnAir.com: What's the idea of the project and how content marketers may benefit from it?
VideoChatonAir was created to answer a pain point for 1 of our clients. We did several shows and it grew from there (you will see there examples of diffferent shows we have produced for brands).
It is a platform created to give businesses access to affordable and reliable live video production service & workshops. We also help businesses and content creators with their Live and produced video production and podcasting needs.
@mistygirlph do you have turnkey solutions or are clients usually involved in the process? #vcbuzz

— Jessy Troy (@jessytroy) March 3, 2015
We provide guidance for clients and we also have clients who already know what they want so we just implement. We also provide workshops so people can be ready before their show starts #preparation is key. We offer consultancy, but we actually produce the LIVE videos for clients.
@vcbuzz instead of just hosting Twitter chats we produce live video chats for brands #VCBuzz

— Misty B. McPadden  (@mistygirlph) March 3, 2015
Some impressive work -> http://t.co/QqAJ4m2YsW #videomarketing #vcbuzz

— Ann Smarty (@seosmarty) March 3, 2015
Q5 Excuse the personal question but this is a very burning question for many digital marketers: You have co-founded your company with your husband, @MartyMcPadden, what's the key of a successful in-marriage business partnership? What were your struggles and how did you overcome them?
We respect each others skills and knowledge, we support and yet don't overlap work. We also have separate working areas, so we are able to concentrate on our particular area of work, but communicate often.
So it CAN work, people: Respect and never step on each other's toes when working with your spouse… #vcbuzz

— Ann Smarty (@seosmarty) March 3, 2015
@mistygirlph You and @martymcpadden are soooo sweet together. ? #vcbuzz

— Diana Adams (@adamsconsulting) March 3, 2015
We have off days from work and we treat those as time to relax and just enjoy each other's company, like date night. Plus @MartyMcPadden and I are like 2 peas in a pod so not really hard working together ?