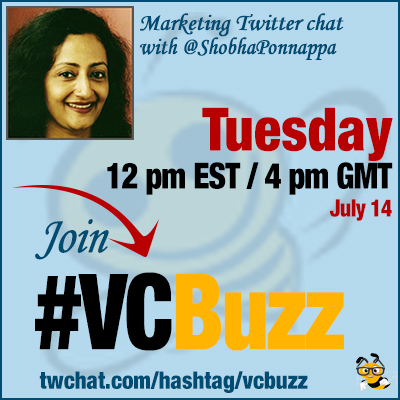 In our multi-media Internet era, it's essential to create multiple types of rich media to target different content marketing channels. But how do we do that when we only have 24 hours a day? Content repurposing is the answer!
Please meet our today's expert and awesome @MyBlogU community member, @ShobhaPonnappa
***Please sign in here to follow the chat -> twchat.com/hashtag/vcbuzz
***Important: Join this event on Google Plus to be notified of upcoming chats (It's easier with daytime savings and different time zones!)
About Shobha
.@ShobhaPonnappa is brand strategist and growth consultant. She has developed a breakthrough thinking style helping businesses grow.
Please circle Shobha on Google Plus and connect to her on Linkedin.
Questions we discussed
Q1 What brought you to digital marketing? How long have you been in the field and what's your career path?
Came from advertising 17 years. Then ran a digital company for 8 years. Now been consulting. Total =35 years! Handled about 125 global clients, big and small. Have a forte in giving brands marketing breakthroughs
@vcbuzz A1: I've been in the Digital #Marketing field for 4 years now, and it's mainly been Social Media all the way. #VCBuzz #SMM

— Mike Tiscione (@mjtiscione) July 14, 2015
Website at shobhaponnappa.com Still growing …I try out everything here I want to recommend for clients. Evolved into it … seemed like the path that was made for me, all accidents of fate!
A1 Been here for at least 10 (?) years… Started as an SEO.. Grew to love social and community more! #vcbuzz

— Ann Smarty (@seosmarty) July 14, 2015
Avigna Technologies, India (INTEL was an equity investor) 200 people, 125 clients, Cannes Lions Award
A1 Started working in #Marketing at a university that specializes in the entertainment industry. Been in the field for 5 years. #vcbuzz

— Spencer Hudon II (@SpencerHudonII) July 14, 2015
Q2 You are one of the most active @MyBlogU members? What do you think of the platform?
Love the very concept of MyBlogU and VCB too. Fabulous community of really strong thinkers. Very vibrant. All credit to Ann Smarty (@seosmarty) for her energy that infuses her sites. Great feeling to be part of it all! The best part of MyBlogU and VCB is the simplicity, ease of use. Unlike other community sites with too many rules. Very, very inspiring community and everyone on the ball all the time!
Wait to wake up every morning and see gazillions of shares of my posts! Thanx guys!
Raise your hand if you are planning to join (or joined) #MBUstorm! #vcbuzz

— Ann Smarty (@seosmarty) July 14, 2015
I need $500 for my marketing campaign so I may try to earn it! Jus saying may … #vcbuzz

— Shobha Ponnappa (@ShobhaPonnappa) July 14, 2015
Q3 Please describe your content repurposing tactic and give some examples!
Was looking for an idea for repurposing content that would do more than just that. Got the idea that I now use Twin goals for repurposed content … one, to be on different media; and two, to get more backlinks and social shares.
.@ShobhaPonnappa I've been experimenting with repurposing so good to see what you have done. #vcbuzz

— Sharon Hurley Hall (@SHurleyHall) July 14, 2015
See my main post here embedded with companion pieces of Slideshare, infographic, video.
Whole post gets ranked better because Google indexes Slideshare and Youtube content faster. Slideshare/infografic … I crowdsource quotes to get blog/social mentions & backlinks for my post by those quoted.
.@MyBlogU is PERFECT for that task! Just saying ? RT @ShobhaPonnappa: I crowdsource quotes to get blog/social mentions & backlinks #vcbuzz

— Ann Smarty (@seosmarty) July 14, 2015
I repurpose to get variety of content and for blogger outreach by quoting them in Slideshare and Infographic etc. Works very well because every post gets quicker look in from Google if it has slideshare and Youtube embedded. Getting on google rankings is getting very tough but blogger outreach via crowdsourcing is helping Google rankings. Like companion pieces but not repetitive… add lots of quotes and ask those quoted to promote the post
Do you change the dates when you do? Do you see more traffic from that? RT @cendrinemedia: A3: rewrite or refresh old articles… #vcbuzz

— Jessy Troy (@jessytroy) July 14, 2015
It's better to keep same dates since Google indexes my post faster if it sees Slideshare and Youtube.
Gooogle seems to be searching for "instances" of Sliseshare and Youtube videos and if it sees on my post it ranks my post up. After I do the Slideshare and Infographic wth quotes I send out outreach mails to all those quoted … like a daily discipline.
@jessytroy It also encourages quality. ? #vcbuzz

— Cendrine Marrouat (@cendrinemedia) July 14, 2015
One problem, people are lazyto contribute to crowdsourcing. If you get their previous writings and quote, they are ready to share. I don't repurpose the post exactly, I do companion pieces like extra info … eg. see what experts say on this same topic etc.
That may be the case of more signals: After the outreach, people share more, comment etc RT @jessytroy: G encourages varied content #vcbuzz

— Ann Smarty (@seosmarty) July 14, 2015
People are thrilled because they do share a lot when they are quoted.
You have to expreiment to succeed, but if you experiment with blogger outreach and crowdsourcing it's working very well.
Q4 With so much content to promote every day, what's your social media productivity tips? How to stay on top of social media without being too promotional?
I depend less on Google nowadays and more on blogger outreach to get more traffic. So 30% blogging, 70% promotion.
My mantra: don't try too many things. Do a few things but regularly. Don't get overawed by contrary advice.
A4: Don't add to the noise. Start curating. Content curation is THE way to build loyalty. #vcbuzz

— Cendrine Marrouat (@cendrinemedia) July 14, 2015
Yes curation is also a form of crowdsourcing!
The thing is, the more multi-media content you provide, the better you curate RT @cendrinemedia: A4: Content curation… #vcbuzz

— Ann Smarty (@seosmarty) July 14, 2015
Lastly, it's not life and death, just content marketing. Nothing great happens if you add a post. No loss if you don't.
@vcbuzz A4: All you need is a strategy. Often times, an Editorial Calendar can be a huge plus too. #vcbuzz

— Mike Tiscione (@mjtiscione) July 14, 2015
Mike when I see a calendar that's too huge, I balk! A client has a two year calendar that looked like from Mars!
@ShobhaPonnappa How do you know which things to do regularly until you try them? ? #vcbuzz

— Jessy Troy (@jessytroy) July 14, 2015
I do the things I like, avoid what I find to be painful. Enjoy the hard work than slog. I like writing, social.
Our previous content marketing chats: