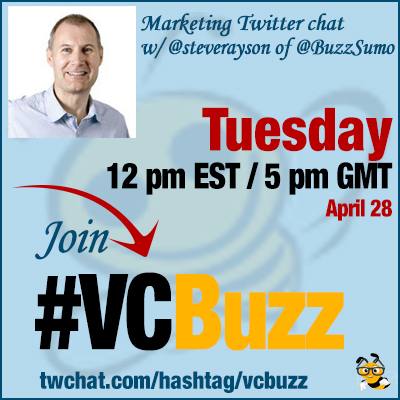 It's no secret that we are big fans of @BuzzSumo. I recommend them in almost every article I write and they were one of our #MBUstorm partners last year!
That's why I am so excited to introduce today's mentor: Please meet @SteveRayson Director at @BuzzSumo!
***Please sign in here to follow the chat -> twchat.com/hashtag/vcbuzz
***Important: Join this event on Google Plus to be notified of upcoming chats (It's easier with daytime savings and different time zones!)
About Steve
Steve Rayson is director at @BuzzSumo, content & influencer research and reputation management platform, and co-founder of @anderspink, content marketing company.
Add Steve to circles on Google Plus!
Questions we discussed
Q1 How did you get into online marketing? What's your story?
I started as a consultant at KPMG, then set up & sold 2 elearning companies & a learning technology platform. I got into marketing as a startup entrepreneur looking at ways to promote a new brand & read 'love is the killer app'. Book said give your knowledge away, be helpful, so we shared everything we knew on elearning, tips, guides etc. These days it would be called content marketing ?
From that early content we built 12k email subscribers in our first year, probably easier back then as less competition.  We didn't ask for emails in those days but people signed up to get regular tips and insights
Q2 What's your favorite content marketing tactic and why?
I love data driven posts, they create unique insights in a world where there are too many 5 ways to do xyz posts. I spend hours in BuzzSumo looking for insights from the data eg what works on linkedin, what quizzes work… I also like practical how to posts. You do them really well, your how to use G+ hashtags post, got over 7k shares.
I was only today going through 100m FB posts to look at impact of images! If you are interested on last 100m FB posts, those with images 372 interactions, those without 164. They are a good way to tell stories, make comparisons and show processes.
Yep, twice as many interactions, lots of other insights eg on Twitter cards, will share full details soon! And picture list posts .
Quizzes are also very popular right now, they can get millions of shares in popular areas but work in niches too.
Just like Minions. >_< RT @seosmarty: Yes, they are now everywhere… #vcbuzz

— Roxana Nasoi (@roxanasoi) April 28, 2015
Animated gif posts could be fun but they are so slow to load… #vcbuzz

— Ann Smarty (@seosmarty) April 28, 2015
Q3 How was the idea of @BuzzSumo born? What did it take to go from the idea to the project?
The credit goes to Henley and James who had the original idea. I loved it & helped get it off the ground as a startup.
I bootstrapped it financially so the guys could develop the product, we agreed to give it a year to develop & test. We had free beta version to test and get feedback, launched paid version last Sept, still have free version. You only get first page results in free but unlimited searches ? Alerts, exports in paid.
The focus is on helping content marketers create better content, curate content and get their content amplified. You also get today's Trending Dashboard free which is addictive!
Alerts are great, we find content published on a topic, from a domain or a link to a domain within 5 mins typically.
Yes, @Buzzsumo alerts are super fast! And amazing index scale too! Much better than Google alerts! #vcbuzz

— Ann Smarty (@seosmarty) April 28, 2015
Thanks! Yes, not sure Google are doing much with alerts now, very slow and miss most things. Many people use alerts to track competitors eg when they are mentioned, when they publish content and when they get linked to.
I was using alerts for reputation management: The quality is just awesome! Great tool! Love the boolean operator support! #vcbuzz

— Ann Smarty (@seosmarty) April 28, 2015
I get a real time alert every time someone mentions BuzzSumo as I am paranoid! Maybe one day I will switch to a daily digest ?
Q4 How are you promoting and monetizing @BuzzSumo?
We focused on influencer marketing, didn't spend anything on ads or marketing in first year. Influencer marketing was key to our promotion, we identified a group of influencers that we built relationships with. We also wrote content using our data to show the insights you can get and how to improve what you do.
On monetizing, we have subscriptions for advanced features alongside the free version.  SaaS pricing and subscriptions is an art form, I listen to masses of podcasts for advice & anything from @ttunguz. We passed 800 paying account subscribers quite quickly, so I am hoping we are on the right lines ?
That said we have over 80k free subscribers, you could look at it as only 1% conversion but in reality they are different users. Luckily James has designed an intuitive interface so we get few queries and support calls ?
Q5 You combine two outstanding roles: How do you manage your time to be awesome at both?
It is hard work, especially with global clients & 24/7 operation, you need an understanding family and partner. I haven't learnt how to prise myself away from my smartphone. I am on Intercom all the time which is a great app!
I think running a startup is like being in a support group for work alcoholics  ?
Finding a work life balance is a serious issue for entrepreneurs & others in a 24/7 world and smartphones. I haven't found that balance yet, though I may if my wife carries out her threat to jump on my iphone.
A5 Sometimes, you have to disconnect. EVERYTHING. 5minutes/day. #vcbuzz

— Roxana Nasoi (@roxanasoi) April 28, 2015
Roxana I agree but it is so so hard. My way is to go to New Zealand for a walking holiday as no wifi!
@steverayson you should give mindfulness a try, it'll help you get that time off even when you are in your city. ? #vcbuzz

— Roxana Nasoi (@roxanasoi) April 28, 2015
Yep, Roxana been trying some apps like headspace.  Doing walking as well, but I find it easier to be in the countryside where there is no wifi!
No wifi is the only way to go! Otherwise, always with one eye into the gadget ? #vcbuzz

— Ann Smarty (@seosmarty) April 28, 2015
I do like the breathing exercises, breath in to count of 4 and out to the same.
Previous content marketing Twitter chats: