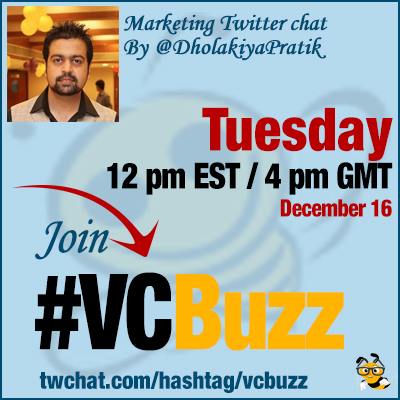 Don't forget that we are still waiting for you to enter our New Year's blogging resolutions challenge! You can win $1000 by letting us help you achieve your goals – yes, that sounds as awesome as it is in the reality!
Today we are discussing one such goal: Being a productive online marketer
***To join our chat, please sign in here -> twchat.com/hashtag/vcbuzz
Please meet our mentor @DholakiyaPratik
About Dholakiya
.@DholakiyaPratik is one of those people who seems to do too much to be true. He contributes articles all over the web including @problogger, @EntMagazine, @smallbiztrends, etc
He also has an array of his own projects: .@DholakiyaPratik is the founder of Growfusely, @PreceptistHQ & @PRMention
You can learn more about our today's mentor on Dholakiya's personal website.
Questions we discussed
Q1 How did get into online marketing? How hard was it to target the US market? Do you have clients from US only or do you provide international services?
It was accidental for me to get into online marketing. I was working in a data entry service offering company as a manager, and I was told by one of my colleagues to learn SEO and make my career in it. That's how my journey began.
@DholakiyaPratik Same thing happened with me… I am also non technical person at starting…. #vcbuzz

— Anant Patel (@Anantpatel09) December 16, 2014
It was pretty hard to target the US market especially when E2M was very fresh. But eventually we managed to make it work for us. We were firm to deliver the best work from what we learnt and that helped and is helping a lot still.
We have clients from about 10+ countries that include US, UK, Australia, New Zealand, India, Singapore, etc. But major part of our client base is from US.  It's a bit difficult but it's our regular practice now to stay up late until 1 or 2 AM and be responsible ?
Q2 You contribute to some of the best-known online marketing blogs. How do you get opportunities like that? What's the secret of being accepted to contribute to such popular blogs?
I create the opportunities rather than getting them! There's no secret as such ? The key is in finding the right point of contact and approaching the most relevant content.
Creating opps – I like that – It's the ONLY way #vcbuzz

— Phil Turner (@EP_pturner) December 16, 2014
Identify the right person who could be managing blog (may be editor/writer) and pitch to get their thoughts.
@viralcontentbuz @DholakiyaPratik Identify the blog you want to be on and study it inside out. You'll find a way. #vcbuzz

— Rohan Ayyar (@searchrook) December 16, 2014
A2 I use Linkedin Company page to see who I am connected to from that blog.. #vcbuzz

— Ann Smarty (@seosmarty) December 16, 2014
Q3 Has your guest blogging strategy changed over the years?
Not much. I still do the guest posts the way I used to do in 2012. My core focus has been brand coverage and mention rather than acquiring links. If you look at the posts I've done so far, you'll get to know something new always!
@DholakiyaPratik how do you choose where to guest post? #vcbuzz

— JeffreyRomano (@JeffreyRomano) December 16, 2014
I focus on marketing blogs where I see great audience hanging around. No other metrics to be followed.
@viralcontentbuz A3 (3) If the blog doesn't have a great community or good shares and traffic, we don't even take a second look. #vcbuzz

— Rohan Ayyar (@searchrook) December 16, 2014
Q4 What's the key components of the irresistible guest contribution? How do you make sure your articles get accepted?
The main key component is keeping your quality of content intact. If you focus on that, it's easy to get your posts accepted. Other component I always consider is relevancy of the content and the audience for whom you're producing the content. Social media shares also takes place, but you won't be able to know exact traffic data anywhere. It's better to focus on the items that give you a feel that the audience is genuine on the site you go after.
Editors love resourceful articles: So try adding links to related tools, hacks, etc #vcbuzz

— Ann Smarty (@seosmarty) December 16, 2014
It's also best to decrease the work load of the editors you're pitching to ?  Make sure to send an error free content, properly sized images, appropriate links, citations, etc. Flickr with CC license for free and help from my design team for custom images.
1st need for writing fast: Know Thy Topic #vcbuzz

— Don Sturgill (@DonSturgill) December 16, 2014
Q5 How do you organize your time to be such a productive marketer?
@trello is my best partner to be well-organized for anything and everything I do related to marketing. But when thinking about content ideas and getting the drafts ready, mid-night works best for me.
Your typing speed is too fast ? RT @seosmarty: I usually write a 1500-2000 articles for 2-3 hours #vcbuzz

— Anant Patel (@Anantpatel09) December 16, 2014
.@MyBlogU+Coffee = Productive! RT @DholakiyaPratik: A5. But when thinking about content ideas and getting the drafts ready #vcbuzz

— Ann Smarty (@seosmarty) December 16, 2014