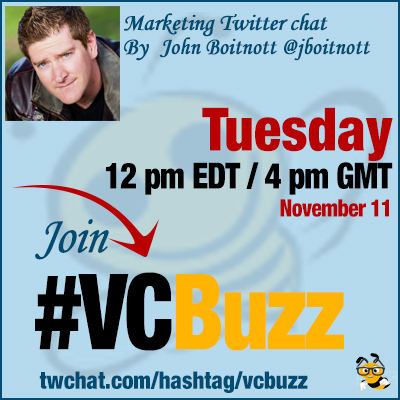 Viral Content Buzz is all about sharing awesome content that has a great potential to go viral (so we just give the initial push). Therefore we focus so much on what great content is. We showcase great articles that do very well at VCB, teach you how to create viral content and even create additional tools and platforms to help you generate awesome content easier: MyBlogU is our sister project that assists in content creation for free!
Today we have a great guest who will teach us to create awesome content and get very productive about that! Meet @jboitnott
*** Please join us here: twchat.com/hashtag/vcbuzz
About John
 John Boitnott has worked at TV, newspapers, radio and internet companies in California for 20 years.
John is a contributor at Inc.com, Entrepreneur.com, INC Magazine and SAP.com. In the past he was also contributing to such huge magazines as VentureBeat and Fast Company.
Please circle John at Google Plus
Questions we discussed
Q1 How did you get into SEO and entrepreneurship?
20 Years ago I started as a journalist at a SoCal TV station. By 2006, ended up as a web editor at @NBCBayArea Working online taught me how marketing had begun to play a part in journalism. That led to social media work, start-up consulting, and then SEO and entrepreneurship.
@jboitnott Did you leave TV on purpose? #vcbuzz

— Tad Chef (@onreact_com) November 11, 2014
I did – but stayed in media. There were greater opportunities… I got a job in social media with @villagevoice at that point. It was fun.. and an expanded role.
what made you choose to go from consulting to SEO? #vcbuzz

— Catalin M. (@CataM8) November 11, 2014
Never "went into" SEO per se.. it's just related to much of what I do…
Q2 If someone wants to build a career of a writer online, where does (s)he start? How to find incredibly awesome gigs like you did (@Inc, @EntMagazine, etc)?
You start in English class in high school and college. You might want to try major-ing in journalism or English. You find good gigs by getting to know people, networking, taking internships, applying for jobs, and building your reputation in the industry.
I'm not sure what their criteria are to build a reputation with @Inc… I applied and was accepted as a columnist/contributor back in May.
A lot, yes ? value grows with experience, I believe RT @josephonibokun: Experience probably counts a lot too! #vcbuzz

— Catalin M. (@CataM8) November 11, 2014
I think they may have liked my already healthy social following.. or at least that may have contributed
@jboitnott how long did it take you to get known in the industry? #vcbuzz

— Hire Bloggers (@hireblogger) November 11, 2014
@hireblogger For me it took some months…. it's going to depend on your output and the quality of work #vcbuzz

— John Boitnott (@jboitnott) November 11, 2014
Q3 Where do you find your writing inspiration? Do you ever feel stuck?
I find inspiration by looking at other blogs and seeing what they're doing as well as keeping abreast of latest industry developments. We all get stuck. Go online and see what other people say about a subject. Form your own opinions after careful thought. Then write.
I wrote on being inspired with questions people ask for @sejournal Quora works great for that! #vcbuzz

— Ann Smarty (@seosmarty) November 11, 2014
@jboitnott What are some of your favorite bloggers you monitor for that? #vcbuzz

— Hire Bloggers (@hireblogger) November 11, 2014
It's not so much about individual bloggers as it is about industry as a whole. I like @techmeme because it instantly shows you not only who top bloggers are but more importantly the top stories of the day and who is being assigned to write about those top stories at different pubs
I'm a huge fan of using @GSearchTrends in order to see what people are most interested in… #vcbuzz

— John Boitnott (@jboitnott) November 11, 2014
Q4 What are the best ways to promote your articles online? How to start the buzz going?
Some best ways include: Meeting/Knowing/Helping influencers, staying active/engaging on social networks, if you don't have a huge network, buy ads.
@jboitnott how much time do you spend on social media to keep up with all of that? #vcbuzz

— Hire Bloggers (@hireblogger) November 11, 2014
It's quite a time commitment. Your social media presence doesn't stay healthy in a vacuum. We're talking hours a day. Nothing is free. You've got to earn it by staying in the mix with people you know online, if you want to maintain a semblance of influence.
Q5 What's your writing productivity secret? How to write a lot while still being an awesome writer?
Exercise, eat healthy, sleep well, maintain social life. Devote finite hours for work. A good interview makes an article write itself.
PSST @myblogu ? RT @jboitnott: A5 (cont) And….. a good interview can make an article "write itself." #vcbuzz

— Ann Smarty (@seosmarty) November 11, 2014