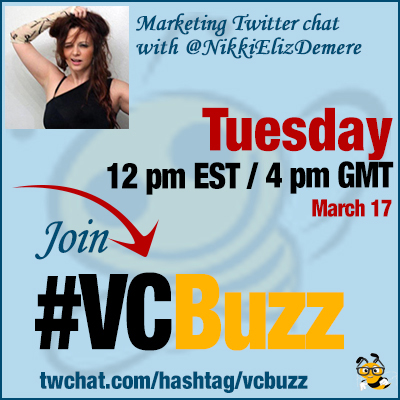 Community management is one of the trending professions right now, yet it's also one that is often misunderstood and undervalued. Today we have one of the most amazing community management experts I am aware of: Please meet Nichole Elizabeth @NikkiElizDemere, Community Manager at @InboundOrg
***Please sign in here to follow the chat -> twchat.com/hashtag/vcbuzz
About Nichole
Nichole has worked in online marketing for 15 years and has contributed her expertise to several Fortune 500 companies. She is internationally recognized in the media for her contributions to online marketing and received the Gwen Faulkner Memorial Award for Excellence in English and Technology.
Nichole is Customer Success Evangelist. Currently Nichole oversees community growth at @InboundOrg, moderates @ProductHunt and @GrowthHackers. Her previous role is Head of Content at @GrowthHackerTV.
Follow Nichole on Instagram!
Questions we discussed
Q1 How did get into online marketing? What's your story? How did you switch to content management and growth?
I started doing #SEO when I was 12, before I knew that there was a such thing as SEO. I was fortunate in that I've owned computers since I was a little girl, as I grew up in a tech-savvy environment. I was curious as to how other people were creating web sites, so my uncle showed me how to view the source code. From there, I taught myself HTML, built web sites, and figured out how to get them to rank in search engines.
Throughout high school, I worked as web designer and developer. And throughout college, I worked within Information Tech. while earning a degree in Industrial-Org. Psychology. Eventually my interest in both Psychology and Technology met and I became a Growth Marketer.
I'm now responsible for Community Growth at @Inboundorg and I'm a moderator at @ProductHunt and @GrowthHackers. If you're interested in getting into Community Growth, check out @amyjokim's book.
Q2 What makes a good content manager? How can a company hire a good one?
A good content manager is: detail-oriented, organized, a competent writer, and can match the company's personality. They most likely know about mapping content to the buyer's journey, and how to write for the ideal customer. If you want to hire a content manager, post a job on @InboundOrg's job boards. ; )
$250 value: 100% off coupon for posting a job on @InboundOrg. The coupon is only valid for a week. If you're interested in getting into content management, check out @HubSpot's Inbound Marketing Certification. You can access all the materials for the Inbound Marketing Certification here. And also check out @copyhackers – there is so much to learn from Joanna!
Q3 What's your favorite community building tactic? Do you have any examples you are proud of?
Automate small, repeatable tasks.
Build a solid moderation team.
Use experiment-driven Growth Marketing to test hypotheses and iterate quickly.
Delight your users / members! The community is for and about them, not you.
S/O to the awesome moderators at @ProductHunt: @erictwillis and @bramk.
S/O to the awesome moderators at @InboundOrg: @patrickcoombe, @mattantonino, and others.
I can't stress enough how important a moderation team is to scaling a community. Our moderators make me proud!
@NikkiElizDemere which small tasks do you automate? #productivity #vcbuzz

— Jessy Troy (@jessytroy) March 17, 2015
It depends on the community. You'll know when you're managing one what you have to do over and over. ?
How to keep it "personal" with seemingly small tasks that end up looking spammy? @NikkiElizDemere Automate small, repeatable tasks. #vcbuzz

— Chris Boggs (@boggles) March 17, 2015
*Never* automate engagement. Small tasks that you would automate should never include tasks that are related to engaging with community members. When considering automation for Community Management, automate logistical tasks that are slowing you down.
Q4 What are the worst community building and management struggles?
Eventually you're working with high-volume traffic in the hundreds of thousands of visitors a month. This leads to growth getting more difficult over time, requiring creativity. This is why you'll hear people say over and over how important creativity is within a growth-oriented profession.
What used to work months ago will no longer work this month and so on. And you've got to stay focused, because you can't allow creativity to cause you to lose sight of the original goal.
@NikkiElizDemere what's your favorite growth hack you tried? #vcbuzz

— Jessy Troy (@jessytroy) March 17, 2015
For Community Management? Figuring out ways to best structure content for usability purposes.
The Growth Hacking side of Community Management is hypothesis-based experiment-driven Marketing.
Q5 Community management is overwhelming! What's your GTD and productivity secrets?
Automate, automate, automate. Here's a list of tools I use to stay organized and get automated.
Because I love #womenintech, here's a list of Women in Content Marketing who rock it.
Link me to your @InboundOrg profile and I'll send you a free t-shirt. Limited to 3. 1st-come.
Also, follow @_CamilleTaylor, the next up-and-coming Content Marketer and Customer Success Manager
@NikkiElizDemere Those were some awesome insights!! Thanks for your time #vcbuzz

— kcpravin (@kcpravin) March 17, 2015
Previous community management chats: