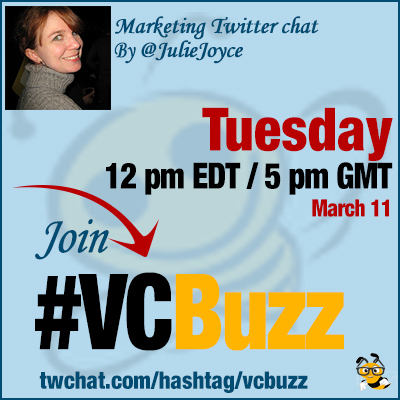 Today we have a special guest @JulieJoyce who has been a link building pro for as long as I can remember.
**To join us please sign in here -> Twchat.com/hashtag/vcbuzz
About Julie
Julie is owner of the link development company Link Fish Media, Inc. and co-founder of SEO Chicks, the all-female blog covering search and social tips and news. She is also an active contributor to Search Engine Land as well as many other authority marketing blogs.
Questions that we discussed
Q1 In your recent SEL post "Down With Toolbar PageRank And Up With… What?" you talk about the possible demise of TBPR. We definitely agree that this can be too much focus/obsession on this metric. If you had to choose one other what would be replace TBPR i.e Moz's Domain Authority, Majestic's Citation Flow, etc.
I'd have to say that I think Moz's DA has the best shot there, but Maj's Citation Flow is probably my fave. Both of those are metrics that clients mention though, and I'm hearing them mentioned a lot more than TBPR these days.
I see people asking for Moz DA and PA figs in MBG. Are Majestic's numbers just too hard to understand? #vcbuzz

— Phil Turner (@EP_pturner) March 11, 2014
I guess it's easier to understand as it has the same metrics as TBPR.. RT @EP_pturner: I see people asking for Moz DA .. #vcbuzz

— Ann Smarty (@seosmarty) March 11, 2014
Q2 The industry of buying and selling links has historically used TBPR as a measuring stick for pricing etc. Is this this still very much the case are or are clients asking looking to other metrics to judge value?
I think that clients do use other metrics when they give guidelines to buy links but the funny thing is, they still fall back to PR. They'll say that PR doesn't matter yet hate a link because it's on a PR 1 page maybe, so I think PR is VERY much still ingrained. Links are expensive haha! They're getting pricier and we're given quotes as high as $5k a year.
(We do not pay $5k a year…please note. I hope you don't either.) #vcbuzz

— JulieJoyce (@JulieJoyce) March 11, 2014
Webmasters are asking for amounts based on PR too, so we get that a lot…my site's a PR 4 so a link will be $150 for one month, etc.
@JulieJoyce I remember having some clients pay $1k/mos budget for bought links. I cannot imagine how much the avg site charges now. #vcbuzz

— Shannon Hutcheson (@LdyLarke) March 11, 2014
Q3 Social signals and links: What are you thoughts on "social signals" in terms of adding authority to links? For example if a piece of content has hundreds of Tweets, Facebook shares, Stumbles, Google pluses etc. Does this link on that page become more valuable/authoritative?
I think great social signals can add authority to the content overall, yes, and hopefully any link in that content. Strong social signals tell me that the content has a higher chance of being seen, so links have a higher chance of being clicked. I also think that if it's doing well socially, it's for a reason, meaning it's good content, valuable content.
They are only using G+ officially… RT @EP_pturner: How will Big G remove automated tweets etc. from the calculation? #vcbuzz

— Ann Smarty (@seosmarty) March 11, 2014
Great q. about automated tweets…I truly have no idea how they'll handle automated social anything. #vcbuzz

— JulieJoyce (@JulieJoyce) March 11, 2014
Look for G+ authorship like Ann said…I'd say that is a good potential. Social automation is going to be a tricky thing to detect. Plenty of people use automated tweets legitimately too. I like to look at the legitimate engagement too, like are they comments valid? Is there actual interaction going on?
Will SEO automation of social signals destroy any worth that they have though? #vcbuzz

— Phil Turner (@EP_pturner) March 11, 2014
Destroy though? I doubt it but I mostly hope not. #vcbuzz — JulieJoyce (@JulieJoyce) March 11, 2014
Q4 Author Rank and looking to the future. What are you thoughts on the possibility of author rank in the future? Do you believe that author rank will become a more sought after metrics in the future? And do you feel that will overtake the TBPR Obsession or possibly replace TBPR?
I bet we'll find a way to mess with Author Rank too ha! I like the idea of it in general though. I hope it will be factored in. But not to replace anything, only to add yet another good signal. People are already setting up fake profiles though.
Is there a browser extension that displays Author Rank? #vcbuzz — Phil Turner (@EP_pturner) March 11, 2014
@EP_pturner Virante has this: http://t.co/7uQj5CBGyW #vcbuzz — JulieJoyce (@JulieJoyce) March 11, 2014
Q5 The future of link building. We know that Google has tried a some test excluding backlink relevance and seems they failed miserably. Do you think there will ever will be a web or a Google that relies on non link signals for determining SERPs? Or do you believe links are here to stay?
I think they're here to stay. I would say that, owning a link company, though…but I do believe it. When you want to reference something you link to it, so I don't see how the importance of that can go away. Link signals might decrease a bit or other signals could get added but I don't expect to see the importance of them just die.
@EP_pturner even exact match anchor text links can have value in an article though. It happens lol #vcbuzz — Shannon Hutcheson (@LdyLarke) March 11, 2014
@LdyLarke I agree, as long as the links are natural, not generated by paying a company to get them (Nothing personal JulieJoyce) #vcbuzz

— Phil Turner (@EP_pturner) March 11, 2014
Link builders will mess up the link graphs as we all try NOT to use exact match anchors now.