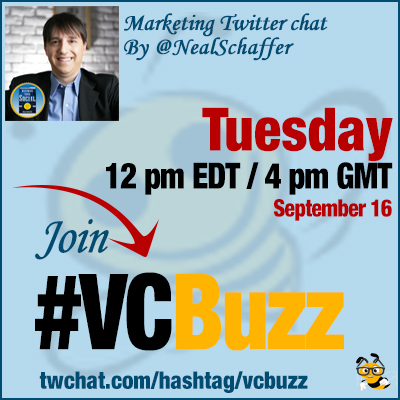 We are chatting social media influence today: And we have one of the best-known influencers out there!
Please meet @NealSchaffer!
**To join us please sign in here -> TwChat.com/hashtag/vcbuzz
About Neal
Neal Schaffer is founder of Maximize Your Social, speaker and trilingual Social Media Strategy Consultant.
As an author, Neal is best known for his definitive book on social media strategy creation, implementation, and optimization "Maximize Your Social: A One-Stop Guide to Building a Social Media Strategy for Marketing and Business Success" (Wiley)  but has also published two other award-winning and critically acclaimed social media books: "Maximizing LinkedIn for Sales and Social Media Marketing" and "Windmill Networking: Maximizing LinkedIn."
Questions we discussed
Q1 How did you get into social media marketing?
Great question! My background's in B2B sales, business development & marketing – and did it all in Asia speaking Chinese & Japanese! I became active in social beginning with LinkedIn in early 2008 – which led to launching a blog @msocialbusiness same year. My original blog was "Windmill Networking," then last year became @msocialbusiness .
@seosmarty When it comes down to LinkedIn Groups, yes, 50 hours a day would be nice ? So many gr8 convose and people! #vcbuzz

— Neal Schaffer (@NealSchaffer) September 16, 2014
Since 2010 I haven't turned back – so, it happened organically – and social media is truly an industry that found me!
This month it will be 5 years since publishing my Windmill Networking book! Need to celebrate in some way, right? ? The party will hopefully be the free ebook … so we can celebrate together ?
Q2 What is social media influence and how do you build it?
Let's first point out that true influence has existed before social media – and still exists outside of social. But if we look inside social media – where we spend 25% of our online time – some entities can yield "influence".  In other words, if these influencers recommend a product or service, it can generate *action* amongst many people.
So, social influence is not about a Klout score – it's a question of how many people you can influence into action. The best way to build influence? Share you own POV via blogging, discussing online & engaging relevant people! If you're trying to influence people, you must also act like – and engage like – a person, right? As I like to say, social replaces nothing but complements everything. Social opens doors – but doesn't change basic rules.
Also please understand that building "influence" doesn't happen overnight – it takes time & consistency! How does online influence work? I've "known" @seosmarty online for years but never worked together with her. So when @seosmarty applied to blog on @msocialbusiness , she didn't have to go through my formal application process. Ann had enough influence (and credibility) in my eyes that I immediately trusted her. Before social media, something like that would be impossible, right? So influence works in many subtle ways. But you still have to be human, credible, and become someone others would trust to yield true influence.
Q3 You are a Forbes Top 50 Social Media Power Influencer two years in a row… Seriously, how did you do that?
I actually don't know! I just continue doing what I do: Blogging, Writing, Speaking & Engaging in social. That being said, understand that it's easier to be seen in "public" social networks like Twitter, Pinterest, IG & G+. People don't search as often & can't find _information_ on FB & LI because content often hidden behind privacy settings. The other (outside of LI & FB) networks are public – and Twitter as a realtime search engine is _huge_ – maybe 3rd largest. So spending a lot of time on *Twitter* (since late 2008) has definitely helped me –and my content – *get exposed* to many. And I think if you look at a lot of people on the Forbes list, Twitter has played a large role in their becoming influencers. Remember that social analytics platforms can get the most information from Twitter as well because of open APIs.
Unbelievably unfair, huh? ? RT @gchesman: You mean we actually have to WORK to be an influencer? #vcbuzz

— Ann Smarty (@seosmarty) September 16, 2014
The net-net is: When you tweet, you are really front and center on the world stage – take advantage of it!!! I think Twitter is one of the only platforms where that happens – because people (and brands) truly are listening.
I once mentioned I was helping Japanese friends evacuate from Fukushima – and a BBC reporter contacted me the next morning! We have become the media – so the question for you all is, what unique media do YOU have to share? What have you created?
A3 Re BBC story -> @NealSchaffer u were helping from your heart not from your wallet. Key essential in social media influence. #vcbuzz

— Lisa Radin (@milguy23) September 16, 2014
Q4 ViralContentBuzz is honored enough to have you as our community member. What's your experience with the platform?
I actually forgot how I found out about ViralContentBuzz, but I started using it as a content curation tool. I even included @viralcontentbuz in my post on social media productivity tools here.
What I like about ViralContentBuzz is that I can find great content to curate – written by content creators. Hint: If you want to yield influence, start by building relationships with content creators! I use @SproutSocial , so I can see my *entire* conversation history with any given Twitter user.  It kills me when someone reaches out to me with a question or asks for a favor without ever previously engaging with me! Content creators value social media engagement more than anyone else – so if you curate, curate from them! Also, as a content creator myself, I like to support other content creators if they have quality content.
The other important thing is, as a tool, ViralContentBuzz makes it easy to share across multiple platforms. I was even exposed to a new social media tool which I just began using because I found out about it on ViralContentBuzz! Content to curate is everywhere, but u need a platform w/ relevant content and tool to help u facilitate discovery & sharing. THAT is exactly what @viralcontentbuz brings to the table. There are other tools out there, but that's for another chat ?
@NeilSchaffer … curation is more than sharing links, then … you discuss the content and get ideas from it? #vcbuzz

— Don Sturgill (@Don_Sturgill) September 16, 2014
How do I use content curation in my work? The concept is simple: What are you going to talk about everyday in social? Content curation gives businesses and people to share information relevant to them that can help others. Content curation also helps spark engagement and generates ideas for content creation. Yes, curation should be more than just sharing random links … that's really not "curating", right?
Q5 Among lots of other things, you are also a book author… How do you organize yourself to write a book? That's a huge commitment!
A book definitely requires a commitment of time – but it's also important to establish credibility. If you blog regularly, a book is a natural extension because you've probably already blogged part of a future book. When I wrote my 1st book, I compiled a few months of blog posts and realized I already had written 25% of it! A book only needs to have 50,000 words, so if u blog 1,000 word posts twice a week, u could "blog" your book in 1/2 year! Start by writing your table of contents, copy blog posts you've already written, fill in the gaps with new posts!
For me, I treat each book as a way to share everything I know at the time – and then to literally turn a new chapter. My latest book @MaxYourSocial was about all of my experience in consulting to help empower others. And now I prepare for my next chapter: The launching of something new later this year!
Thanks @viralcontentbuz for the invitation to chat! It's been a buzzing blast! ? #vcbuzz

— Neal Schaffer (@NealSchaffer) September 16, 2014