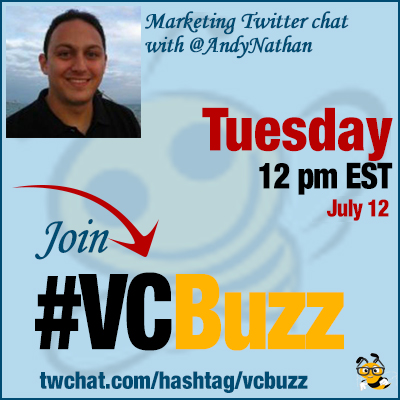 Turning your blog into successful business is every blogger's dream. But how to achieve that?
Today we are talking about just that: Building up your blogging business
***Add #VCBuzz chats to your calendar here.
***Please sign in here to follow the chat -> twchat.com/hashtag/vcbuzz
About Andy
.@AndyNathan is a writer and blogging strategist who has worked with hundreds of clients in over 75 different industries improving their blogging and social media.
Connect to Andy on Linkedin
Questions we discussed
Q1 When and why did you become a blogger and how did you decide to turn blogging into business?
I started blogging to promote my social management business in 2010. Over the course of the next few years…  I received numerous requests for me to write content for companies. At first I outsourced it, then discovered I had a knack for it.
Q2 What was your first blogging business success? What did you learn from it?
My first client came at the end of 2010. She was a marketing consultant who needed a social media manager.
I worked with a half dozen of her clients. It was my first real lead and sale directly from my blog.  What did I learn? What I was doing worked. Small steps. I just needed to keep moving forward and keep writing content.
@andynathan How were the businesses finding you? Did you have "services" page? did you pitch? #vcbuzz

— Anna Fox (@manifestcon) July 12, 2016
It was more that people just found me online and reached out. I was not initially looking to start a freelance business. Also guest posts were amazing. I did one on jeffbullas.com that brought in $1500 in revenue.
I always owned my own business. Never worked for another company.
I love writing for https://t.co/H3jokHH1hI. Love it. #vcbuzz https://t.co/rAW1FHijvN

— sherry smith gray (@sherisaid) July 12, 2016
Q3 You mention that you did a few mistakes when building your blogging business. Can you list some for us to learn from them? What would you have done differently if you could go back in time?
I don't think we have enough time to list my mistakes. The first year I barely did any SEO, because I thought it was a waste. Furthermore, I did not have a good conversion process. I definitely was not capturing enough leads from my blog.
Still working on the conversion process. I consistently test that to improve leads and make more mistakes.
Did/do you write on the same topic or a wide range? #vcbuzz

— Joseph Onibokun (@josephonibokun) July 12, 2016
I can write on most topics. I have had clients in over 80 different industries.
@andynathan what things were constant/consistent over the course of years in your business? #vcbuzz

— Roxana Nasoi (@roxanasoi) July 12, 2016
Hmm! quality content always matters. The tiny rules from tech cos. mean nothing when you write something amazing.
Would love to know more about that… not doing enough to capture leads from my personal blog! RT @andynathan: conversion process #vcbuzz

— Ann Smarty (@seosmarty) July 12, 2016
I am constantly seeing how to combine blogging and email marketing. Generating leads from content. For example, wrote an article for Problogger where I created a custom checklist download. Generated 75 email leads. Now on my blog.
oh and another one… @andynathan what's your take on repurposing old content? 10x #vcbuzz

— Roxana Nasoi (@roxanasoi) July 12, 2016
I will repurpose it into other forms, but usually do not just republish it. The one exception is LinkedIn. It is a great way to get more traffic to my blog from repurposed posts.
Any tips / advises / ways to get more leads? #vcbuzz

— Jason Chow (@JasonCPF) July 12, 2016
I have a unique personality. my weird sense of humor comes poring out in the articles I write. Most people like it.
@andynathan pricing could be one of the most difficult aspects of working with clients. How do you deal with that? #vcbuzz

— Joseph Onibokun (@josephonibokun) July 12, 2016
I used to raise prices every 6 months. Now I am hitting a barrier for the amount customers pay. My advice keep raising prices until you reach resistance. That way you know you are worth the value of your work.
@andynathan How do you tell your clients about price increases? Mine hate them. #vcbuzz

— Janette Speyer (@websuccess) July 12, 2016
One final note: I NEVER, NEVER, NEVER raise prices on current customers. It is the benefit they receive of working with me long-term
Q4 What would be your one piece of advice to anyone willing to turn blogging into a business?
Patience is key! It takes time to turn your blog into something valuable.
@websuccess you have dealt with the patience problem Janette? #vcbuzz

— Andy Nathan (@andynathan) July 12, 2016
@andynathan Always. LOL. I have been around for a loooong time! Patience really is a virtue which I have to learn #vcbuzz

— Janette Speyer (@websuccess) July 12, 2016
I generally find that nothing comes as quickly as I want it to, until all the orders come pouring in at once.
Some SEO tools keep a database of seasoned bloggers/copywriters. Would you pay others for publicity? #vcbuzz

— Joseph Onibokun (@josephonibokun) July 12, 2016
It depends on the publication and a host of other factors. Who is the target audience? What are their needs? etc.
@andynathan There are a lot of expectation online, you always hear about the folks that have overnight success. #vcbuzz

— Janette Speyer (@websuccess) July 12, 2016
@andynathan how to repurpose for #LinkedIn safely? Do you have a blog post on this? Just copy/paste is a fear #vcbuzz

— Patricia Weber (@patweber) July 12, 2016
What I usually do is take blog posts that no longer have traction and post them with a link to my blog at the end.
Do you have a blog set-up post that's a favorite, Andy @andynathan ? #vcbuzz

— Don Sturgill (@DonSturgill) July 12, 2016
Yes! A few years ago I created a format for my writers to use when they write for me. their formatting was atrocious.
Q5 What are your favorite blog marketing tools?
WordPress, VCB, JustRetweet, MyBlogU, & HARO. I like tools that expand my reach, and connect with other influencers.
Heard so much… never got the time to figure it out… Kind of tough to figure! RT @JasonCPF: @andynathan how about Triberr? #vcbuzz

— Anna Fox (@manifestcon) July 12, 2016
I still use it, but I do not get as much out of it.
@andynathan I tried Triberr for a while. Was ok #vcbuzz

— Janette Speyer (@websuccess) July 12, 2016
I think they went through some growing pains and it slowed down the traffic. However at the beginning it was awesome!
@andynathan There are so many apps out there it's hard to keep up #vcbuzz

— Janette Speyer (@websuccess) July 12, 2016
No kidding! the list grows exponentially every day.
just wondering which channel is driving you most traffic? emails? ads? twitter? fb? #vcbuzz

— Jason Chow (@JasonCPF) July 12, 2016
Right now I get more business than traffic. I have been so busy writing for clients that traffic on my own site is down. However, the traffic I do get is mostly from social media, speaking, and emails.
If you want new ways to drive traffic, see the videos @KelliBMiller @CrystalandComp have at https://t.co/aqxqOMvkNr #vcbuzz

— Gail Gardner (@GrowMap) July 12, 2016
I agree with that sentiment! I had to relearn traffic strategies in 2013. That is why when I write on Problogger or other high end sites it is important.
Our previous blogging chats: