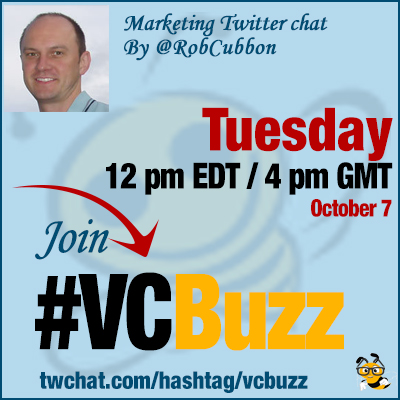 (Digital) books are a great way to generate revenue, build your brand and convert readers into subscribers. Today we'll learn how to create and marketing your (e)Books with our mentor @RobCubbon
**To join us please sign in here -> TwChat.com/hashtag/vcbuzz
About Rob
.@RobCubbon is an Amazon bestselling author, online teacher, graphic designer and all-round good guy who wants freedom for you and success for your business.
Please check out Rob's site here. Be sure to circle Rob on Google Plus!
Questions we are going to discuss
Q1 How did you become an independent entrepreneur? What brought you online?
Originally to get graphic and web design work Just started on WordPress to promote my graphic design business but became interested in entrepreneurship and selling. I was lucky to get work from my site after 6 months of blogging in 2006. I haven't looked back. Can be done now.
I like freedom. #vcbuzz

— Don Sturgill (@Don_Sturgill) October 7, 2014
I recognized early that blogging was a way to get targeted traffic. I know it's more difficult now but it's still possible.
Q2 Can any blogger write a book? Why would they want it and how to start?
I think every blogger should consider writing a book. Either PDF to sell from site or Kindle or both. In fact, I would consider trying to write one book after another, it's not that difficult and persistence is key with Amazon. It's quite easy to write 600-700 words a day, by the end of the month you'll have a book. Imagine that? A published author! Every Kindle should be made into a paperback with CreateSpace. You can hand out copies of your book at events.
You can also create an eBook by re-packaging your old content! http://t.co/Ncg7FZJ5mi #vcbuzz

— Ann Smarty (@seosmarty) October 7, 2014
Put a link to your squeeze page in the first 10% of your Kindle and it will be clicked on when people "Look Inside" on Amazon. But to enter KDP Select and get the free giveaways and countdown deals it need to be exclusive to Amazon.
Q3 How do you market yourself on Amazon? How did you become a best selling author there?
If you're interested in Kindle you should join @PatFlynn's FB group I have learned a lot from various experts on this group
Get a buzz around your book by sharing content and cover ideas with your audience online
Give away free copies early on to people you know will like it and ask them for reviews when you publish
Promote new Kindle via KDP Select's Free Promo for 5 days soon after publishing
Put price on $0.99 after the 5 free days and hopefully the momentum plus low price will carry you to being a bestseller ?
luck plus a certain launch sequence will help you get a bestseller on Amazon. It went well on my fourth book ?
I would never have been a bestseller if it wasn't for the amazing advice shared online @stevescott1 = Kindle genius
Q4 We are proud to have you as member of our community. What's your experience with Viral Content Buzz?
My experience with @viralcontentbuzz has been sharing great content and meeting great people. The quality of the material and bloggers on @viralcontentbuzz is very high. The best thing about Viral Content Buzz is definitely the people on there ?
Q5 You've said you are happy to work from home. How do you organize yourself to be productive now that you have no boss?
I've been working from home for a long time. I've never found it difficult. I go easy on myself. But I love what I do so I don't ever worry about not working hard enough. I'm very lucky. Funnily enough I don't work from home much now. I work in cafes, restaurants and co-working spaces! I like co-working spaces as they are more informal and good for networking. I don't stay in the same place for more than a few hours. Co-working spaces can be too quiet and serious and, if so, I head out to a cafe ?
It's good to keep moving (and good to take exercise). If I'm writing a book (like at the moment) I'll try to write 700 words a day. If I'm making a course, I'll record 1 video a day. So if I do one thing everyday (write or record video) then I'm OK but I also work for clients and answer emails ? Another weird thing I do is work on 2 or 3 things at once (that goes against every productivity tip ever given)
@SanaKnightly like I work on a Kindle for 10 mins, do some Photoshop for 5 mins, then Facebook for 3 mins, then back to the Kindle #vcbuzz

— Rob Cubbon (@RobCubbon) October 7, 2014
It's great living in Thailand because now that I'm settled I find I have more time than I would do in my home country. I suppose over the years I've set up systems and VAs and other outsourcers.