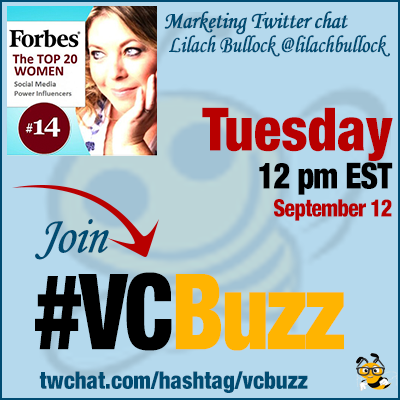 Social media has an abundance of tools, both free and paid and who doesn't like tools? Let's list the best, most efficient and cost-effective social media marketing tools today!
***Add #VCBuzz chats to your calendar here.
***Please sign in here to follow the chat -> twchat.com/hashtag/vcbuzz
About Lilach
Lilach Bullock @lilachbullock is digital marketing consultant and trainer, social media expert and professional speaker.
Forbes listed Lilach as one of the Top 20 Women Social Media Influencers, Career Experts named Lilach the Number 1 Digital Marketing Influencer and Lilachwon the title of Social Influencer of Europe by Oracle.
Connect to Lilach on Linkedin
Questions we discussed
Q1 How did you become a social media marketer? What's your career story?
It was, in a way, by accident. I started my first business to have more time with my newly born daughter. I was initially helping virtual PAs with how to generate more clients.
And that's when I started using social media, particularly Twitter and saw the potential. So, I decided to help clients with social media marketing, show them the ropes, explain how it works.
My business grew to the point where I couldn't handle all the business coming in. So, I thought I'd create a social media management tool – and remember, in those days there weren't many.
Now, I'm mostly focusing on coaching and mentoring business owners and entrepreneurs. Helping them set up their business and helping them promote their business online.  I connect them with top influencers in their niche, help with content marketing, social media and so on.
I love working with entrepreneurs, SME's and charities.
Q2 What are your favorite Facebook marketing tools?
I LOVE tools and I'm always trying out new ones.
My favourite one, and the one I use the most is @agorapulse. I use it for managing both my Facebook and my Twitter. It's perfect for keeping track of all your mentions/shares/etc.  I also use it for scheduling and planning my content calendar. And for monitoring social media – although, particularly Twitter. They also provide in-depth, customizable analytics, so that's another big plus in my book. And, there are apps for creating Facebook contests, quizzes, tests & exclusive discount coupons.
Other useful tools I've tried were @brand24 and @brandwatch – for monitoring. They can both be used for monitoring your entire social media and other websites (forums, blogs, etc.)
A2. I use @AgoraPulse to make sure I did not miss a tweet and also use @hootsuite to schedule here on twitter #vcbuzz

— Cheval John (@chevd80) September 12, 2017
In terms of analytics, I use Facebook Insights, and if I need more – @quintly is my go-to. It's a professional social media analytics tool, with in-depth analytics & competitive benchmarking.
A2: We rely on @MeetEdgar for scheduling Facebook posts. Facebook's built-in analytics are also helpful. #vcbuzz

— Express Writers (@ExpWriters) September 12, 2017
I would also recommend @IFTTT – it's got some very useful automations, for all major social networks. Just search for Facebook automations to see all your options and set them up.
A2B. I only schedule posts on Facebook's platform on business page because I rather be cautious there #vcbuzz

— Cheval John (@chevd80) September 12, 2017
As for content creation, I love @canva and have been using it for years.
You can use it to create all kinds of visuals, including Facebook posts (with the right sizes). It's super easy to use, so you don't need any design experience to get started. And you also have access to a lot of free images/icons/etc.
for images I started using Design Wizard @getdesignwizard Similar to Canva but more intuitive & more features free #vcbuzz

— Maxxers (@MaXXersX) September 12, 2017
I've also recently started playing around with @wavevideoapp and loving it. It's a video creator, and likely one of the easiest ones to use, at least that I've tried. You don't need to shoot any videos yourself, just use their library of videos & images. And put together the video, with text, your logo, and in the right format for Facebook. Plus, you can create a Facebook cover photo/video, which can help you get people's attention.
Most people turn the sound off on Facebook, so videos need text. But there is also a library of royalty-free music that you can use on your videos.
Q3 What are your favorite Twitter marketing tools?
Once again, @agorapulse – it's the main one I use and it covers most of my Twitter marketing needs: Managing my incoming mentions, monitoring my name and for business opportunities. Scheduling tweets, managing my Twitter followers and influencer connections.
Then, there's @canva for creating images for Twitter, such as my digital marketing tips series. I've started using @crelloapp recently as well – it's very similar to Canva in features. But they've got their own selection of templates, so it's great for diversifying the visuals you create.
I also use @clicktotweet to add tweetable quotes throughout my blog posts – it helps boost shares.
And since we're on the subject of social media sharing, I use @warfareplugins on my blog.
I love it how they are always on top of trends and changes RT @lilachbullock: A3: I use @warfareplugins on my blog #vcbuzz

— Ann Smarty (@seosmarty) September 12, 2017
It's the only one that still shows the Twitter count on blog posts – i.e., how many tweets your post got.
Seems to me @Hootsuite is still pretty darned difficult to beat. Even their free version offers exceptional features. #vcbuzz

— Don Sturgill (@DonSturgill) September 12, 2017
@DonSturgill I think Hootsuite have got left behind! Their features need updating… they had monopoly and have lost it #vcbuzz

— Lilach Bullock (@lilachbullock) September 12, 2017
If I want to track/analyse hashtags, I use @keyhole – works with Twitter & Instagram. And you get detailed analytics for any hashtag you want to research.
A3B. Other great platforms for monitoring on Twitter: @buffer @PostPlanner @SproutSocial #vcbuzz

— Cheval John (@chevd80) September 12, 2017
A3: For scheduling tweets, @MeetEdgar is our favorite. We also add Click to Tweet snippets in our blog posts. #vcbuzz

— Express Writers (@ExpWriters) September 12, 2017
Since we're on a Twitter Chat, it's worth mentioning some good Twitter chat tools.
I like @tweetchat – you can pause the stream to catch up if there are too many tweets. There's a built-in URL shortener if you need it. You can blog and highlight tweets, and of course, you can tweet live (& the hashtag is already set).
Another good option is @twubs which is quite similar to tweetchat. There's no URL shortener, but you can see all the tweets immediately after they were posted. You have 6 different options for setting the speed of the chat. Tweets can be starred, shared and retweeted, all from within the tool.
@lilachbullock What do you think of twchat .com so far? #vcbuzz

— Sana Knightly (@SanaKnightly) September 12, 2017
Very impressed with it.
A3 I highly recommend @drumupio for managing / scheduling / rotating social media updates #vcbuzz

— Ann Smarty (@seosmarty) September 12, 2017
Q4 What other social media marketing tools do you use regularly?
I also use @buzzsumo for finding the best influencers in my niche. You can see how many followers they have, their retweet and reply ratio.
Basically, anything you need to put together a list of top Twitter (and other) influencers.
I forgot to mention @tweepi earlier – it's a Twitter tool that uses artificial intelligence to monitor Twitter. And it finds targeted, relevant Twitter users for you to engage with, so you can grow your profile. What's great about it is that it lets you get more targeted followers – which are more valuable.
A4. I actually just use each of the social media platforms themselves in addition to the social media softwares. #vcbuzz

— Cheval John (@chevd80) September 12, 2017
If you get lots of followers, but they don't care what you're saying – what's the point? If they don't engage, don't share your posts, don't click on your links, then there's not much value there.
Agreed! Having a smaller, engaged audience is better than a large audience that isn't listening. #vcbuzz

— Express Writers (@ExpWriters) September 12, 2017
Back to tools, though, another was I use regularly is @triberr. This is for boosting my social media shares and for helping me grow my social influence. It's a blogging community, with different tribes that are passionate about the same subjects. And users browse through the latest content being posted in their tribe, and share it with their audience.
A4: And since we're on the subject of blogging communities, I also use Viral Content Bee on a daily basis #vcbuzz

— Lilach Bullock (@lilachbullock) September 12, 2017
It's great for boosting your social media shares & grow your influence. But it's more than that, actually: it's also a great source of quality content that I can share with my audience. Also great for meeting like minded people 🙂
Another one I forgot to mention earlier, when discussing Twitter – @paper_li. You can use it to create your very own online newspaper, which contains content based on your interests. You can also then have it posted automatically on your social media profiles.  Or, you can send your list regular newsletters with interesting content that they might like.
A4. Agree. They are a great platform to build a community and they get community too with their #bizheroes chat #vcbuzz

— Cheval John (@chevd80) September 12, 2017
That too! Using @VCBuzz RT @lilachbullock: @seosmarty and of course let's not forget meeting great like minded peeps! #vcbuzz pic.twitter.com/VAjkJrYyoe

— Ann Smarty (@seosmarty) September 12, 2017
Q5 What are your recommended social media productivity tools?
A few of them I've already mentioned earlier, @agorapulse is the main one I use. It helps me plan, strategize and execute my social media – and it helps me save a lot of time doing so. You can set up automations for monitored items & for your social inbox (where you can see mentions, likes, etc.). You can assign them, delete spam automatically, tag or flag them, so they're kept organised.
Plus I forgot to mention how they've recently released a new version of @agorapulse. With so many new features, like 'saved replies' for quick replying on social media. And translation features, as well as better, more in-depth reporting.
Another one that I talked about earlier, but it's worth mentioning again: @ifttt. They have so many different, useful (and a few not-so-useful) automations. For example, you can automatically retweet any tweet with a certain hashtag. Or you can save all the photos you're tagged in on Facebook, in your Dropbox. Use their search option to see every automation for different social networks, as there are a lot.
Since we're talking productivity, I can't not mention @trello. It's what I use to keep track of all my different tasks and projects. Then, there's also @evernote which is great as a journal of sorts. Basically, a place where you can collect all of your ideas as well as anything from the Internet.
Always deserves a mention, almost in ANY context! RT @lilachbullock: A5: Since we're talking productivity, -> @trello #vcbuzz

— Ann Smarty (@seosmarty) September 12, 2017
@seosmarty I can't imagine life without @trello #vcbuzz

— Lilach Bullock (@lilachbullock) September 12, 2017
I like @Trello too… but @KanbanFlow is way worth looking at. #vcbuzz

— Don Sturgill (@DonSturgill) September 12, 2017
Images, videos, articles, and so on can easily be added to your evernote. And it all syncs across your devices so you'll have immediate access to your notes.
@Evernote is definitely a favorite! It's so easy to keep things organized. #vcbuzz

— Express Writers (@ExpWriters) September 12, 2017
Since we're on the subject of content, there's also @feedly. It's an RSS reader that allows you to keep track of all your favourite content sources. So you can easily keep up with the best content and share it with your followers.
A similar tool that I love is @flipboard which is more of a digital magazine.  You can see all the top content of the day, based on your particular interests. So you can then share it, or you can also create your very own magazine.
Another tool I absolutely love is @grammarly. It catches 250 different types of grammatical errors & it gets context (so it catches a lot more than Word!). The best part, is that you can add a browser extension. And whatever website you're on, Grammarly will automatically correct your tweets/updates/etc. In some cases, when you make a mistake it even explains what you did wrong.
I found @grammarly intrusive… like living with a nagging spouse 🙂 #vcbuzz

— Don Sturgill (@DonSturgill) September 12, 2017
@DonSturgill U can just turn it on when u want it #vcbuzz

— Maxxers (@MaXXersX) September 12, 2017
Our previous chats on tools: