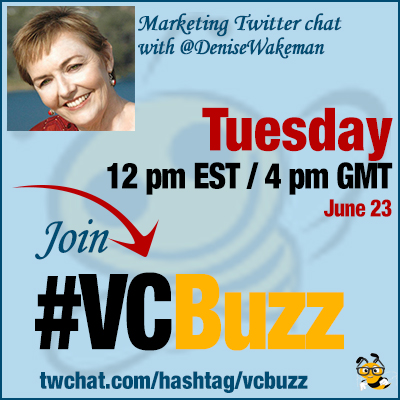 Some people just seem to be everywhere! How do they do that?
Today's #VCBuzz mentor is the online visibility expert who will tell us the secret! Please meet @DeniseWakeman
***Please sign in here to follow the chat -> twchat.com/hashtag/vcbuzz
***Important: Join this event on Google Plus to be notified of upcoming chats (It's easier with daytime savings and different time zones!)
About Denise
Denise is Online Business Strategist, Founder of The Blog Squad, and Co-Founder of The Future of Ink.
Denise has been using the Internet with great success as a marketing tool since 1996. Denise hosts the popular Hangout show Adventures In Visibility, focused on helping small businesses and online entrepreneurs strategically use social marketing tools to gain visibility, build credibility and make more money selling their products and services.
Please circle Denise on Google Plus
Questions we discussed
Q1 You've been using the Internet as a marketing tool since 1996… What was your first website? Why did you create it? Do you still maintain it?
1st website was successoptions.com in 1997 for business coaching practice my ex and I launched. 5 page brochure website used to promote our coaching business. No, it's no longer live since that business is no longer active.
I've had a lot of domains and websites; eventually some have got to go. I'm down to one primary website at denisewakeman.com
@DeniseWakeman was that first website that got you excited about internet? or did it happen later? #vcbuzz

— Jessy Troy (@jessytroy) June 23, 2015
That first one was got me totally immersed in the web. I found my home when I started online in 1996.
A1 My first website was http://t.co/YsvYQySWqU which was the largest horse related research site on the internet i the 90s @vcbuzz #vcbuzz

— Gail Gardner (@GrowMap) June 23, 2015
A1 @seosmarty My 1996 stuff remains live. (It was seven pages then; today it's 23,000.) #vcbuzz

— Charles G Hill (@dustbury) June 23, 2015
Q2 Your "Increase Your Visibility" free course is teaching "how to be everywhere" (Disclaimer: I am a huge advocate of this strategy and example that it works)… What do you think about some experts saying it's a non-effective strategy as you scatter yourself all over the place and lose focus?…
I suggest you take it step by step. Doesn't make sense to set up & use all social networks all at the same time. After research of where your target audience spends the most time, focus on primary social network first.
Master one social network, get comfortable, test, learn what works, automate what you can.
Hootsuite I use the most. RT @jessytroy: @DeniseWakeman what are your favorite automation tips and tools? #vcbuzz

— Denise Wakeman (@DeniseWakeman) June 23, 2015
Once you feel confident on one network, then it's time to add the next one. Those of us who have been using social media a long time, added each network over time, when they were new. Same thing for new users; start with one, master it, then add the next layer to your social marketing.
Speaking of "automate" @PostPlanner opened Instagram search/share up to all users today! #vcbuzz

— Don Sturgill (@DonSturgill) June 23, 2015
Key is to use the social networks your ideal prospects are using; not necessarily the ones you like best (for business purposes)
@DeniseWakeman I feel everyone should claim all the primary networks to preserve their branded username, but not be active yet #vcbuzz

— Gail Gardner (@GrowMap) June 23, 2015
You need to be everywhere you audience is. Maybe it's LinkedIn and Google+, but not Pinterest. So don't use Pinterest for biz. I also use latergram.me for scheduling on Instagram.
@DeniseWakeman What kind of learning curve did you have until you felt you had the hang of the Web? #vcbuzz

— Jim Katzaman (@JKatzaman) June 23, 2015
I don't really remember learning curve. I'm an active experimenter; love to try new things. I study what others are doing and then try to model for my own biz to see if it works.
Q3 You mention Linkedin as one of the most effective list building methods… How do you use Linkedin? Could you describe your Linkedin strategy and tactics?
2 fave features on LinkedIn are groups and LinkedIn publishing.
LinkedIn Groups are great for building relationships and getting to know people who are interested in your expertise. LinkedIn Group manage can customize welcome message with CTA to get your free report etc. Most people use default messages. Customize!
LinkedIn Publishing can boost your visibility. Publish or repurpose evergreen content. Add CTA to get newsletter, free gift, etc
article: 9 LinkedIn Publishing Tips That Can Build Your Audience
article: List Building Tip: Optimize Your LInkedIn Group
@DeniseWakeman How do you repurpose your content on Linkedin? Just re-publish it there? #vcbuzz

— Jessy Troy (@jessytroy) June 23, 2015
I look for my evergreen content & update, add image, add video to repurpose.
If you want to build audience on LinkedIn, then it's worth cross promoting the LinkedIn content.
Q4 How does your Online Visibility Challenge work? I am sure many buzzers would love to participate!
30 days focus on specific visibility boosting theme. Now we're focused on blog optimization: content, design, security, outreach.
Live weekly lesson & Q&A. Then a challenge to work on for the week. Private FB group for online coaching and Q&A.
Everyone who completes the challenge is entered in random draw for a small prize. groups range from 30-50; some people are in their 4th challenge! They love accountability & support.
Next one starts July 20 on Getting Your Social Media House in Order. Early bird list is here.
Challenges work great for motivation and productivity! RT @DeniseWakeman: They love accountability & support. #vcbuzz

— Ann Smarty (@seosmarty) June 23, 2015
Q5 How to be everywhere without losing your mind? What's your productivity tips? Can someone own an online business and still enjoy life?
Yes, I love my life! Of course I love what I do, too, so for me it's perfect.
Automate tasks where it make sense: as mentioned @Hootsuite for scheduling twitter; Latergram.me for scheduling Instagram
Repurpose content so you're not reinventing the wheel for every social media post
Use microcontent to promote blog posts on your chosen social networks
article: Microcontent – Use Short-Form Content to Amplify Your Message
Using social media & blogging is about marketing your biz. It's not about if you like it or not; it's about your biz & its success. You have to make time to connect "live" with your audience. Automated posting with no personal interaction will get your nowhere.
@DeniseWakeman I think outsourcing social media/connecting is so smart. One person focused on it 24 hours a day makes a difference. #vcbuzz

— Kari (AKA Bellaisa) (@RelationshipCir) June 23, 2015
I don't think it's smart to outsource all connecting. Biz may lose voice & opp for relationships
Our previous brand building chats: