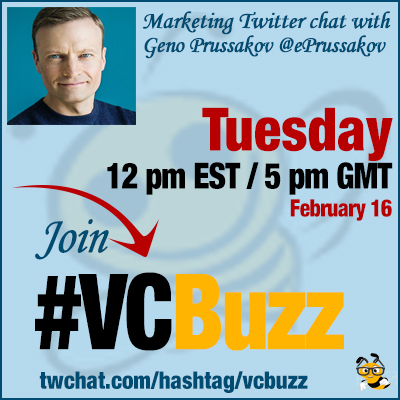 Affiliate marketing is one one the best ways to both promote your product and to monetize your website. So many people do affiliate marketing wrong that it's easy to be confused. But what is really affiliate marketing? To discuss this, we are honored to have the best affiliate marketing expert @ePrussakov
***Please sign in here to follow the chat -> twchat.com/hashtag/vcbuzz
***Important: Join this event on Google Plus to be notified of upcoming chats (It's easier with daytime savings and different time zones!)
About Geno
Geno is THE expert in affiliate marketing and influencer marketing, consultant, author, speaker, and founder of @AMDays and @AMNavigator.
Make sure to subscribe to Geno's blog
Questions we discussed
Q1 When and how did you get into affiliate marketing? You seem to have been in the industry forever!
I got into #AffiliateMarketing as an advertiser back in 2003.
As present-day CMOs 12 years ago I was looking 4 best marketing ROI. Found it in Affiliate Marketing.
A1: According to an industry study by @IABUK / @PwC_UK #AffiliateMarketing yields 15x ROI to advertisers! https://t.co/fZGO5gUENa #vcbuzz

— Geno Prussakov (@ePrussakov) February 16, 2016
Today I not only own an affiliate marketing management agency, @AMNavigator, but also run @AMDays #AffiliateMarketing conference.
If anyone is interested in attending my upcoming @AMDays conference, use code VCBUZZ at registration for $300.00 OFF your pass.
Q2 What would be your best piece of advice to someone just starting in affiliate marketing? Where to start? How to start monetizing their sites? Where to find best affiliate programs?
When starting out as an affiliate, ensure to devote ample time to self-education. It'll save you a lot of headaches & lost money.
Do not expect automated passive income, don't be afraid of saturation, forget about "hot niches." More here.
A2: Make sure to start by selecting few products to promote and try them first! @amelm Re #VCBuzz cc @vcbuzz @seosmarty

— Amel Mehenaoui (@amelm) February 16, 2016
@sugarrae has a number of *amazing* articles for affiliates of all levels, incl. beginners. See here.
For additional resources on #AffiliateMarketing check out also my course and by book.
See also my free "How To" Guide to Affiliate Marketing for Affiliates…
A2: …and always focus on adding *value*! See https://t.co/8PDiqQJ0sa and https://t.co/gXBhEto2kb #vcbuzz

— Geno Prussakov (@ePrussakov) February 16, 2016
Wanted to know if an #affiliate #marketing program can help a startup? any examples which you could share. #vcbuzz

— Nikhil Premanandan (@nykontym) February 16, 2016
Absolutely! @Stowaway, a client of mine, is a perfect example.
Q3 There's a lot of confusion about affiliate disclaimers… How should website owners disclaim that they are being paid for referring their readers to buy a product?
Disclosing affiliate links is a must. @FTC expects "clear and conspicuous" disclosures. See here.
@sunshinetricia has a number of good posts on the topic of affiliate disclosures. See here.
Also, for examples of affiliate disclosures as well as other details on the subject, see my articles at amnavigator.com
Maybe we'll have to sit down and work on one then… Thanks for the idea. ? RT @nykontym: A case study would be of great help #vcbuzz

— Geno Prussakov (@ePrussakov) February 16, 2016
@ePrussakov @nykontym That would make a great private case study to generate leads! #vcbuzz

— Anna Fox (@manifestcon) February 16, 2016
Q4 What's the best way to launch and promote your own affiliate program on a budget? Recommended software?
Great question! There are 2 ways to run an affiliate program: on an affiliate network or on an "in-house" platform.
Examples of software for running affiliate programs "in-house:" @HasOffers, @CAKEmark, @tweetPHG. More here.
Examples of affiliate networks: @CJnetwork, @RakutenMKTG_US, @ShareASale, @AvantLink, @LinkConnector, @AffWinUS, etc.
I started my very 1st affiliate program "on a budget." I went with @ShareASale and managed everything myself, learning on the go.
My free Online Guide to Starting & Running an Affiliate Program may be of help here.
How do we choose? Is there a comparison anywhere? RT @ePrussakov: A4: @HasOffers, @CAKEmark, @tweetPHG + https://t.co/sfJ3U02Q3o #vcbuzz

— Anna Fox (@manifestcon) February 16, 2016
Not that I know of. Look into the functionalities and how well they (will) satisfy what you are looking for.
I also have a comparison for affiliate networks; though it's a bit dated
A4 I assume if you are just starting, start by joining a network. Going indie is always overwhelming #vcbuzz

— Anna Fox (@manifestcon) February 16, 2016
See also this.
Q5 You travel so much! What's you productivity secret? Please share your tips!
Stay organized, well-hydrated, prioritize, delegate, and don't be afraid to say "no."
And when it comes to traveling to speak (at a conference, etc) see my 3 tips at smallbiztrends.
My way to work when traveling: Sleep less :))) #vcbuzz

— Anna Fox (@manifestcon) February 16, 2016
Our previous content marketing chats: