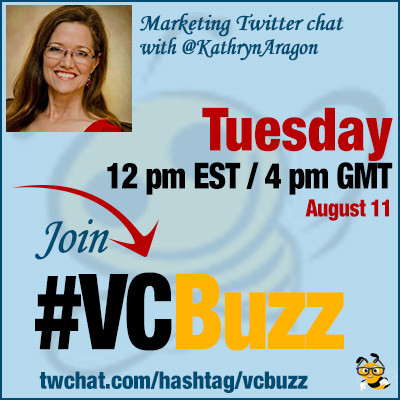 Content marketing is the topic we can talk every day and there will still be more topics to discuss! It's all about creativity, ingenuity and authenticity!
Today we are honored to have one of the most successful content marketers out there, @KathrynAragon!
***Please sign in here to follow the chat -> twchat.com/hashtag/vcbuzz
***Important: Join this event on Google Plus to be notified of upcoming chats (It's easier with daytime savings and different time zones!)
About Kathryn
.@KathrynAragon started her business as a direct response copywriter. Now she is managing editor of the Crazy Egg blog and teach advanced content marketing to entrepreneurs.
Kathryn has written for top brands around the world, including QuickSprout, ConversionSciences, KISSmetrics, Digital Marketer, and more. Her articles and ebooks are recognized for their depth and ability to engage readers.
Questions we discussed
Q1 You have an impressive background. How did you end up being a digital content creator? How did you imagine your career when in college?
I didn't intend to do business writing when I started out. I wanted to write fiction. (Typical, lol.) I had worked in PR and did a lot of pro-bono work, then finally decided it was time to earn money as a writer.
I already know it will be a highly recommended service! RT @KathrynAragon: I'm also starting a blog editing agency. ? #vcbuzz

— Ann Smarty (@seosmarty) August 11, 2015
Copywriting was a great way to start. Good training. I wrote tons of content, web pages & sales collateral.
Weirdly, in all my jobs, I end up writing content. I think my background in fiction makes the difference.
@seosmarty Pretty common, I think, if you have any writing background at all. ? #vcbuzz

— Kathryn Aragon (@KathrynAragon) August 11, 2015
If you think about it, the best content has a story arc. That's key to getting people engaged.
When starting out, I didn't know enough to imagine my writing career clearly. Lol That might be a good thing. All I knew was I wanted to reach the world with my stories. In a way, that's what I've done.
Q2 How to produce awesome content? What's your favorite actionable advice?
Awesome content starts with awesome ideas. You have to spend time brainstorming ideas. Once your idea is solid, you have to make sure you're saying something worth reading.
We all learn and improve as writers every time we write – There's no other way – except by reading @seandsouza #vcbuzz

— Phil Turner (@The5Currencies) August 11, 2015
Ask yourself if YOU would read or share your content. If not, you need a better idea.
Find out what's already working and see how you could use it for your niche. I use @buzzsumo to help @vcbuzz #vcbuzz

— Sharon Hurley Hall (@SHurleyHall) August 11, 2015
To me, writing is about iterations. Massage your message one layer at a time.
A2 Solve your own problems, answer your own questions in your article. #vcbuzz

— Ann Smarty (@seosmarty) August 11, 2015
#writingtip #1: Say what you want to say, then back it up with a story or solid proof.
#writingtip #2: Watch your verbs. Make your writing as active as possible.
#writing tip #3: Eliminate wordiness. Remove anything that's not on point.
It's always good to make sure you relate to readers and not get self-important. #vcbuzz https://t.co/YqQJY4zgFH

— Jim Katzaman (@JKatzaman) August 11, 2015
Q3 How to increase conversions via content marketing? How can content help in generating leads?
To begin, content is top of funnel. It shouldn't read like a sales page. But all content should *support* your products, campaigns & funnels.
Tip #1: Write a post talking about the solution customers need. Link to sales page that makes the offer.
Tip #2: Do a video series interviewing people who use your product/get great results.
Think about secondary conversions too: Those that come as a result of branding and influence driven by your content! #vcbuzz

— Ann Smarty (@seosmarty) August 11, 2015
Tip #3: Make a list of FAQs. Write a blog post answering each question in depth. Great for SEO too!
Tip #4: Make a list of objections. Write a post addressing each. Be transparent, not salesy.
For a content win, I like to write to my reader's PIN: Problems, Interests, Needs. #vcbuzz https://t.co/RR6l0eI03R

— Kelly Hungerford (@KDHungerford) August 11, 2015
Quality content is your best lead generator. Think epic blog posts and ebooks. Make them truly useful.
Never try to sell from your content: Try to solve problems! #vcbuzz

— Jessy Troy (@jessytroy) August 11, 2015
I think quality is about serving your audience. Help them find the information they want/need.
Question for all of you: How do you create quality? #vcbuzz

— Kathryn Aragon (@KathrynAragon) August 11, 2015
@KathrynAragon Answer common questions. Use real life stories. Use a variety of content. Make sure it is a little controversial. #vcbuzz

— Kari (@RelationshipCir) August 11, 2015
You create quality by simply having it as a goal. Too much content is put together just for "being there" cc @KathrynAragon #vcbuzz

— Ann Smarty (@seosmarty) August 11, 2015
Q4 Please describe your training program? Who could benefit from it? What does it consist of?
My membership site is called Area 51. We cover content marketing that's practical & results oriented. It takes both.
Members get access to courses on content creation, editing, engagement, strategy & more.
Members also get a weekly newsletter and member video with my big idea & tips for the week.
Visit kathrynaragon.com to learn more. Or tweet me for more info. Area 51 is for anyone who wants to create better content: writers, editors, entrepreneurs. I teach you to use content to attract & sell to today's consumer, so you're more valuable as a content marketer.
So much of content marketing is creating value. We should always BE valuable to clients and customer.
For writers and content marketers needing to grow their business, I have another membership: Basic Training. You can learn more about Basic Training here. Basic training is so essential, I include it in Area 51 as a bonus.
"If you create content for the sake of content, don't bother." (c) ~@KathrynAragon #vcbuzz

— Ann Smarty (@seosmarty) August 11, 2015
I think content marketers and writers are core to business success. We need to build our biz skills. ?
A good writing sanity check is put down what you want to say, edit a little, then let sit overnight. See with fresh eyes in morning. #vcbuzz

— Jim Katzaman (@JKatzaman) August 11, 2015
That's why so much of my training includes business and marketing training as well as writing.
Q5 As a writer and entrepreneur, how do you remain productive? How do you hold yourself accountable?
My best productivity tip: Do one task every day to get closer to realizing your vision.
A5 My tip: Create a new to-do list every day and prioritize carefully #vcbuzz

— Ann Smarty (@seosmarty) August 11, 2015
I guess it starts with a vision. Do you have one? A long-term goal and steps to get there? At the beginning of every day, I decide what that one thing will be. I try to do it first thing. At the end of every day, I list what I did. Generally I'm not happy if I only got 1 thing done. lol
A5: Avoid the temptation to over-schedule yourself. Pick 3-4 major tasks each day and give them the time tyeh need #vcbuzz

— Sharon Hurley Hall (@SHurleyHall) August 11, 2015
I don't have an accountability partner but through social media, everyone is watching. That motivates me. I also like to reverse engineer my goals. I need to see the big picture + the one thing I'm doing now.
I'm a harder task-master than anyone else would be. RT @SHurleyHall: my to-do list is motivation enough ? @KathrynAragon #vcbuzz

— Kathryn Aragon (@KathrynAragon) August 11, 2015
My father used to say: Can't never did anything. That runs through my head a lot. Keeps me moving forward.
Tip: Always shoot for the highest possible version of your goal. If you fall short, you've still gone far.
@KathrynAragon I now have a second writing inspiration! GREAT stuff – Thanks #vcbuzz

— Phil Turner (@The5Currencies) August 11, 2015
Our previous content marketing chats: