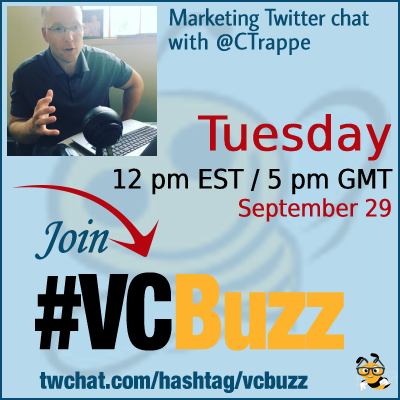 What people are searching for your brand online, you should always be ranking #1, right?
It is no brainer but in reality it is tougher than it sounds.
When it comes to branded search, there are basically two problems businesses are facing:
No one is searching for your brand
Too many people are searching for your brand (so you have to be dealing with too many search queries to be able to monitor)
Let's discuss both of these problems.
***Add #VCBuzz chats to your calendar here.
***Please sign in here to follow the chat -> twchat.com/hashtag/vcbuzz
About Christoph Trappe @CTrappe
Christoph Trappe @CTrappe is an U.S.-based digital branding strategist. Most everything here can be applied to social media, blogging, websites and e-newsletters – among other digital channels.
Follow Christoph's blog on story development, distribution and audience engagement here: authenticstorytelling.net
Christoph Trappe @CTrappe also maintains a travel blog which is very inspiring.
Questions we discussed
Q1 How did you become a digital marketer? Please share your career story!
I started as a journalist and really learned how to connect with audiences. How to make a difference by telling and sharing stories that mattered. I then took those skills through video production and into marketing which I've done for the second half of my career.
#vcbuzz For me, it was related to being an independent writer. A matter of practicality in today's markets.

— Dana Lemaster (@DanaLemaster) September 29, 2020
My marketing career has spanned several verticals – healthcare, SaaS, tech, nonprofits, publishing, etc. I'm a big fan of the Create Once, Publish Everywhere Model and always look for ways to get content to perform better.
I published my third book earlier this year as well.
I'm currently a big fan of live-streaming, podcasting and tying that into the overall omninchannel marketing strategy.
A1 I started really figuring out I wanted to get into this world my junior year of college getting a Mass Comm degree. I interned in PR so I would graduate understanding the two sides of that coin, then started the journey of job hopping until I found what I wanted! #VCBuzz pic.twitter.com/rsuWzvJJoL

— Krystal Blais 🤘🔮🔥🤘🏳️‍🌈 (@krystalblais) September 29, 2020
Q2 What should a brand do if no one is searching for them? How to boost your branded search?
Write content around topics that people are searching for. Don't overdream and go for huge keywords but target the ones your audience is searching for.
Partner with others to get out there. Be a guest on podcasts! Podcasts are now indexed as well so there can be an SEO impact. Many hosts also create landing pages for episodes.
#vcbuzz I definitely agree with what you're saying about engaging and building relationships. We don't operate in a vacuum and besides, sharing is a great way to learn and grow (not to mention, fun).

— Dana Lemaster (@DanaLemaster) September 29, 2020
Quote industry experts in your content. Usually what they will do is share that content as well. That's one way to get your company out there.
A2.
Not easy – but the more effort, the more you do, the more success you'll have (over time).

The first thing is to understand Why people do Brand based searches.
Then it's finding ways to use that knowledge to your advantage.#VCBuzz

More>>>

— Lyndon NA (Darth Autocrat) (@darth_na) September 29, 2020
You can also consider running ad campaigns and bid on competitor names so your ad will show up when people search for them. Not really a search strategy, but until folks know you they can't search for you.
And (this should come earlier) have a brand name that can actually be remembered. Some cutesy names out there or acronyms are really hard to remember for folks.
A2 Engagement, community, and authenticity! Get online and start talking to people! People will start to search for you specifically when they keep seeing you pop up in their notifications or on their feeds. #vcbuzz pic.twitter.com/zQ1txy1Npx

— Krystal Blais 🤘🔮🔥🤘🏳️‍🌈 (@krystalblais) September 29, 2020
Start with the content marketing. Write best insightful content and create buzz around your niche. Feature your content and highlight your brand as much as you can. This is slow process but can be successful if we follow with the proper process. #vcbuzz

— Hiren vaghela (@hirendream) September 29, 2020
>>>

The second should be part/parcel of your marketing.
Aligning your "name" with your products/services,
and ensuring people associate your brand (name, values etc.) with those products/services.
(You have to be the preferred/desired source)#VCBuzz

More>>>

— Lyndon NA (Darth Autocrat) (@darth_na) September 29, 2020
Q3 What if we are dealing with the opposite problem: What should big brands do to monitor their branded search?
See where people are going on your site when they search for your brand. #vcbuzz Optimize those pages for further conversion. Also, not all branded search is truly branded search. Just typing in your URL on some devices can count as a Google search.
I don't think there's a thing as too much searching honestly. An exception could be if they mistake your brand for another totally unrelated brand.
Be aware that once a brand gets bigger competitors might bid on your name in their ad campaigns.
Best way is to monitor google search console data. Check the branded terms with impression, clicks etc. You will get a clear picture with the GSC data. #vcbuzz

— Hiren vaghela (@hirendream) September 29, 2020
A3. How big brands can monitor their #Brand #Search
For starts:
🔶Track negative and positive movement is added up to
🔶Generate a single SERP flow metric that shows fluctuations
🔶Establish on-going market research for audience insights
🔶Build & track new content#vcbuzz https://t.co/Ftq1nXO21C

— Jeannie Hill (@essentialskill) September 29, 2020
A3.

There are two parts to this.
1) Monitor actual searches/queries
2) Monitor results for searches/queries

And, ideally, you should be doing it on any major platform,
such as Twitter etc., not just Search Engines.#VCBuzz

More>>>

— Lyndon NA (Darth Autocrat) (@darth_na) September 29, 2020
Q4 In both of these cases, should businesses target their branded keyword on paid search?
It depends. 🙂 Don't you hate that answer. #vcbuzz If you are running ad campaigns to your website, Google Ads may by default show your ad for your branded search as well. Simply go into the negative keywords to turn that off. Something to be aware of.
For larger brands, they likely will have to run paid campaigns for their brand name as competitors are likely doing the same. Especially now with Google pushing organic results farther down the page.
For newer brands, it's probably not necessary to bid on your brand name yet. If nobody else is running campaigns for your brand name it's probably also okay not to – especially if you show up No. 1 organically.
>>>

But you need to check what queries show up, what phrases the Brand name may get used with,
and then define a number of negatives to not show for.
(You'd be amazed at what people search for and click on, and sometimes that may include your Brand)#VCBuzz

— Lyndon NA (Darth Autocrat) (@darth_na) September 29, 2020
Q5 What are your favorite digital marketing tools?
I currently actively use: @neilpatel's Ubersuggest (SEO) @buffer (social) @freshsalesapp (email) @Mailchimp (email) @canva (design) @SwitcherStudio (live streams) @WordPress @anchor (podcast editing and distribution) An ever evolving list… @neilpatel @buffer @freshsalesapp @Mailchimp @canva @SwitcherStudio @WordPress @anchor Google Analytics, Search Console, Ads, etc. of course as well.
I like Ahrefs, Semrush, Sparktoro 🙌 #vcbuzz

— Hiren vaghela (@hirendream) September 29, 2020
Definitely @canva and @buffer too. #vcbuzz

— Krystal Blais 🤘🔮🔥🤘🏳️‍🌈 (@krystalblais) September 29, 2020
A5.
Google Search Console
Google Search
Google Ads
Bing Webmaster Tools
Bing Search
Bing Ads Tools
Twitter Search
Twitter Ads
Facebook Search
Facebook Ads
etc.

And then Google Docs, PHP and MySQL for any heavy lifting.#VCBuzz

— Lyndon NA (Darth Autocrat) (@darth_na) September 29, 2020
Our previous brand marketing chats: