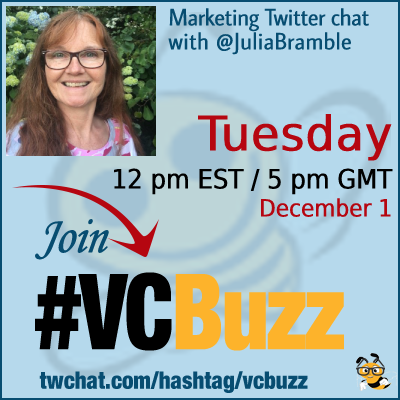 2020 was really a year of virtual events. Biggest events moved online which made it even more difficult for smaller guys to get noticed.
On the other hand, with so many people moving to virtual working, more and more of us feel like joining social media events to connect and learn new things.
How (and why) to market your brand's social media event?
Let's discuss!
***Add #VCBuzz chats to your calendar here.
***Please sign in here to follow the chat -> twchat.com/hashtag/vcbuzz
About Julia Bramble Ph.D. @JuliaBramble
Julia Bramble Ph.D. @JuliaBramble is a social media strategist who brings the unique combination of PhD forensic scientist, empathic communicator & 'spectacularly popular presenter".
She has an incredible way of making it simple for you to get results from social media & online marketing.
Check out Julia's site bramblebuzz.co.uk
Questions we discussed
Q1 How did you become a digital marketer? Please share your career story!
After my role in forensic science became redundant (due to restructuring) I wanted to work around the children (I had 6 under the age of 14) – so I looked into franchises as a way to run my own business. I ended up on email lists of lots of marketers and small business organizations. At the same time my eldest daughter – now 13, wanted a Facebook account so I had to look into it. Up until then I'd been too busy to take any notice of social media, but as soon as I delved into it properly, I was hooked!
At the same time, I was seeing emails and articles mentioning the potential for its use as a marketing tool for small businesses. I realised that this could be a great area to get into, so invest in some training – and never looked back!
Thank you! Yes it took me a little while – I think I found Twitter easier to start with!
Q2 Why would one want to host a social media event? How does it help brand and community building?
A social media event could include anything from a webinar-type livestream, to a Twitter chat, to a challenge taking place over days or weeks, to a Q&A session, to a virtual tour of a store, to a Facebook paid event or Watch Party. Each would be created to serve a different purpose, but what they all have in common is that they bring people together at a specific time. Social media events are often used to raise awareness, build relationships and create demand prior to a product (physical or digital) launch.
In 2020, many businesses are also using them to sell directly. For example, Facebook Live can be a great tool for hosting a sale or auction. Whether you're providing free training or using an event to sell, it's a huge opportunity to reinforce your brand and any specific messages that you want to share. You can encourage your fans to chat to each other, which will strengthen the sense of community and all engagement will help to send a big value signal to the algorithm.
In this time, a social media event can be a meaningful connection when in-person meetings are limited. It helps keep your brand top-of-mind and is a way to provide answers and value for your target audience.
Q3 How to host a social media event? What's the best (or your favorite) social media platform for that and why?
Choosing the best social media platform for your event depends on what social media network your audience uses, and what you want to achieve. For example, a Q&A session could be hosted on any network as a public event, or within a Facebook or LinkedIn group.
Holding events in groups can encourage more conversation and allow people to share feedback that they might not feel comfortable sharing in a public newsfeed. Also consider whether people will access the event on desktop or mobile.
If desktop, then Facebook Live, for example, would be a better choice than Instagram Live. And, of course, some features like Watch Parties and Paid Events are only available on Facebook.
Generally, is Facebook Live more engaging than, say, Periscope? Or both of these may be equally effective?
They can both be equally effective (although Periscope used to attract more trolls than FB Live for some reason.) It depends where your audience will be. Some people will livestream to both at once and maybe Insta and YouTube too with more sophisticated software tools but it can be difficult to monitor and respond to engagement this way.
I watch @BrentLeary's live events. His stream simultaneously to LinkedIn and Facebook. Finding them is a trick, though. And you have to sign up in advance on LI or you can't watch!
Yes, that's an important point. If you're going to do live events, you need assistants to monitor the comments, answer questions, highlight the best questions on the screen, etc.
Yes having assistance really helps. I co-hosted a Facebook Live show for 2 years and having 2 of us there to help each other out was really useful!
Q4 What generally works well to promote an event?
It's vital to let people know about the event in good time – everyone's busy! You also need to let them know what they're going to get from it. Everyone wants to know what's in it for them!
Agreed! People seem to think virtual events don't require planning, or you can announce them last minute. People need advance notice to fit it into their calendars, and you need time to get the word out.
Absolutely – and apart from anything else it's courteous to ask people in advance if you're asking them to book time out of their busy day!
Eye-catching and branded graphics work well, as do video clip trailers. You can promote the event everywhere – on all social media networks that you use, and, of course, email. If possible, share the link too.
If it's a regular event, or one of a series, you can plug the next event at the end of the previous one. If you've hosted a similar event before & had got good feedback, use a short quote testimonial as part of the promotion.
Remember to ask people to let their friends know. And don't feel shy about sending out numerous reminders – people forget, or get distracted and could be upset that they've missed out!
It's always a challenge! We use a combination of Google Calendar invites, Facebook events and manual events every week!
That sounds good – it's great if you can monitor engagement and respond from within the tool, but I've been part of livestreams where it's not been possible to track all the responses which was frustrating!
I loved @sharpspring set-up of their weekly events. Every host was able to hook up their social media profiles to live-stream to all of those simultaneously… I ended up speaking through my FB live and Periscope, as well as inside their webinar platform
That sounds pretty comprehensive! Once you've got a regular event scheduled it can be a bit easier to build up momentum but you still have to promote more than you think you'd need to!
How Often and When to Promote Events

I updated my question to include other responses. This is a suggested schedule for maximum reminders:

1) 1-4 weeks before
2) 1 week before
3) 3 days before
4) The day before
5) 1 hour before
6) 10-15 minutes before
Yes to 1, 2, 3 – then also the day before, on the day and a few minutes before. This would be a great schedule for Twitter, or within a Facebook group. On other networks, you'll want to share at least 2-3 posts about the event.
I think that's because there is no one perfect notification time or quantity because people are different. I love your 10 minute notices for repeat events.

An hour won't work for me because too much may happen between that notice and the start of the event.
Yes it depends on how invested someone is in your event – if they've diarised it, they may not need any reminders on the day – but for some people it will be the first they've heard of it!
Q5 What are your favorite event marketing tactics that usually work well for attracting engaged participants / leads?
Get people involved before the event. If you create a Facebook Event (paid or otherwise) then you can post within the event page itself to create buzz and anticipation. Ask what people are most looking forward to, for example.
If you're hosting a free training or Q&A session, get people engaged and bought in by asking them to share their questions with you beforehand, so that you can answer them & share exactly what they want to know.
Polls! They are so quick to do that people are more likely to respond. Ask the right questions, and you get qualified leads.

For example, I asked about CRMs in multiple polls. Questions included who would be willing to sign up for a free trial & who would pay $42/yr
To increase your reach consider sharing your event with other people's audiences – ask colleagues whether they will share news of your event with their groups, contacts or lists. Also, simple Facebook ads work well.
Connect with registrants and attendees offline! Encourage registration with an event kit, branded merchandise or direct mail. Choose your swag wisely and make sure it's on brand, so it will help drive attendees to your event and increase engagement.
Yes swag would work really well for a bigger event! I'm just thinking out loud now and wondering if we could do the equivalent of offline swag online – sharing a branded (pdf) planner or tool to help get the most from the event!
Interact with attendees throughout your event by running polls, hosting live Q&A's and answering questions to increase engagement. Interactivity helps turn passive viewers into active, engaged attendees!
Yes absolutely and the increased engagement helps other people to see that the event is happening – which sparks curiosity, so others may join in – or join the next one!
Our previous event marketing chats: