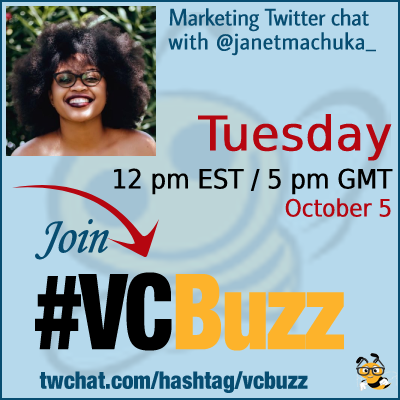 Social media has created a huge variety of new opportunities.
Whether it is self-growth or a new career path, social media can help.
How to find your next social media job? Let's discuss!
***Add #VCBuzz chats to your calendar here.
***Please sign in here to follow the chat -> twchat.com/hashtag/vcbuzz
About Janet Machuka
Janet Machuka @janetmachuka_ is social media marketing strategist and trainer. She is founder ATC Academy and @AfricaTweetChat.
Janet Machuka is a leading authority in helping businesses through their digital transformation of sales and marketing through consulting, digital training, and helping enterprises large and small develop and execute on social media marketing strategy and influencer marketing.
Questions we discussed
Q1 How did you become a digital marketer? Please share your career story!
My interest on digital marketing started in 2015 when l was working as an intern Standard Media Group, a media house.
I was a social media manager in content scheduling and posting. Data and traffic was key and that really thrilled me. The urge to learn more about digital platforms and marketing has grown me to this extent.
A1 In college I got a lot of experience in public relations, & I realized social media played a huge role in growing campaigns, so I sought out a job in SM & nailed the first one I applied for! Ever since then I've been involved in digital marketing in one way or another #vcbuzz

— Krystal Blais 🤘🔮🔥🤘🏳️‍🌈 (@krystalblais) October 5, 2021
The interest to know how social media works especially in making money out of it. It all started at Standard Media Group – l was an intern in managing @EveWomanKenya social media.
A1 Love reading how everyone got started.

I started way back in 1994 in PR, started a blog in 2005, and then did some early social media campaigns for larger brands. Now have a social media marketing agency. It's been a ride. #vcbuzz

— 🟣 Kami Huyse | Social Media Strategist 🎯 (@kamichat) October 5, 2021
Q2 How has social media changed the job market?
Your online profile has become your CV ~We now do job referrals & recommendations online ~We create connections and relationships online ~Anyone can own a space to build a personal brand for themselves
A2 Such an interesting question! Social media used to be a part of a role – especially as a coordinator or something similar. Now there are whole departments dedicated to certain platforms, brands allow individual stores to run their own pages, and so much more. #vcbuzz

— Krystal Blais 🤘🔮🔥🤘🏳️‍🌈 (@krystalblais) October 5, 2021
We're now seeing more of "please recommend someone for… or we're hiring a…" We can find and advertise for job opportunities.
A2 I suspect the biggest way social media changed the job market is that employers are looking at applicants social accounts.

I bet a lot of people didn't get the job because of what they posted online — and don't even know it! #vcbuzz https://t.co/64KBmAjn7R

— Gail Gardner (@GrowMap) October 5, 2021
A2. Social media has created whole new industries – including our own – and new jobs to go with them. It's also given people much larger and more accessible platforms for self promotion.#VCBuzz

— Cure Media (@curemedia) October 5, 2021
I love how you put it. Not forgetting that people can now build personal brands and grow their presence and skills by learning from others. For me, social media is a college.
And I would also add that social media is why many of us have known each other for well over a decade! #vcbuzz https://t.co/KJC5hQRsDi

— Gail Gardner (@GrowMap) October 5, 2021
If you use social media correctly, you don't make "connections," you build relationships. 🙂 It's all about mindset. Audience vs community is another example of this. #vcbuzz

— Martin Lieberman (@martinlieberman) October 5, 2021
A2. Now we are easily getting connected to the right people, following them we are getting the ideas about their expertise areas and a clear & catchy bio makes things a lot easier to know about their interests..#vcbuzz

— Amal Ghosh (@AmalGhosh3) October 5, 2021
Q3 How can one utilize social media to improve or change their career?
Find niche communities and learn from the experts and mentors Build your thought leadership in your industry by sharing the experiences that will help others.
A3.

🤝 Network (Reach out to pros you admire in earnest)
📢 Market (Build your offering and promote)
📖 Learn (Social media gives unprecedented access to industry expertise – take advantage!)#VCBuzz

— Cure Media (@curemedia) October 5, 2021
Let me share some of my secrets: -Be helpful & share lessons others will benefit from -Find a niche community and belong -Take time to check on constructive criticism.
A3 Pay attention. Focus on relationships and community, not being a mouthpiece for your employer. Let people get to know *you* … what you care about, what insights and expertise you have to share, who you are. And then share that. #VCBuzz

— Martin Lieberman (@martinlieberman) October 5, 2021
Don't just scroll through the posts, "pay attention!"
A3: Interested in an industry or topic? Find interesting, knowledgeable people to follow. Consume their content, engage with them, and build relationships. You'll increase your knowledge, and these new relationships may lead to new opportunities. #vcbuzz https://t.co/sJhFm5oRrQ

— Jaime Shine 🖋️ (@jaimeshine) October 5, 2021
A3b This also comes with a level of confidence. I used to be scared people would see my tattoos or hobbies and immediately reject me. Now, though, I know things like that don't bother too many people and often they encourage them! 🙂 #vcbuzz

— Krystal Blais 🤘🔮🔥🤘🏳️‍🌈 (@krystalblais) October 5, 2021
A3: personal brand building via socials has opened up new opportunities for many folks. Giving them the chance to showcase their skills & get noticed by potential employers #vcbuzz

— Asangi (@asangi_j) October 5, 2021
Note: If you own a social media account, you can use it to share your personality, voice and even grow your authentic self. Stand for something and let people know you're different.
A3 Social Media is an opportunity to enhance your voice and connect with like-minded people.

One never knows who may be social "listening" & that can lead to new opportunities.

I'm looking for NEW Opportunities!#VCBuzz

— Debi Norton (@BRAVOMedia1) October 5, 2021
A3 Social media is one of the best tools to grow your network. Look for ways to help out and show up. I know I look for that when I am hiring. I recently was at a conference for agency owners and finding great talent was a top conversation. #vcbuzz

— 🟣 Kami Huyse | Social Media Strategist 🎯 (@kamichat) October 5, 2021
Exactly the reason why l say, don't just be part of a community on social media, show up and make sure you are seen! If you ain't going to add your opinion or response, people won't notice you even exist.
Q4 If one is looking for a career change, what job opportunities are there in social media marketing?
Almost every business is now trying to create a social media presence. You can be an engineer but specializes in content creation on social media.
A4. Lots! Influencer marketing in particular is growing FAST within social media, with a wealth of opportunity and variety therein (organic/paid, in-house/agency). The industry has grown 42% YoY from 2020 and that's not slowing down, so it's a great time to get on board.#VCBuzz

— Cure Media (@curemedia) October 5, 2021
For those who would like to venture into new ones try out: ~Social media management:- Most brands are now creating online presence ~Content creation: – They'll need well crafted content Social media Data analysts There are so many that l may not mention.
#vcbuzz A4. you've got to start somewhere and larger brands are going to be quite guarded with their accounts, consider looking at start-ups and smaller orgs that will hire based on a broader skillset to get your foot in the door. Alternatively seek a mentor who can guide you.

— Advocitude (@Advocitude) October 5, 2021
I'll probably invite more to one l love a lot:- social media training. We need to educate people more on how to use social media to better themselves.
A4 Looking forward to the answers here. I've struggled to stay with companies b/c they hire you to do content/social media marketing, then they don't actually want you to do that. They want you to post & market for THEM, not their audiences. #vcbuzz

It's a…. buzzkill? 😅🤷‍♀️🤦‍♀️

— Krystal Blais 🤘🔮🔥🤘🏳️‍🌈 (@krystalblais) October 5, 2021
Truth! I always ask my favorite question: If your brand could be a combination of TV/movie characters, who would they be and why. It's my favorite way to get an idea of WHO the brand is. #vcbuzz

— Krystal Blais 🤘🔮🔥🤘🏳️‍🌈 (@krystalblais) October 5, 2021
Q5 What are your favorite social media marketing tools?
@TweetDeck :- Tweet scheduling
@brandseye: – Social media listening, monitoring & analytics
A5 Social media listening: @Awario, Content scheduling: @Agorapulse, @Content creation: @InVideoOfficial #vcbuzz

— Ann Smarty (@seosmarty) October 5, 2021
A5: @NotionHQ for planning@planoly for feed management @Sprinklr for analytics and content management #Vcbuzz

— Kofi Dotse 🇬🇭 (@kofigramm) October 5, 2021
A6: Love @canva for design and visuals! I've tried various social media management software, which all have different strengths. Looking forward to checking out @Agorapulse next—comes highly recommended! #vcbuzz https://t.co/xK28trc6yX

— Jaime Shine 🖋️ (@jaimeshine) October 5, 2021
A5 Always @BuzzSumo for market research and fining connections! @Linkedin for connecting and finding common connections who can refer you #vcbuzz

— Jessy Troy (@jessytroy) October 5, 2021
Our previous content marketing chats: