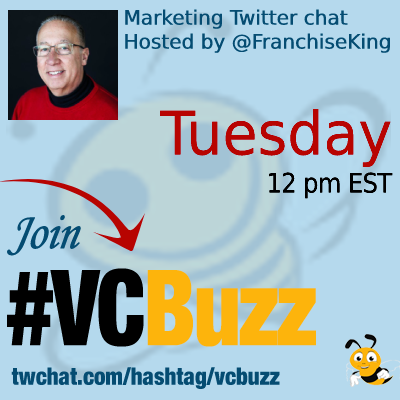 Establishing yourself as a niche authority is one of the hardest tasks out there.
It requires hard work and dedication.
But it is well-worth all the time and effort because being an authority is the only way to create a consistent brand presence.
Let's discuss how to go about building and maintaining authority!
***Add #VCBuzz chats to your calendar here.
***Please sign in here to follow the chat -> twchat.com/hashtag/vcbuzz
About Joel Libava @FranchiseKing
Joel Libava @FranchiseKing is the author of two books and an expert on how to buy a franchise.
He focuses his energy on helping people who want to take their shot at owning a business.
Connect to Joel on LinkedIn.
Questions we are discussing
Q1 How did you become a digital marketer? Please share your career story!
Started out as a #franchise consultant, quickly learned how important digital marketing was; decided to learn how to crush it!
I own and operate the longest-running blog in franchising – and that helps my authority a lot-I got in early.
Q2 Why would one want to invest time and effort into becoming an authority?
In these #ChatGPT times, it's crucial to be an authority. It's the ONLY way to separate yourself from machine-generated content publication.
But we can't use technology like #ChatGPT as a substitute for us. For humans.
Plus, being an authority in your niche bring lots of rewards. Clients. Connections. And more.
Q3 Where to start? What are the first steps to becoming an authority?
Connect with #influencers in your niche who own authoritative blogs, and offer to write helpful, non-promotional articles (for free).
Hat tip to Anita @smallbiztrends for reaching out to me with an offer to write for her AUTHORITATIVE site many years ago. (I said yes) She taught me a lot about writing, social media and even SEO. Kind of important now
And that led to great connections, better, more authoritative writing, and radio interviews etc.
Q4 How to maintain your authority?
You need to always be marketing (ABM) your expertise…your authority. That means consistently creating helpful content that highlights it and hitting "publish"
And participating in activities like Twitter Chats and more. Public speaking opportunities and attending conferences are valuable too.
Q5 What are your favorite digital marketing tools?
Viral Content Bee (ahem), @SERanking, @SendFox, WordPress, and a couple of other ones that are secret
Those secret ones are kept in a special vault located "somewhere" in my #Castle #thefranchiseking
Our previous personal branding chats: