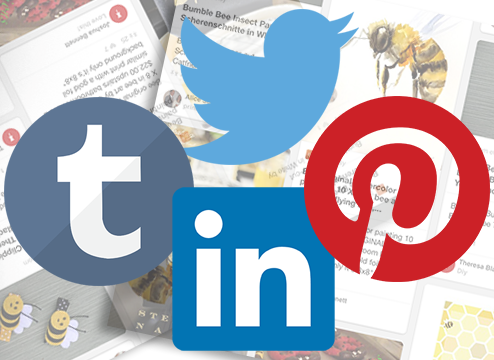 Viral Content Buzz has Tumblr and Linkedin sharing enabled. However we cannot stress enough how serious we are about only allowing real, authentic and natural accounts to share from our platform.
If your Tumblr and Linkedin sharing has ever been disabled for you inside VCB, most probably that's because your Tumblr and Linkedin accounts don't comply with our quality guidelines. Don't give up! You can be accepted back if you start building your account up. Here's how…
[***Remember, by building up your Tumblr and Linkedin accounts, you invest in your own asset: Your powerful social media accounts will remain yours, whether you keep using VCB or not. You'll be able to use for content marketing whenever you need it.]
But how do you build your social media account? I don't mean how do you sign up, that is self explanatory. You need to know how to properly set up and use your account so that it is prime for growth, and offers you the best benefits. Especially if you are using it for content promotion, as I assume everyone reading this will be.
Be Thorough In Setting Up Your Social Media Account
You wouldn't leave your Timeline cover photo or Twitter profile description blank, would you? How about use a terrible cover image for a Pinterest board you want people to follow? Of course not! So why wouldn't you do everything in your power to make your social media profiles attractive and informative?
Take the time to complete your profile, and make sure it looks good and informs the viewer about what you do. It will help the right people find you. Besides, it looks cheap and unprofessional if you don't. That is the wrong message to send.
Don't Treat Social Media Account Like A Content Dumping Ground
Social media is not a dumping ground for every post you have ever written. It is a place where you can gracefully place certain pieces that you feel are your best, and promote them.
That doesn't mean you can't use it for all new posts as they come, but you want to ask yourself if they are really worth seeing? If not, take them off and replace them with something better.
Use social media to connect and discover content in the first place. Drive value to build your Karma up:
Like pages shared by your connections (Find them on the platform home page after you login)
Like and comment pages in categories you like
Share pages that you just found awesome
Find People to Follow
Follow social media users to get followed back. This is often the first step to building up your social media presence: You need connections
I usually follow people who like or review content I liked or reviewed. I also follow people who follow my friends who we seem to share interests with
Do you have any tips for building up social media accounts? Let us know in the comments!
Posted in: Quality Requirements