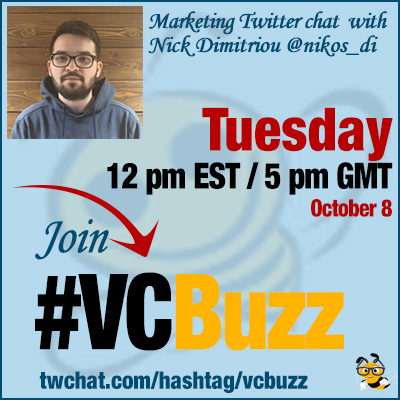 I am a big believer of the power of a team. No business can become successful unless it has a strong team behind it.
Building an in-house SEO team has always made perfect sense to me: After all, you want to own your site SEO, keep record of everything that has been done, encourage creativity and own all built contacts.
But how easy is it to build a successful in-house SEO team? Let's discuss!
***Add #VCBuzz chats to your calendar here.
***Please sign in here to follow the chat -> twchat.com/hashtag/vcbuzz
About Nick
Nick Dimitriou @nikos_di is growth marketing team lead for @moosend one of the top email marketing and automation platforms in the industry.
Questions we discussed
Q1 How did you become a digital marketer? Please share your career story!
It started from small Youtube channel where we produced and promoted short clips of professional eSports players. We successfully grew this small youtube channel to around 20K fans across our social channels.
That's where I fall in love with everything digital and how to effectively promote something with minimum budget hence my love with SEO 😉
Fast forward four years of university and a tonne of university assignments, I started working as a growth marketing associate for Moosend where we slowly started to penetrate the search results with our content marketing endeavors.
Almost 2 years later, I am currently leading a team of 5 people actively publishing articles and creating SEO friendly content all over the web!
Q2 Why in-house? Why would a business invest into building and training a team if they can hire someone?
Building an in-house team can be a daunting task especially an SEO one. There are many risks involved and it totally depends on the structure of the business. If it's a SaaS product, an eCommerce store, etc.
Yes. I don't believe most #smallbiz realize how risky bad #SEO can be to their businesses. Even an untrustworthy editor can put their site at risk. #VCbuzz https://t.co/IzOU5T72o0

— Gail Gardner (@GrowMap) October 8, 2019
The benefits of an In-house SEO team are that you have more control over what is going on with your SEO endeavors especially if you are investing heavily in those! Therefore It makes total sense to build an in-house team rather than hiring someone else.
Building a team internally allows for better business understanding. You lose a lot of time when outsourcing – but sometimes it's the only way to get things moving and done as 'education' on SEO is very daunting. #vcbuzz

— Rob May (@robinlmay) October 8, 2019
@robinlmay Training people is generally tricky, you really need to find like-minded peers that are self-learners. And with the proper guidance, you will most likely succeed! #vcbuzz

— Nick Dimitriou (@nikos_di) October 8, 2019
A2 It is also a smart business decision to own all your data and contacts #vcbuzz

— Jessy Troy (@jessytroy) October 8, 2019
Yes definitely! As long as the core digital marketing skills are there and they are IT literate, they should easily be able to understand the concept of it! #vcbuzz

— Nick Dimitriou (@nikos_di) October 8, 2019
There are also those who quickly realize they can do better on their own and move on to do their own stuff. Do you ever have bad feelings when this happens? @nikos_di @GrowMap @DonSturgill #vcbuzz

— Anna Fox (@manifestcon) October 8, 2019
I agree. They have to have a passion for learning and the skillset they're working in or they just won't do anything but "punch a timeclock" and "put in their time". I used to put a big 'R' on the whiteboard, point at it and say RESULTS are what matter! #vcbuzz https://t.co/wYDyrdaQz2

— Gail Gardner (@GrowMap) October 8, 2019
My experience is that most want the results, but don't want to learn and follow the recipe 🙂 #vcbuzz

— Don Sturgill (@DonSturgill) October 8, 2019
When it comes to in-house SEO team, it 100% depends on how resilient the business owner is. Is he willing to invest in something that he will potentially see the return in 6-12months?
Know your specialty is a great point. This is also true of media publishers. There are a few unique things that affect ad-based publishers versus, say, ecommerce or brands that use content for content marketing purposes. Google News, topic hubs, etc. #vcbuzz

— Anita Campbell (@anitacampbell) October 8, 2019
Q3 Where to start? How to build an SEO team from scratch?
Well starting an in-house SEO team is never easy, you really need to put some thought to it. Initially, you need to find your hire #1 which will most likely be the one leading the team in the future.
If you've managed to find that person things will slowly start to fall into place. Hire#1 doesn't need to have a tonne of experience with SEO as long as they are willing to learn by themselves, with the guidance of the business owners/managers.
Q4 SEO has become an industry where cookie-cutter approaches don't work. How to motivate your team and encourage creativity?
You need to be honest and build trust, some tactics might work some might not that's how ambiguous doing SEO is. If you explain to them that failure is part of the process and it's bound to happen there's no need to motivate them!
One great way to encourage creativity and within your team is to switch roles for 1-2 days, let your communication specialist write a guest blog, and your content writer do some outreach.
Switching things like that will most likely not damage your overall performance and your team will bond even better!
I knew an #SEO who would only teach people if they signed a contract that they would stay indefinitely. But even after they had great skills, they would never be paid more. That's a bad way to try to work on that issue. #VCBuzz https://t.co/3WH0GyZxcI

— Gail Gardner (@GrowMap) October 8, 2019
Q5 What are your favorite team building and collaboration tools and resources?
My favorite ones are Trello as simple as it sounds it makes total sense you do not want to overcomplicate things, Pitchbox which allows us to track our outreach performance and finally reporting all those with the use of Google DataStudio.
@vcbuzz When a new hire starts I highly encourage them to take a look at the following blogs:https://t.co/hdNmCE2Xj2https://t.co/6K2UKoAO2Whttps://t.co/fnjC4U3Zhehttps://t.co/QcVdDTtHn6

#vcbuzz

— Nick Dimitriou (@nikos_di) October 8, 2019
A5 I use @Trello for simple workflows – very visual and free. For @BizSugar, I use @Zoho Connect Tasks. And for complex workflows with dozens of collaborators, we use @Wrike Enterprise. #vcbuzz

— Gail Gardner (@GrowMap) October 8, 2019
Exactly! It's always great to get on other side and see what others are doing to make the whole process work!
Our previous team building and leadership chats: