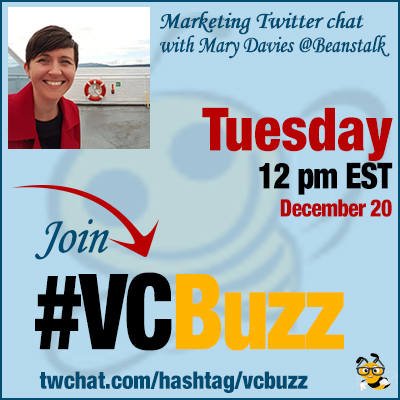 User experience is surprisingly often neglected even by huge brands. However user experience has direct impact on conversions and it definitely affects SEO too. Let's try to figure out how!
***Add #VCBuzz chats to your calendar here.
***Please sign in here to follow the chat -> twchat.com/hashtag/vcbuzz
About Mary
Mary Davies is president of @Beanstalk Internet Marketing. Apart from SEO, Mary's passion is also acting.
Connect to Mary on Linkedin
Questions we discussed
Q1 How did you become an Internet marketer? What's your career path?
It was sort of out of frustration:) Lol. I was a web designer (this is back in 2002 so keep that in mind). I'd make pretty sites only to be wrecked when passed to an SEO who would jam in H1s, text links, keyword stuffing etc. I got sick of seeing my sites bulldozed 4 the sake of SEO. So I got into SEO & started designing "SEO friendly" sites.
The ol' designer/SEO battle still rages… #vcbuzz

— Don Sturgill (@DonSturgill) December 20, 2016
Over time I realized that I was more into SEO & conversions than conceptual design so moved fully into marketing.
In 2004 my partner and I Dave Davies ( @beanstalkim ) decided to start our company Beanstalk Internet Marketing. He was already working in SEO & it made sense to take the jump together. We've found that we balance each other well. Within our company he handles more of the technical SEO and I handle more of the onsite, UX, conversions, etc.
We both have a good grasp on the other's skillset but let each other take the lead in areas we r most passionate about. For years I stressed the importance of UX but for a good chunk of those years many people shrugged off its importance.
So I focused more & more on standard SEO but always still with an eye to UX when the client was able to see the ROI. But over the past 5 years or so we have all seen UX becoming a main player in an overall online marketing strategy. And increasingly now as a ranking factor tks to Rankbrain & a push on mobile. So for me this is like Christmas 🙂
I love that what I've always loved doing I now don't have to sell people on, they're coming to me asking for it 🙂
Awesome one! RT @beanstalk: @vcbuzz A1-14) I guess that's the story of me and my career 🙂 … feels longer than that 😉 #vcbuzz

— Ann Smarty (@seosmarty) December 20, 2016
Q2 What are the most common user experience mistakes you see on business websites?
Not being able to see outside the box they r in, getting stuck in what workED & not paying attention to what works nowю
I think @wilreynolds said it best at @moz con this past summer "Just because it works, doesn't mean it should be done". I'm actually in the thick of things with a design company right now that I am fighting with on this. There's ALWAYS a better way. I come up against "but it's working" alot & I always say "that's a great starting point".
I love this Henry Ford quote, it works perfectly.
@vcbuzz I'm giving up on the image but the quote is "If I had asked people what they wanted, they would have said faster horses." #vcbuzz pic.twitter.com/LVh0KCR9pp

— Beanstalk (@beanstalk) December 20, 2016
I liked it better without the quote, Mary! #vcbuzz

— Don Sturgill (@DonSturgill) December 20, 2016
It's our job as UX professionals to invent what the user wants before they even know it. You don't just pull it out of a hat though, you see a need & provide a solution.
I suppose that's the broad answer 2 your question though. I think if I had to pick 1 element of UX gone wrong the most it would have to be site navigation. Whether we are talking main navigating or navigating via links in content, even CTA's.
If the visitor has trouble either figuring out where to go or not getting what they were expecting when they click. You've at best got a frustrated user but more likely you have a bounce. If you do nothing else to improve your UX.
Yup RT @bhartzer@beanstalk And you actually end up getting more qualified visitors @vcbuzz #vcbuzz

— Ann Smarty (@seosmarty) December 20, 2016
Fix your navigation. Nobody can help you better with this than new users. Grab a test group and give them missions. Set up some entering on landing pages, others on your home page, all with different goals and let them teach you.
Second to that would be overwhelming and unengaging content. Gone are the days of keyword stuffed content (thank god). But then we had the "content is king" era which was all fine but basically turned into a content hoarding situation.
Don't get me wrong I'm all for content but everything in moderation. The goal must be useful content not just content.
And third (but definitely not least) I would want to be sure to mention the mobile experience. IT HAS TO BE GREAT! I'll chat more on this in the next question but for this 1, it is amazing the number of terrible mobile sites there are.
I love what I'm hearing @beanstalk! Your focus on flexibility & pivoting when change needs to happen are spot on! #vcbuzz

— Katy Blevins (@chaosandkiddos) December 20, 2016
Sooo true! and so often misunderstood! RT @beanstalk: The goal must be useful content not just content #vcbuzz

— Ann Smarty (@seosmarty) December 20, 2016
I actually have @duaneforrester to credit for the wording on that. he said (and I've quoted him often) … "Content isn't king, usefulness is king"
TY @seosmarty! We are constantly discussing this @modfemmemove especially on our website! It's all about the user. #vcbuzz

— Katy Blevins (@chaosandkiddos) December 20, 2016
Actually this is probably a good place to jump into the next question so let's go for it 🙂
Q3 How does UX affect a website's rankings?
In so many ways! & increasingly these days. I have a list inspired by Oasis (remember them?) called "Definitely Maybe" and those "maybe"s r quickly becoming "definitely"s thanks to AI. Much isn't really proven yet, it's 2 early in the game.
But we can see the trend & look 2 things like Rankbrain & Google patents to give us a good solid picture of the future. So take my Definitely Maybe list with a grain of salt & keep in mind that even if it isn't a proven ranking factor yet and my UX Maybe (& soon to be Definitely) a ranking factor list is: CTR, Bounce Rate, Time on Site, Social Sharing.
That's definitely the best way to carve a path ahead of the trend @beanstalk! Great stuff! #definitelymaybe #vcbuzz

— Katy Blevins (@chaosandkiddos) December 20, 2016
The social sharing factor is where I get the most push back but a recent Google patent highlights it as a possibility.
You can read my business partners evaluation of that patent here. With the addition of RankBrain we saw a move to a much different way of Google evaluating the weight of certain signals.
Hey, @Stukentapp… we missed one: https://t.co/tubuAM5QjU 🙂 #vcbuzz

— Don Sturgill (@DonSturgill) December 20, 2016
Actually that one is to do with RankBrain, the social signal patent here.
I won't go into how it is all done but @randfish did a great whiteboard that explains it well at Whiteboard.
The major thing to note here is the 1 strategy fits all only works if that strategy encompasses all possible signals. And the key word there is POSSIBLE because that's the world we are now in. Q- Could it be a ranking signal? A- Maybe!
AI is literally changing search by the second & I honestly dont even think Google can predict where this is all going. I do know that Google is focusing on UX because that is what AI is based on. It is attempting to experience as we do. We've seen Google leaning toward this 4 years w/ Hummingbird, Mobilegeddon, Rankbrain & now mobile 1 first indexing. We've seen Google leaning toward this 4 years w/ Hummingbird, Mobilegeddon, Rankbrain & now mobile 1 first indexing.
Google is all about UX. They live or die by UX. #vcbuzz

— Don Sturgill (@DonSturgill) December 20, 2016
All of these major changes are based on understanding what the user wants. They know their survival (aka ad revenue) is entirely dependent on users staying and not jumping ship. Google is adapting to the user & their predicted needs.
So in short all UX matters for rankings if you are thinking of where search is headed but there r some areas that stand out. But as mentioned, it's a win/win when coupled with conversions which is your next question I'll get to answering now.
Q4 How does UX effect a website's conversions?
In every way you can think of really 🙂
As I've touched on already, there's ALWAYS room for improvement. Even if your sites is performing well.
The "if it's not broken don't fix it" mentality isn't welcome here. I say if its not broken great! Now make it better!
A great example of this was talked about by @CaraHarshman where she mentioned increasing donations by 239% 2 a nonprofit simply by creating an easier way for users to have their credit card information saved. UX for the win!
I have a bit of a UX cheat sheet I like to pass to people who want an easy reference of what needs addressing for UX
Mary, does UX testing require hours of observing "typical users" and their actions onsite… or are there quicker, simpler ways? #vcbuzz

— Don Sturgill (@DonSturgill) December 20, 2016
You can start simple or go huge. it really depends on your business and budget. I can chat more on this in a bit 🙂
It's a bit long and probably needs some additions too but it's a good starting place anyway. You ready? Here it goes! HTTPS, Mobile Friendly, PageSpeed, Broken Links, Titles & Descriptions, Navigation, Useful Content, Digestible Content. But wait! There's more! … Links To External Sites, CTA's, Avoid Frustration, Human Testing, Engaging Imagery, Contact Page, 404 Pages , Connect/Tell Stories, Make Sharing & Following Easy 🙂 No sweat! 😉
@vcbuzz A4-11) #ibeleiveinyou #youcandoit 🙂 #vcbuzz

— Beanstalk (@beanstalk) December 20, 2016
Now that list may lead you to some questions which I will try to address really quickly 1 by 1 & why they matter.
HTTPS Offers sense of security & in Jan Chrome to begin marking non HTTPS sites collecting sensitive data Not Secure.
Mobile – Google is demanding it and so are users. In the words of Nike, JUST DO IT! 🙂
Page Speed – 47% of users expect a 2 second load time, 40% leave after 3 seconds. Pretty straight forward
Broken Links are a major frustration factor & you are missing out on link weight. Fix them
Titles & Descriptions are your 1st impression & tell Google what you're about. DON'T LIE! And please test often
Navigation – Make it a logical journey, don't cause navigation exhaustion, it should be helpful not confusing
Useful Content – think like a user, what r u looking for & what would u actually read?! Use Google Suggest for ideas!
Digestible Content – Don't overwhelm the user! Wealth of information = Poverty of attention. Break it up into blocks.
Links to External Sites should ALWAYS add value to the user & always open in a new tab. Don't send your users away!
CTA's – Keep it simple & be clear. Make it personal when u are able. Don't create too many as it will work against you.
Contact Pages are so underrated this is your last point of contact often & often with a frustrated visitor. Connect!
404s – an opportunity to offer solutions/directions, connect with a frustrated user and offer an apology
Connect/Tell Stories – Make your message personal and don't throw your content at the users. Tell a story.
Make Sharing/Following Easy – Because why wouldn't you?! Let the people love you and tell the whole world about it
@beanstalk are there any specific tools you recommend to use to test your UX and visitor activity on your site? #vcbuzz @vcbuzz

— Bill Hartzer (@bhartzer) December 20, 2016
Some tools I like to use are Crazyegg, usertesting.com, and 5 second test. Crazyegg for a quick picture.  If you want more in depth data a service like mousestats.com – gives you more than Crazyegg.
@beanstalk what do you think about going back through a site and looking at old external links? like on old blog posts? @vcbuzz #vcbuzz

— Bill Hartzer (@bhartzer) December 20, 2016
Yeah I'd check within reason but you have realistic about where your time is best spent
Q5 It's such a broad topic: We'd love to learn more! Please link to your favorite resources on the topic of UX!
Here's a few articles I've written and resources and tools I've found useful
Great place UX related content.
You can check out some of my pieces on our blog.
Our SEO and Conversion chats: