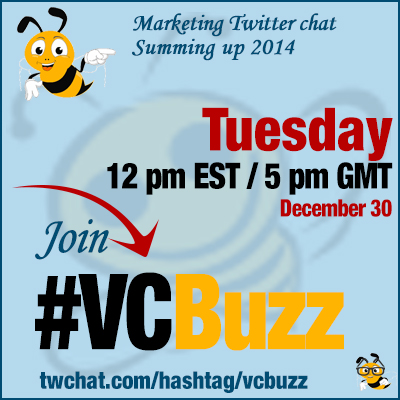 December is the time to look back and sum up what the past year looked like for us. We'll be devoting a couple of this month's Twitter chats to our platform and what we've been doing to improve your experience and results!
***Please join our chat weekly 12 pm EST here -> twchat.com/hashtag/vcbuzz
1. We went through the slight re-design. While we hope you like the slightly improved look, the real goal of the redesign has been responsiveness! Mobile user experience has been improved, so you can buzz from your smart phones, dear buzzers!
@vcbuzz I've only been around at #vcbuzz for around 45 days. Never tried it on mobile. Well done though!

— JeffreyRomano (@JeffreyRomano) December 30, 2014
Note: If you come across any bugs, please contact us.
2. We made the site even faster by letting you share the project with no page re-load. Sharing projects from VCB has actually become an enjoyable experience for us personally and hopefully for you too!
No doubt, the VCB site has been getting sleeker. #vcbuzz

— Don Sturgill (@DonSturgill) December 30, 2014
3. We have partnered with MyBlogU to help you accomplish your New Year's resolutions! All the participants of the #MBUstorm challenge will get 200 free VCB credits you'll be able to use to boost your content traffic and exposure. One of the participants will win $1000 and there are more awesome prizes! Join the challenge today! You have a bit more than a week to join!
Now, to the notable links and events:
@SanaKnightly @vcbuzz @seosmarty awesome congratulations! great job sticking to the schedule and getting interesting guests #vcbuzz

— Chris Boggs (@boggles) December 30, 2014

All in all, that was a hard but an awesome year! We'll look for more awesomeness to come in 2015!
Thanks for your community support throughout these months! #vcbuzz

— Ann Smarty (@seosmarty) December 30, 2014